"I had rather see a portrait of a dog that I know," Samuel Johnson once exclaimed, "than all the allegorical paintings they can show me in the world." The portrait, in his view, was one of the few solid, no-nonsense forms of visual art, a genre with its feet – preferably all four of them – firmly on the ground.
The National Gallery's entrancing new exhibition, "Renaissance Faces", furnishes conclusive proof that portraiture always was more complicated than the good doctor liked to think. The show traces the portrait, in post-classical western European art, back to its early fifteenth-century origins in the work of the Flemish master Jan Van Eyck and his followers. It follows the genre's development and migration, to Burgundian France, to England and – by way of a culmination – to Italy in the sixteenth century. The assembled portraits, of princes and soldiers, popes and bankers, are endlessly fascinating but by no means straightforward. Allegories abound. Skulls lurk, status symbols gleam.
The mood, enhanced by restrained lighting and the sombre battleship grey chosen for the walls of the Sainsbury Wing's basement galleries, is touchingly intimate. To walk through the seven rooms of the exhibition is to move through a vivid crowd of the dead, to meet the solemn gaze of the men and women of the Renaissance and experience that same, startling illusion of living presence that beguiled them into having their portraits painted in the first place. As the architect, theorist and humanist scholar Leonbattista Alberti remarked, "Painting contains a divine force which not only makes the absent present, as friendship is said to do, but moreover makes the dead seem almost alive."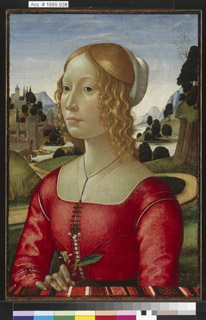 The faces revealed, in "Renaissance Faces", often seem uncannily contemporary. The women of sixteenth-century Venice, immortalised by Titian and Palma Vecchio, exude...