When George Frederic Watts died a century ago, at the grand old age of eighty seven, he was widely regarded as the greatest British painter and sculptor of his age. His style was sufficiently eclectic for him to be lionised, without apparent contradiction, both as "England's Michelangelo" and as "the Titian of Kensington", while Oscar Wilde acclaimed him as "a great and imaginative genius" and G.K. Chesterton composed a short, perceptively encomiastic tome in his honour.

Wastts's prodigious output earned him as many admirers overseas as in his native country. The dense, enigmatic allegories of his later years were exhibited in France and Germany, and their influence on European Symbolism was considerable. Odilon Redon was drawn to the floating, phantasmagoric, apparitional qualities of Watts's symbolic meditations on the mysteries of the universe. Arnold Bocklin was inspired by the darkly melancholic character of Watts's imaginings. Mondrian felt a clear affinity for his moody transcendentalism, which on occasion led Watts so far in the direction of a vaporous, dematerialised language of depiction that he must be considered a forerunner of early twentieth-century abstraction. The young Picasso was clearly much influenced by the languorous, emaciated heroine of Watts's most famous Symbolist canvas, Hope, a huddled figure shown blindfold on a globe floating in blue infinite space, who is reincarnated in many works of Picasso's own Blue Period. Yet despite his longevity, productivity and originality, Watts's reputation has fallen into oblivion during the hundred years that have passed since his death.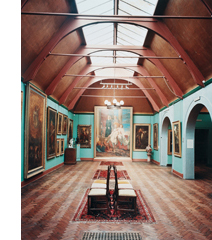 The artist's centenary has been marked by a veritable sprawl of exhibitions and displays, the sheer heterogeneity of which is a measure both of Watts's eclecticism and his elusiveness. The range of his ambitions was bewilderingly broad and because he refused to resort to formula he is much harder to grasp whole...