This is the house that Rachel built
Date: 02-11-1993
Owning Institution: Chisenhale Gallery
Publication: The Independent 1987 - 1999
Subject: Now 20th Century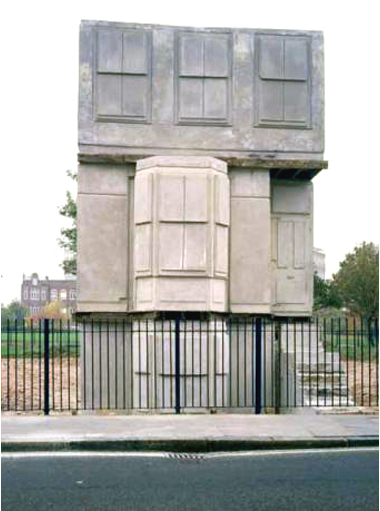 Number 193 Grove Road used to be an unexceptional Victorian house in the East End of London. ''Mile End, E3 - 3 storey end of terrace Victorian house, 4 beds 2 receps, original features,'' an estate agent might have described it. Extensively remodelled, improved beyond habitability, it has become both monument and memorial. It has become Rachel Whiteread's House: a strange and fantastical object which also amounts to one of the most extraordinary and imaginative public sculptures created by an English artist this century.

193 Grove Road is no longer a home but the ghost of one perpetuated in art. It has no doors, no windows, no walls and no roof. It was made, simply (although the process was complicated, the idea itself was simple) by filling a house with liquid concrete and then stripping the mould - that is, the house itself, roof tiles, bricks and mortar, doors and windows and all - away from it. The result could be described as the opposite of a house, since what it consists of is a cast of the spaces once contained by one.

Facing House, on the other side of Grove Road, stands the Kingdom Hall of Jehovah's Witnesses. Now the Witnesses can knock on the door of number 193 until kingdom come but there will be no one home. Rooms that were once lived in have become solid blocks of stone, megaliths piled one on top of another like an infant giant's building bricks. Foursquare sash windows that once looked out on to the world have become blind, heavy, cruciform reliefs. Doors that once opened have become sealed panels of rock. The house has, itself, become a giant sarcophagus, a mausoleum containing (but also concealing, as mausoleums do) the lives and memories of all the people who once lived there.

Whiteread's House (1993) expands on Whiteread's Ghost (1990), which was an exact plaster cast of a bedsitting room in an abandoned house on the Archway Road, cut into blocks and reconstituted in the Chis-enhale Gallery, London. Ghost, a monument to cramped living conditions in N6, was bought by Charles Saatchi but House, being the size of a house and heavier than one, will be going nowhere. The terrace that 193 Grove Road once occupied has been demolished, and House itself is scheduled for demolition at the end of this month. Whatever happens to it, it will live a long time in the memory.

To visit House or (as many will do) simply to come across it, isolated in a scrubby patch of parkland at the corner of Roman Road and Grove Road, is to be suddenly and disconcertingly transported elsewhere. It is to be taken to another world, like and yet completely unlike this one: the world of the photographic negative, with its phantom-like reversals of known fact; the world that Alice enters through her looking glass; the world that lurks behind the molten silver mirror in Cocteau's Orphee, where normal relations between objects have been summarily suspended. Denatured by transformation, things turn strange here. Fireplaces bulge outwards from the walls of House, doorknobs are rounded hollows. Architraves have become chiselled incisions running around the monument, forms as mysterious as the hieroglyphs on Egyptian tombs.

House may seem perverse to those who persist in the belief that a work of art does not really count, as art, unless it looks like an easel painting or hand-carved sculpture. But it is in many respects an extremely tradi-tional work. The artist has taken something very ordinary (but no more ordinary than the traditional painter's oil and ground pigment, or the traditional sculptor's piece of wood or stone) and made of it something extraor-dinary. The artist has asserted her right to construct her own world out of the materials of this one, to make a fantasy real and palpable. Like much of the most compelling traditional art, House has the quality of a thing that had to be made to exorcise the compulsions of its maker.

Looking at House is temporally as well as spatially distorting. It is like looking at an object from the present that has suddenly been pitched far into the future or far into the past. An English terraced house has been remade as an archaeological find, and what an oddly simple thing it turns out to be. Just a squat arrangement of spaces to inhabit, a stack of caves honeycombed together. House contains the traces of late 20th-century living habits and technology, which survive in odd details like the impressed patterns of a fossil caught in its surface: the zigzags of a wooden staircase running up one of its walls, the indented relics of plug sockets. But the overall effect is one of extreme, primitive simplicity.

To solidify the interiors of a house may be to conceal them, to seal them off, but it is also to reveal how basic our needs and our lives have remained down the centuries. There is a kind of pathos in the revelation. Our houses tend to be places that we like to think of as containing the evidence of our own unique sensibilities, repositories where we store the evidence of our sophistication and impeccable tastefulness. House, being a house without furniture, a house reduced to the shape of the air that a house contains, serves as a reminder that we are all, on one level at least, utterly and primally the same: creatures that have always sought shelter, a roof over our heads.

House is a sculpture that memorialises, in its transfiguration of an ordinary person's home, the ordinary lives of ordinary people (ordinariness, it suggests, is one thing we all have in common). Unlike other kinds of monumental statuary - Nelson's Column, say - which suggests that history is made by the great and merely lived by the rest of us, House is stubbornly unheroic and democratic. Whiteread has made an image of how we all live, caught between solitude and sociability, out of the separate but abutting cells of the rooms in a house in London E3.

House is a paradox made concrete since it is a monument made out of void space, a thing constructed out of the absence of things. Being a dwelling in which it is not possible to dwell, a building that you cannot enter, it has the character of a tantalus. It is both a relic and a prompt to the imagination (Who lived here? What did they do? What did they feel?) as well as a sculpture that is charged with a deep sense of loss.

All houses (and many works of art, too) are tombs of a kind: most of the people whose memories they contain have gone, have surrendered their tenancy of the world. House is about the past and it is also about the unrecoverability of the past, about the fact that what has gone cannot be revived. Death, finally, is its theme. The sculpture has a peculiar, almost anthropomorphic quality, or at least the traces of humanity that it bears are so strong that it ends up feeling oddly human for such an evidently non-figurative work of art. Something that was once full of life, open to light and sound and movement, has been terminally stilled, made dumb and blind and inert. House is monument, memorial, and memento mori.
- Rachel Whiteread's House was commissioned by Artangel and sponsored by Beck's Beer and Tarmac Structural Repairs. It is at the junction of Roman Road and Grove Road in London E3.

- To complement the Turner Prize, the Tate Gallery is hosting a debate on contemporary art on 10 Nov (7-8.30pm). Speakers will include Hilton Kramer, the art critic and author, and Michael Craig Martin, the artist. Tickets pounds 7.50/ pounds 5 (071-887 8000).

RACHEL WHITEREAD
Rachel Whiteread (right, pictured by Nicholas Turpin inside 'House' before it was sealed) was born in London in 1963 and studied at Brighton and the Slade.
''In the past few years my work has become more formal. Ghost came from a very specific place, whereas the piece I made for Documenta last year was not cast directly from a particular place, but from the underside of secondhand floorboards. It was a more generalised, formal piece. Plaster is my most frequently used material, but I have experimented with rubber, mainly out of a need for flexibility.''
SEAN SCULLY
Sean Scully was born in Dublin in 1945 and studied at Croydon and Newcastle. He paints large, elegant abstract panels (such as 'Palace', right) in heavily-applied oils.
''I think we all have a sense of beauty. I never paint in a way that would make for an uncomfortable rela-tionship with the surface I'm working on. It's really important that I don't have to slow down the brushstroke to take care of a certain part. In other words, if I can paint the whole thing like this, then it's the right way to paint it; and if I can't, it's the wrong way. To me, if you spend a lot of time getting a surface flat, making it perfect, that is aestheticising, because that is not really the way the paint goes down.''
HANNAH COLLINS
Hannah Collins was born in London in 1956 and studied at the Slade. Her large photographic works (such as 'The Truth', right) challenge the conventional genres in which they are made.
''I have an enormous interest in the history of pictures, films, paintings and photography. A wide range of influences can be directly useful. It comes down to deciding what is alive and vital in the traditions I work with and rejecting those approaches that are old, sterile and dead. I make work which takes notice of my sur-roundings, that can be social, historical and purely physical.''

VONG PHAOPHANIT
Vong Phaophanit was born in Laos in 1961 and studied in Aix-en-Provence. His room-size installations (such as 'Neon Rice Field', right) are constructed from rice and rubber and articulated with Laotian script.
''The work is based on nothing. If there is an object, an aim, it is to start from a point and lead outward from there. The way I use the script is not nostalgic. I'm using my memory at the same time I'm looking forward. The words are like echoes, leading to and from each other. It is important to talk about insides and outsides. We shouldn't only see what is there, but also the spaces between objects.''