The Norwich School
Date: 30-11-1999
Owning Institution:
Publication: Sunday Telegraph Features
Subject: 19th Century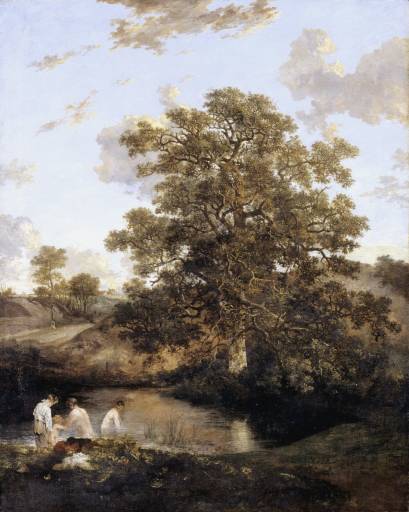 In a corner of the sunlit, reedy pool, next to the rutted track, beneath the branches of the ancient oak tree, the painter has included a group of boys bathing. Two of them are his own sons while another is said to be the son of one Mr Aldous, mail-coach driver. The bravest of the boys has waded into the water up to his waist and now gingerly immerses his forearms in preparation for the plunge. His face is ruddy, his flesh as white as English porcelain. The scene seems both real and ideal: a moment in time perpetuated and, in the process, transmuted into an idyll. It is a picture shot through with trace memories of other kinds of picture. Viewed through half-closed eyes, the boys at play could be Diana and her nymphs bathing, about to be spied by Actaeon; or they could be early Christians being baptised out of doors.
John Crome, who painted The Poringland Oak near the end of his life, in 1818, was known as "the Norfolk Hobbema": on his deathbed he is said to have gasped "Oh Hobbema, my dear Hobbema, how I have loved you". But for all his attachment to the robust traditions of Dutch Old Master landscape painting he was distinctly his own man. Born in a public house in Norwich, the son of a journeyman weaver, Crome became a painter against the odds. Starting out as a doctor's errand-boy, he became apprenticed to a local sign- and coach-painter. He went on to work briefly in London, in the studio of Sir William Beechey, before returning to his native city to teach drawing to the daughters of the local bourgeoisie, to restore their pictures and – when he could find the time – to create paintings of his own. Crome helped to form the Norwich Society of Artists and is generally regarded as the founder of "The School of Norwich" – the subject of a new exhibition at Tate Britain.
In fact, as the exhibitions's organisers themselves point out in the accompanyung catalogue, "The School of Norwich" is a bit of a myth. Plenty of painters, most of them amateurs of some description, became affiliated to the Norwich Society of Artists; but their work was unneven and, to put it charitably, extremely various. The truth is that Norwich in the nineteenth century only produced two artists of genuine distinction, namely Crome himself and the considerably younger John Sell Cotman. The Tate exhibition is made up overwhelmingly of their work, which is sensible. Both painters deserve to be more widely known and both have been the victim of unfair preconceptions.
During the late nineteenth century, many years after his death, Crome's reputation reached its zenith. But he was always, simultaneously, regarded as a bit of a hick. The most dedicated collector of his work, the Norwich mustard magnate, James Jeremiah Colman, thought of him as an essentially provincial artist who had simply responded to the beauties of the natural world around him with rustic, untutored directness. That was why he liked Crome's pictures, in fact. He believed he was buying honest views of the timeless Norfolk landscape: hardly subtle, perhaps, but as English as Colman's Mustard.
It is clear that Crome was not at all the painter Colman took him for. He was a subtle and sophisticated interpreter of the landscape painting tradition, alive not only to the work of Dutch masters such as Hobbema – and Rembrandt, the drama of whose landscapes he emulated in his own striking watery nocturne, Moonrise on the Yare – but also to the new strains of romantic sensibility that stirred during the late eighteenth and early nineteenth centuries. Like his contemporaries Girtin, Turner and Constable, he made landscape painting into a vehicle of feeling, often experimenting with rough and sketchy effects which led critics of his work to complain of a lack of finish. "This is the scribbling of painting," one disapproving commentator remarked of a particularly free, early Crome. But the raw naturalism of many of his pictures was a conscious device, an abandonment of "polish" which might be compared to Wordsworth and Coleridge's forsaking of ornate poetical diction for a more brusque and vernacular language in the Lyrical Ballads.
Like many of the more experimental artists and writers of his time, Crome was a dissenter and a political liberal, which may also have informed his work to a certain degree. He is known to have been an opponent of Enclosure, the national agricultural policy which led to the privatisation of previously common land and its division into rectangular fields and fenced farms. As a writer in the local Norwich newspaper, The Iris, complained in the early years of the nineteenth century, this spelled the destruction of much common heathland "where many hundreds could once be seen on a summer's evening engaged in their different sports and games … the only place in the vicinity of the city where it was possible to retire from 'the busy hum of men'…"
Yet long after the land around Norwich had been enclosed, Crome persisted in painting it as it had once been, a wild and open heath. It is as if, by preserving the memory of a better and fairer world in his art, he wanted to remind his contemporaries of what they had lost. He also seems to have found a religious significance in scenes of simple, untamed nature. A year before his death Crome bought a complete set of the works of William Paley, including his Natural Theology, in which Paley set forth his belief that nature was a kind of patternbook of God's benevolence, for those with eyes to see it. Such ideas – which were later to have a great influence on Ruskin - may well have coloured Crome's The Poringland Oak. The great tree that dominates the picture, its leaves backlit by the sun, has the character of a vision or sign. Nature seen through the eyes of John Crome, radical and dissenter, was a form of benediction.
John Sell Cotman, the other luminary of the so-called "School of Norwich", has suffered from a different form of underestimation. No one has ever accused him of lacking sophistication. His work has been underrated primarily because of the medium in which it was painted – watercolour - and its concomitant small scale. The fact that Cotman himself lacked confidence in his own abilities has not helped his reputation either. He trained in London, exhibiting at the Royal Academy, but on failing to gain admission to the Royal Society of Watercolourists became so discouraged that he moved back to Norwich, later settling in Yarmouth. To judge by his letters, he seems to have been well aware that this was tantamount to committing professional suicide. He wrote often of his "blasted hopes" and advised his son, who also wanted to be a painter, that "If you wish to be an artist you must … give up Norwich and all its small associations."
But although he did not prosper until very late in his career, when friends secured him a teaching job in London, and despite his often depressed and somewhat neurotic personality, Cotman created one of the most remarkable bodies of work by any nineteenth-century English painter.
The taste for picturesque, topographical watercolours that developed during his lifetime led to the production of a vast mass of imagery: innumerable studies of the ruined abbey, the romantic coppice, the swiftly coursing brook. Much of this work now seems almost interchangeable, yet Cotman's work is always instantly identifiable. The essence of his art seems to reflect the very particular cast of his temperament. He was romantically fascinated by nature's beauty and abundance and movement, but his sense of pictorial structure was classically, almost ascetically rigorous. The result was an art consecrated to the most evanescent phenomena – wind blowing through a tree, clouds scudding through the sky, the movements of water – which simultaneously aspires to a condition of absolute stasis and order.
Cotman used the range and flexibility of watercolour brilliantly to convey his experience of nature, but he also controlled his own repertoire of effects within compositional schemes quite unlike those adopted by any other painter of his time. He treated cloud and hill and sky almost as if they were elements in a collage, to be moved about at will; he found or made, in fencepost or tangle of trees, a graphic order of such rigour that it seems almost to anticipate the art of Mondrian. The desire to elevate sudden impulses or insights into permanent structures of feeling, whether they be poems, paintings or symphonies, was common to many romantics, but few realised the ambition as consummately as this relatively little known, Norwich-born watercolourist.