ITP 266: Flaming June by Frederic Leighton
Date: 05-06-2005
Owning Institution: Museo de Arte de Ponce
Publication: Sunday Telegraph "In The Picture"
Subject: 19th Century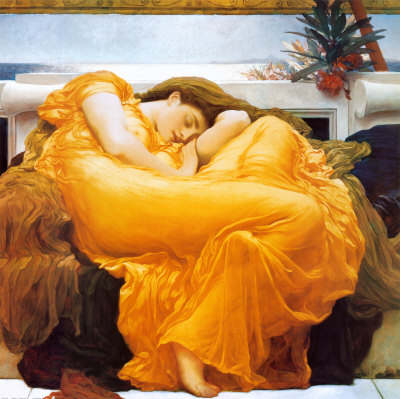 Today is the first Sunday of June, so this week's picture is Flaming June, by Frederic, Lord Leighton. Better known in reproduction than in the flesh, it is one of those paintings to have launched a thousand postcards (not to mention posters and placemats). The work was first exhibited at the Royal Academy in 1896, when the reviewer for The Times gave it his cautious approval: "It is the single figure of a girl asleep in the full June sunlight, in an attitude which the painter has seemingly chosen mainly as an exercise in the drawing of complicated line. The mass of drapery is of that peculiar reddish orange of which Sir Frederic Leighton's palette seems to possess the secret, and this is harmonised, in that manner of his which is so familiar, against other draperies of dark crimson and pale olive."

Flaming June was painted near the end of Leighton's illustrious career as one of the leading classical painters of the Victorian period, and President of the Royal Academy. It is the last and in some ways the most abstract of his many attempts to evoke a story, or conjure a mood, through the depiction of a solitary female figure. A diaphanously clad maiden of uncertain classical origin sits slumped in a marble seat liberally strewn with what appears to be chocolate-brown crepe. Her position may suggest, to modern eyes, the posture of an exhausted aeroplane passenger. In fact her pose is loosely modelled on that of Michelangelo's famous statue of Night, in the Medici Tombs in Florence, which Leighton regarded as one of the supreme achievements of Western art. The funereal solemnity of Michelangelo's monumental nude has been considerably warmed up, by the Victorian painter, in the act of appropriating and adapting it. Leighton has arranged matters in such a way that, although clothed, his somnolent girl's many charms are alluringly displayed for the delectation of the viewer – who is implictly put in the position of a voyeur, like one of the biblical elders who spied on Susannah. The broad plane of her right thigh is parallel to the plane of the canvas, as is the nape of her long neck. Her breasts seem all the more prominent, glimpsed as they are through the thinnest covering of her gauze-like dress. Her cheeks are flushed, reddened with a blush suggesting that somehow she knows she is being watched, even though she is sleeping.
Leighton claimed that Flaming June had its origins in a happy accident in his Holland Park studio. "The design was not a deliberate one," he told his biographer, "but was suggested by a chance attitude of a weary model who had a particularly supple figure". The extreme contrivance of the painting casts some doubt on that assertion. It is certain, however, that Flaming June was painted from life, although the identity of the model who sat to Leighton for the picture remained a mystery until as recently as the 1930s. It was then that a reporter for the Sunday Express came across her, aged 70, working as a seamstress and part-time cleaner to pay the rent on a tiny back-room in Kensington. Her name was Mary Lloyd, she told him, and she had been brought up in Shropshire, the daughter of a wealthy country squire. After her father was declared a bankrupt, she had had to earn a living, and had started modelling for John Everett Millais, who, in her words, had been "captivated by her beauty." She went on to model for a number of other leading painters of the time, but above all for Leighton.
Leighton said that art "was never more needed" than in the late nineteenth century, which he regarded as a coarse and ugly age. The galleries of fin-de-siecle Victorian painting were thronged with images of sleeping women, a battalion of somnolent femininity collectively enshrining an art-for-art's sake ideal of perfectly untroubled, peaceful inactivity – a rose-tinged dream, perhaps, to set against the manically productive and materially acquisitive realities of life in Victorian Britain, grimy workshop of the world. Flaming June is a quintessential example of the genre: the dream of a woman dreaming, set in a heat-struck Mediterranean fantasia that is itself the dream of a past that never was. Behind the sleeping girl, a golden sea ripples gently beneath a gilded sky, its wave-like motion taken up in the sinuous folds and falls of the drapery that enshrouds her.

There is a hint of morbidity in the spray of oleander, a plant that traditionally symbolises death, that the painter has arranged on the ledge above her. Perhaps this was Leighton's way of reminding himself that even when life seems at its fullest and most radiant it remains essentially fragile. Or perhaps he sensed the imminence of his own death, which came less than a year after he had painted the picture. Not long afterwards, Sir Thomas Brock was commissioned to create the splendid bronze and marble monument to Leighton that can still be seen in St Paul's Cathedral today. At its foot kneels the graceful allegorical figure of a woman, modelled on none other than Mary Lloyd, the real-life Flaming June. In Brock's opinion, "no statue could be a complete tribute to Leighton's memory without her".