England's Michelangelo: George Frederic Watts, Watts Gallery. Tate Britain, 2004
Date: 17-10-2004
Owning Institution:
Publication: Sunday Telegraph Reviews 2004-2013
Subject: 19th Century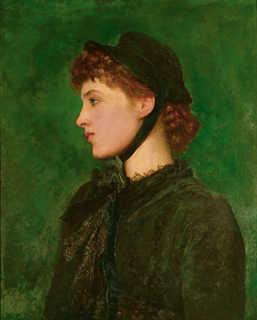 When George Frederic Watts died a century ago, at the grand old age of eighty seven, he was widely regarded as the greatest British painter and sculptor of his age. His style was sufficiently eclectic for him to be lionised, without apparent contradiction, both as "England's Michelangelo" and as "the Titian of Kensington", while Oscar Wilde acclaimed him as "a great and imaginative genius" and G.K. Chesterton composed a short, perceptively encomiastic tome in his honour.
Wastts's prodigious output earned him as many admirers overseas as in his native country. The dense, enigmatic allegories of his later years were exhibited in France and Germany, and their influence on European Symbolism was considerable. Odilon Redon was drawn to the floating, phantasmagoric, apparitional qualities of Watts's symbolic meditations on the mysteries of the universe. Arnold Bocklin was inspired by the darkly melancholic character of Watts's imaginings. Mondrian felt a clear affinity for his moody transcendentalism, which on occasion led Watts so far in the direction of a vaporous, dematerialised language of depiction that he must be considered a forerunner of early twentieth-century abstraction. The young Picasso was clearly much influenced by the languorous, emaciated heroine of Watts's most famous Symbolist canvas,
Hope
, a huddled figure shown blindfold on a globe floating in blue infinite space, who is reincarnated in many works of Picasso's own Blue Period. Yet despite his longevity, productivity and originality, Watts's reputation has fallen into oblivion during the hundred years that have passed since his death.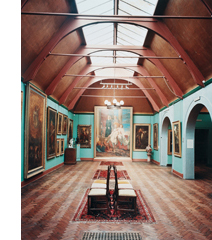 The artist's centenary has been marked by a veritable sprawl of exhibitions and displays, the sheer heterogeneity of which is a measure both of Watts's eclecticism and his elusiveness. The range of his ambitions was bewilderingly broad and because he refused to resort to formula he is much harder to grasp whole than any of his more self-repetitious Victorian contemporaries. He was a lifelong friend of Lord Leighton, with whom he seems to have agreed on more or less everything except art, and whom he used to berate for "always painting for your next exhibition, instead of just
painting
." The restless nature of Watts's imagination, which communicated itself to his technique, so that his style often seems like the clouded mirror of an unsettled temperament, is perhaps most perfectly exemplified in "The Vision of G.F. Watts", an exhibition spanning his entire career at the charmingly delapidated Watts Gallery in Compton – a building which, in its evidently somewhat parlous state of preservation, is itself an eloquent architectural symbol of the painter's modern reputation. But three other exhibitions, all of them in London, serve to complicate the already complicated picture of the artist presented there. There is a modest show of his drawings in the John Madejski Fine Rooms at the Royal Academy, as well as a large exhibition of his portraits at the National Portrait Gallery. There is also a dramatic display of "The Symbolic Paintings of G.F. Watts" at Tate Britain, bringing together a monumental series of convolutedly allegorical pictures, which he seems to have intended both as an excoriating, state-of-the nation address on the ills of contemporary society, and as a kind of secular cathedral – a place where the troubled souls of a troubled, materialist age might convene for spiritual nourishment.
For good measure, anyone seriously bent on attempting to grasp something like the entirety of this tirelessly prolific artist's achievements will have to gain entry to the Palace of Westminster, which he decorated with a rather wooden fresco breathlessly entitled
Alfred Inciting the Saxons to Resist the Invasion of the Danes by Encountering Them at Sea
. Also
de rigueur
is a visit to the banqueting hall of Lincoln's Inn, which Watts furnished, free of charge, with an enormous hemicyclical fresco on the subject of universal law. Conceived as a homage to Raphael's
School of Athens
, this monumental work gathers together some thirty law-givers from all periods of human history and attempts to show them in fruitful legalistic dialogue – the endearingly naïve assumption behind Watts's iconography being that such disparate characters as Moses, Confucius, Mohammad and assorted ancient Greeks, Picts, druids (
et al
) might have found common intellectual ground on the subject of the rights and obligations of man. Like Raphael before him, Watts included some of his own acquaintances in the scene, in fancy dress. Tennyson got to be a brooding King of Crete while Edward Burne-Jones had to content himself with the bit-part of "royal Spartan". The overall effect is uneasy, a staged gathering of characters whose evident lack of dramatic relation to one another belies the overt evolutionary optimism of the work.
Watts frequently failed in his more grandiose schemes, but even his failures usually have the merit of ambition and interest. He lived in the post-Darwinian age and his desire for the reassurance of unchanging verities reflected, in inverse proportion, the tendency of scientists to call every received idea into question. Watts, who was much given to prohetic utterance, once declared that "My intention has not been so much to paint pictures that will charm the eye as to suggest great thoughts that will appeal to the imagination and the heart and kindle all that is best and noblest in humanity." But not all of his contemporaries were convinced. One of the first critics to write perceptively about Watts,
The Times
's Harry Quilter, remarked on the pervasive restlessness of the artist's pictures, finding them shot through with "the nineteenth-century atmosphere of unrest, questioning and uncertainty." This aspect of Watts's artistic personality is most vividly expressed in the near-abstract sunbursts of his late "cosmic" pictures, which form the climax to the exhibition at Compton – depictions of a universe as an awe-inspiring but ultimately inexplicable confluence of energies.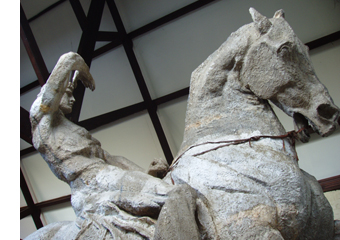 Watts is difficult to place because he is part of a distinct but submerged tradition within British art itself. Most of his direct ancestors are themselves largely forgotten painters who attempted, for the most part fruitlessly, to enlarge the narrow compass of British aristocratic taste, which, for centuries after the Reformation, had confined most artists to the production-line portrayal of milord's wife, his horse, his dog and his country estate. In seeking to create grand, allegorical, intellectually ambitious paintings, Watts took for his role-models men such as James Barry, the eighteenth-century Irishman who spent half his life working unpaid on a vast cycle of paintings illustrating the progress of human civilisation for the Society of Arts in the Adelphi. Benjamin Robert Haydon, the nineteenth-century history painter, who took his own life after a career similarly dogged by setbacks, was another inspiration to Watts in his youth – and it seems to have been on Haydon's recommendation that Watts gave up his studies at the Royal Academy, aged eighteen, to devote himself instead to the study of the recently arrived Elgin Marbles.
The Elgin Marbles would remain his touchstones, throughout his life. The idea of becoming a British Phidias, of creating an art not for private but for public consumption, which would somehow enshrine the most sacred values of society, never left Watts. At his death he was still working on the enormous plaster model for a sculpture intended to embody the spirit of progress,
Physical Energy
, which resembles a vast three-dimensional version of one of the heroic Athenian outriders from the north frieze of the Parthenon sculptures. This work, which seems in equal measure to anticipate the shivering vitality of Rodin's later sculpture and to foreshadow the militaristic gigantism of Arno Breker's monuments to the Third Reich, presides in somewhat constrained majesty over other relics from Watts's last studio in the Watts museum at Compton. It encapsulates his bravura and ambition but also demonstrates the philosophical vagueness to which, like many another High Victorian agnostic, he was prone. Like many of his works, it dresses up an emotion – exuberance shadowed by determination to achieve who-knows-what – as a universal truth. A version of it was later cast as a memorial to Cecil Rhodes and exported to Rhodesia, now Zimbabwe, where it persists but is not exactly cherished. Another version can be seen riding muscularly through Hyde Park.
Watts disliked the idea that he might become best known as a painter of portraits, so he might not have been entirely happy with the sheer scale of the National Portrait Gallery's centenary exhibition – which revelas, among other things, just how much face-painting he had to do to fund his unpaid work as self-appointed allegorist of his times. It is characteristic of Watts that he regarded his portrait practice as itself a kind of history painting, a cumulative symbolic depiction of the spirit of the age – a "Hall of Fame" into which only a select few were to be allowed. He let it be known that only those of considerable merit or distinction were to be allowed into his studio for sittings, although in reality he was less selective than this implies. There is no doubt that his best portraits are all of people for whom he felt a strong affinity: Alfred Lord Tennyson, brow furrowed in poetic reverie, whom he isolates in existential anxiety on a dark ground; or Alice Prinsep, fingers poised at the keyboard of her piano, a young lady in a plush Victorian drawing room, reinvented as a Renaissance Muse. His less successful portraits have a mannequin stiffness about them, perhaps because Watts could not bring himself to animate people whom he did not feel were themselves animated by high or interesting thoughts.
Tate Britain's display of paintings from the so-called "House of Life", a typically fragmentary grand scheme of Watts's later years, perfectly captures his blend of dreamy melancholy and moral evangelism. Several of the pictures tackle biblical themes, notably the birth and repentance of Eve, while others have the exuberant crudeness of graphic satires, seeking to expose social ills of the time by embodying moneybags industrialists, or the exploiters of child prostitutes, as evil, grotesque monsters. Others again are on subjects of Watts's own devising, such as
The Court of Death
, or
Love and Death
. Death in these works is shown to be implacable, unavoidable, an irresistible force personified as a dark angel. But he also comforts his acolytes, promising them a relief from pain and suffering (Watts said, with disarming frankness, that he wanted to help people to overcome their fear of dying.) These pictures are poised stylistically between the fey fantasies of the Post-Pre-Raphaelites and the overworked, glittering murk of Turner's later subject paintings – in fact Watts is one of the few artists to have been influenced by Turner's treatment of figures, costume and darkness, rather than Turner's luminous handling of light. His allegories resemble religious paintings, being modelled on monumental altarpieces, but do not communicate any recognisable religious doctrine, appealing instead to a spirit of morbid agnosticism. They are exemplary in their uneasiness. Watts wanted to create an art of universal appeal and moral permanence but he lived in an age inhospitable to such ideals and if his art memorialises anything it is his own, self-questioning and restless personality. The more he tried to reach out to the public the more fully he gave expression to his personal idiosyncrasies. Watts may have recognised this himself when he remarked, late in his career, that "My life might have been an epic, but is instead a series of sonnets."