Artless earthmover finally brings 'House' down
Date: 12-01-1994
Owning Institution:
Publication: The Independent 1987 - 1999
Subject: Now 20th Century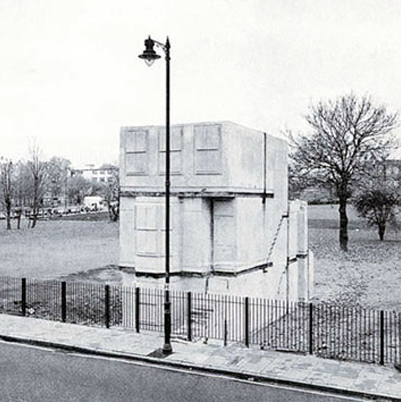 Andrew Graham-Dixon, the Independent's Art Critic, watched the demolition of Rachel Whiteread's installation in east London
IT HAD been three months in the making but it took less than an hour to reduce it to rubble. House, the most controversial work of art to have been seen in Britain since the Tate bought Carl Andre's Equivalent VIII (alias The Bricks), was demolished yesterday morning.
More than 100,000 people had seen House during its 10-week tenure of a patch of scrubby parkland at the junction of Roman Road and Grove Road in London E3, and a vigorous campaign - conducted largely within the pages of this newspaper - had been mounted to save it. But the implacable opposition of Bow Neighbourhood Council - whose land it occupied and whose leader, Eric Flounders, had publicly reviled the sculpture as ''utter rubbish'' and ''a little entertainment for the gallery-going classes of Hampstead'' - sealed its fate. Mr Flounders had huffed and he had puffed, and by 11am yesterday he had, finally, blown House down.
Created by Rachel Whiteread, an alumnus of Goldsmiths' School of Art who was recently awarded the Turner Prize in honour of her contribution to British art, House was destroyed by Joe Cullen of Demo One Ltd (Demolition and Dismantling Engineers) operating a Fiat-Hitachi earthmover.
An army of press and television reporters had gathered to witness the final unfolding of this most curious chapter in modern British cultural history.

Mr Cullen, not a man of many words, seemed somewhat taken aback by the sudden interest shown in his attitudes to modern art. He had come to bury House, not to praise it. And preferably not even to discuss it. ''It's not art, it's a lump of concrete,'' he told the world's press before climbing into the cab of his vehicle, where he evidently felt rather more comfortable.
Mr Cullen turned the key in the ignition and the earthmover roared into life, slithering towards House on caterpillar tracks and raising its giant claw high in the air. The claw descended like a metal fist and the reinforced concrete structure of House split open under the impact. The claw scraped and scratched and battered away and in a surprisingly short time, Ms Whiteread's mute and cenotaph-like creation was unrecognisable. This had become just another building site in the East End.
One of the more unusual aspects of this most unusual event was the spectacle it offered of an artist witnessing the wilful destruction of her own work.

Ms Whiteread, who had come to see and photograph the demolition of House, found herself besieged by journalists during the hour or so that it took to knock the sculpture down. She did not have much to say, although after Mr Cullen and the earthmover had done their work, after the men from Channel 4 and ITN and CNN had done their pieces to camera, and after the crowds had departed, she did show some emotion.
''Of course it's upsetting,'' she said, ''but I was determined not to be publicly upset. People were coming up to me and sticking their cameras in my face and saying 'Aren't you going to cry?' Well, I probably will cry, but I'll do it on my own.''
Several foreign reporters confessed that they were baffled by yesterday's events and remarked that they could not imagine such a thing - the destruction of a major work by a nationally honoured artist - taking place in their own countries.
But perhaps they are unaware that there is a venerable history of this sort of thing in England, an old tradition of iconoclasm that stretches back to the days of the Reformation, when religious zealots like William Dowsing systematically destroyed the sculpture and painting of the English Middle Ages. And perhaps the wreck that was House itself amounts to a monument of a peculiarly English kind: a monument to an abiding and virtually fanatical distrust of visual art rooted deep within the British psyche.
By midday, the site of House was almost deserted. Ms Whiteread and a few of her admirers were rummaging through the rubble, picking up fragments of the sculpture to keep as souvenirs (''something to put on my mantelpiece'', the artist said drily). And the men from Demo One were having a tea break before getting on with the rest of the job. During the next few weeks, the wreckage of House will be pulverised, buried on site and grassed over. A sculpture designed as a monument to buried communal memories will itself have been buried, replaced by a patch of lawn.