Bits and pieces: a Long look at classical sculpture
Date: 13-10-1986
Owning Institution: Anthony d'Offay
Publication: The Independent 1987 - 1999
Subject: 20th Century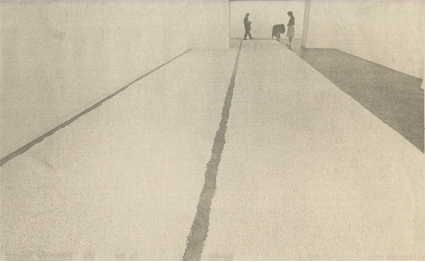 A new instillation of the fragile work of the landscape artist Richard Long
STONES - Words - Wind -Trees — Places — Thoughts" — Richard Longs's characteristically terse summary of his latest exhibi-tion also sums up, in its minimal way, most of the work he has pro-duced in his 20 years as an artist. Long is not given to garrulity, ver-bally or visually. While the new figurative artists have been laugh-ing, screaming or writhing in the gallery, Long has continued to walk the straight and narrow line dictated by the consistency of his artistic concerns since the mid-Sixties. The work in his new show is as cool, sparse and sober as ever — here is an artist, one feels, who would always pass an artistic breathalyser test.
Long's new installation at D'Offay's is dominated — or rather, pervaded — by Marble Fields, a large floor piece made of white marble chippings. It looks less like conventional sculpture than like a well-manicured gravel path: The piece consists of two oblong areas of scattered marble debris, running the length of the gallery and separated by a six-inch-wide strip of empty floor. The sculpture' shape imposes on the visitor, who is forced to tread gingerly around its edges. One cannot help feeling that large par-ties of schoolchildren will not be welcome.
But Long courts the effects of fragility and transience in his work. Whether he is throwing mud, or flattening a line of grass blades by repeated walking, or drawing in snow and photographing the results before they disappear, Long always in-sists on the frailty of his art.
1986 has been tang's year. In New York the Guggenheim Mu-seum is currently staging a major retrospective of his work; over here, Thames & Hudson have just published R.H. Fuchs' weighty, and beautifully illustrated survey of Long's career so far (which is doubling as the Guggenheim show's catalogue). Long's deliber-ately unassertive, fragile art, whether, it is made inside the gal-lery or outside, carries a moral undertone. "My art is in the na¬ture of things", he declares on the flyleaf of Fuch's book, echoing the claims of British romantic pastoral artists going back to Wordsworth and Constable. Un¬like his American counterparts, "land artists" rearranging nature with the assistance of bulldozers, Long's only tool is his body. His repertoire of techniques — walk-ing, throwing, placing and so forth — reveals how the most ba¬sic and common human activities can become artistic rituals. Ar¬ranging pebbles or driftwood on a beach, or piling up stones in the Lake District, Long welcomes the inevitable reabsorption of his art into the landscape. The most common criticism of modern art — the "I could do that" argu¬ment — has often been levelled at Long's work. But that is part of its point — by giving up specialised techniques in favour of universal activities Long im¬plies that we are all artists.
Marble Fields is a cool, calming sculpture, which seems to invite the viewer to cross-legged medi-tation. As always. Long treads a narrow line between subtly mini-mal effectiveness and mere banal-ity (to appreciate how successfully he does so one only need visit any art school degree show, which will almost inevitabley contain some crudely botched imitations of his work). It is easy to forget, in the monastic atmosphere of the exhi¬bition, that Long is a contemporary (and fellow ex-St Martin'smstudent) of more strident artists like Gilbert & George. Fuchs reminds us in his book that in the second half of the Sixties St Martin's teaching was dominated by the ideals of the "New Sculpture" as practised by Anthony Caro and Phillip King. Caro's welded and painted metal constructions challenged the monumental aspirations of traditional sculpture — abolishing the plinth, Caro placed his work, matter-of-factly, on the floor. Although Caro and Long have very little in common, there is perhaps an echo of the older man's teach-ing in Long's new work.
According to Caro, sculpture should abandon monumental self-assertivcness. Michelangelo's David is the perfect example of all that Caro's sculpture tries not to be. Long's Marble Fields is as self-effacing, undeclarative a sculp¬ture as one could wish for — Caro gave up the plinth, but Long has even given up the idea that sculp¬ture need be constructed, be made of joined parts. Furthermore, by choosing marble (surely provoca¬tively) as the substance of his cre¬ation, Long points up the differ¬ence between the traditional aspirations of sculptors working in that medium and his own, very different embrace of frailty. It is almost as if Michelangelo's David had crashed from its pedestal and shattered into a million frag¬ments. Long sweeps up the bits and rearranges them into his own ephemeral artwork. You are re-minded of Shelley's famous lines from Ozymandias, on the van-ished splendour of a monument to a forgotten king — "My name is Ozymandias, king of kings:/ Look on my works, yet Mighty, and despair!"/ Nothing beside re¬mains. Round the decay/ Of that colossal wreck, boundless and bare/ The lone and level sands stretch far away."