ITP 120: Rhyl Sands by David Cox
Date: 04-08-2002
Owning Institution: Manchester City Art Gallery
Publication: Sunday Telegraph "In The Picture"
Subject: 19th Century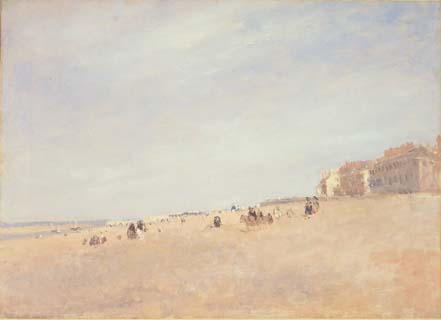 Today's picture is Rhyl Sands by David Cox, painted in about 1855, in the artist's favourite holiday resort on the Welsh coast. The first of four appropriately summery images for the month of August, it has also been chosen to mark the recent reopening of Manchester City Art Gallery, where it is to be found.
Rhyl Sands is one of the most surprising pictures of the nineteenth century. I still have a vivid memory of coming across it for the first time, on a trip to Manchester eight or nine years ago, in a room hung mostly with Victorian narrative paintings and nudes. Seeing it at a distance I suspected at first that its presence could only be explained by a mistake, or by some perverse curatorial antic. Why on earth had this fresh and breezy beach scene by Eugene Boudin – or could it perhaps be an early Monet – been put here of all places, among a bevy of pallid Pre-Raphaelite maidens? Then I got close enough to read the label and realised that this light-filled depiction of holiday-makers on a beach was, in fact, the creation of an English painter. He had created it, moreover, more than a decade before before Impressionism became even a gleam in Monet's eye.
If most histories of English painting are to be believed, David Cox was an interesting but minor artist whose best work was done in the medium of watercolour. Ruskin passed a mixed judgement on his efforts in Modern Painters, criticising him for loose technique but praising him for "his melting water-colour skies … wild, weedy banks … the moisture of his herbage … the melting of fragments of white mist into the dropping blue above". But Ruskin does not seem to have been aware of Cox's remarkable efforts in oil paint, which are few in number and were mostly executed towards the end of what appears to have been an arduous and frequently obstructed career.
The artist was born in Birmingham in 1783, according to his principal biographer, J. Thackray Bunce. His father Joseph was "a general worker in small iron wares" who noticed David's talent for drawing and apprenticed him to a now forgotten painter of miniatures. The arrangement did not work out well. "His master committed suicide, and David Cox, thus thrown out of employment, found temporary work in the scene painting room of the Theatre Royal, Birmingham." He eventually moved to London, where he took lessons in watercolour painting and tried, with limited success, to make a career for himself as a professional artist. His work was exhibited at the Royal Society of Watercolourists but he had to supplement his income by teaching. "In 1814, he accepted an engagement as drawing-master at Miss Croucher's School, the Gate House, Hereford, at a salary of £100 a year." Other such jobs followed. But in 1841 Cox finally gave up teaching and moved back to his native Birmingham, having saved enough to paint what and how he pleased for the remainder of his life.
So it was that in his retirement this intriguing artist set out to try his hand in the hitherto unfamiliar medium of oils. The mystery of how Cox came to develop the subtlety of pictorial conception and execution shown in Rhyl Sands, armed as he was only with his experience as a watercolourist and a few lessons in oil-painting, will probably never be solved. Cox was in his early seventies when he painted the picture, and was recovering from the effects of a recent stroke, which only makes his dexterity and technical boldness all the more remarkable. He must have looked at the mature work of Turner and Constable, and been impressed by the dedication with which they had set out to snare passing effects of light and the weather. Yet the style of Rhyl Sands, built up from swiftly applied touch upon touch of pure bright colour, mostly blues and warm, sandy pinks, is entirely his own. "His tendency was to self-depreciation", says Bunce, which helps to explain why his remarkable pictorial experiments never came to the attention of a wide public.

The phrase "pre-Impressionist" is sometimes used too freely, but the truth is that there really would be nothing quite like this corner-of-the-eye, snapshot approach to the capturing of a scene – with its eloquently blurred figures, the very embodiment of that new nineteenth-century phenomenon, the transient pursuit of leisure – until the advent of French Impressionism. Cox's stylistic originality apart, what I also love about the painting is its truth to experience: the way in which its slightly tip-tilted angle of view, seems to conjure up that sense of disorientation which you often get on flat, sandy beaches, robbed of the normal reference points and confused by the swell of the sea (an effect enhanced by the slightly drunken angle of the houses in the right middle-distance). The painter's absorption in his subject seems absolute, although a kind of reserve can perhaps be sensed too. The holiday-makers sweep past, but at a distance, and the impression is that the painter rather likes it that way. David Cox will never be really famous, but he might not have minded. Being out of the public eye seems to have suited him.