Finding knowledge in lost Rembrandts
Date: 09-12-1989
Owning Institution: Wallace Collection
Publication: The Independent 1987 - 1999
Subject: 17th Century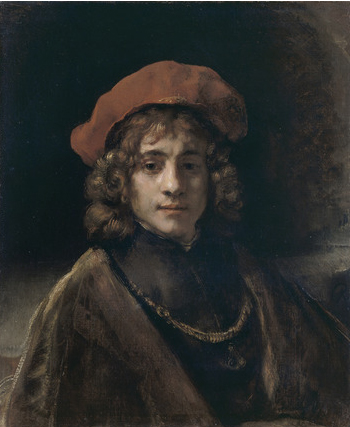 The once impressive list of paintings by Rembrandt in the Wallace Collection is down to one. But the London museum's director is happy with the loss. He ex-plained why to Andrew Graham-Dixon
JOHN INGAMELLS, director of the Wallace Collection, keeps losing Rembrandts. He lost three a cou-ple of years ago: one biblical painting, The Good Samaritan, and a pair of portraits, Jan Pellicorne with His Son Caspar and Susanna Pellicorne with Her Daughter. Naturally he was concerned, but there was little he could do about it. The problem has recurred. Yesterday he lost two more: The Artist in a Cap, listed in the Wallace Collection's catalogue as a self-portrait, and a Landscape with a Coach. To lose three Rembrandts looks like carelessness - but five?
However, famous Rembrandts in British public museums have disappeared in the past: most notori-ously, perhaps, the small portrait of Jacob de Gheyn in the Dulwich Art Gallery, which has been stolen on no fewer than three separate occasions (and, luckily, recovered each time, most recently when the picture was found abandoned on Munster railway station). But Mr Ingamells' disappearing Rembrandts never actually leave the museum. They are all still hanging in the Wallace Collection's august Manchester Square home in the West End of London, and Mr Ingamells says that he has not 'noticed any change in their appearance since they were lost'.
Five Dutch scholars calling themselves the Rembrandt Research Project are responsible for the dwin-dling of Mr Ingamells' stock of Rembrandts.
Since the late 1960s, the members of the RRP have examined virtually every known painting attributed to the Dutch master. In the middle of this decade, they began publishing their conclusions, in the form of A Corpus of Rembrandt Paintings. Two volumes have been published so far, in which the RRP considered every Rembrandt or supposed Rembrandt thought to have been painted up to the year 1634. The third vol-ume, which advances to the year 1642 (Rembrandt died in 1669, so they have some way to go yet) will be published early next year; its completion was marked by a ceremony in the Rijksmuseum in Amsterdam yesterday.
It is within the dense pages of these three heavyweight tomes that the Wallace Collection's losses have occurred. The art historical term for it is deattribution. In Volume II the RRP experts stated that in their opin-ion the museum's two Pellicorne portraits had been painted by an unidentified assistant in Rembrandt's Am-sterdam workshop in 1633-4, and that The Good Samaritan was the work of Govert Flinck, another of Rem-brandt's pupils in the 1630s.
In Volume III they deattribute the Landscape with a Coach, which they consider to be another Flinck, and state that the portrait of The Artist in a Cap is 'one of a group of portrayals of Rembrandt done by his workshop assistants'. The latest edition of The London Art and Artists Guide singles out the museum for its notable 'Dutch paintings by Rembrandt'. Since the museum now has only one definite Rembrandt, a portrait of The Artist's Son, Titus it looks as though that will have to be amended to the singular.
John Ingamells, interviewed earlier this week, seemed remarkably unperturbed by it all. 'It's no good expecting a story like 'Outraged Museum Director Hits Out at Rembrandt Scholars'. I shall disappoint you consistently in that respect, I'm afraid.' He puffs reflectively on his cigarette. 'The thing is, I actually agree with the Rembrandt Research Project's conclusions. There's one painting I'm not absolutely convinced about, but I find their arguments extremely persuasive . . . What a lot of people don't realise is that deattribution of Rembrandts is not a new thing. It has been going on for some time.
'The fact is that there used to be so many so-called Rembrandts that it was obvious one man could not have painted them all. When a scholar called Hofstede de Groot published his catalogue of Rembrandt just before the First World War, he included something close to 1,000 paintings. By 1969, Gerson had got that down by about half, and by the time the RRP have finished we'll probably be left with something like 300.'
The Wallace Collection is in many ways a perfect illustration of what has been termed 'the Rembrandt drain'. When the Fourth Marquess of Hertford died in 1870, shortly before his widow bequeathed much of his collection to the nation, he thought he owned 13 Rembrandts. These included a number of extremely suspect paintings, such as An Officer in a Plumed Hat (which Mr Ingamells describes as 'an outrageous eighteenth-century pastiche'), and 'by 1970, the original 13 was down to six. The RRP has reduced that to one, so as you can see the pruning process has been fairly radical.'
Mr Ingamells says he cannot remember his first reaction to the news that the Landscape with a Coach - his personal favourite among the RRP's deattributions - was going to be on the casualty list. 'I was certainly shocked. I probably thought something like 'Christ almighty', or 'sod it'. But now that I've read their reasons for giving the painting to Flinck, I feel much more philosophical about it.'
Mr Ingamells feels he is in a particularly good position to be philosophical, since 'neither I nor my predecessors bought the pictures. I am essentially looking after this great national bequest, which comprises about half of the greatest private collection ever built up by non-royalty in this country, but I have no vested interest in the pictures.
'In the last 30 years art history has gone forward in such leaps and bounds that in a collection such as this, which is static and has a very small expert staff, one is struggling to keep abreast and make sure you know what you've got and what other scholars think of it. Now the pictures I have to care for cover a great time-span and come from a great many countries. One can't possibly be an expert in every field, and I am not by training a Rembrandt scholar. Therefore I rely very greatly on the work of people such as the RRP, and am perhaps less likely to be upset by their conclusions. My real concern is to increase our knowledge about the paintings here. That is one way in which the Wallace Collection is different from a normal museum, where for instance one's predecessor may have bought a painting and if it's decided that it's not a Rem-brandt he ends up looking as though he made a terrible mistake.
'In the case of private collectors, of course, it can be far more serious. I do know of cases where 'wrong' Rembrandts have been sent to the RRP for opinion and when the decision went against them certain people have been known to throw a conspicuously awful fit.'
When the RRP pronounces, the art world pays attention. The art market does more than that: when a painting is deattributed, its value plummets. Deattribution can make the difference between dollars 14m, the price Sotheby's expected to get for the Portrait of a Bearded Man Standing in a Doorway, and dollars 800,000, the sum it realised last year after the RRP had decided it was not by Rembrandt.
The RRP describes the Wallace Collection's The Artist in a Cap as 'a painting that is in execution so in-ferior to Rembrandt's work that it cannot be regarded as authentic'. The language may be arid, but the stakes are high. The collection's pictures cannot be sold, under the terms of the bequest, but one curt remark like that can cost a private owner of a painting millions of pounds.
Kirk Varnedoe, director of painting and sculpture at the Museum of Modern Art in New York, recently described the difference between the wealthy collector of 20 years ago and his modern counterpart, as he might contemplate his most treasured painting. 'At one time he might have looked at it and said, 'There's the Porsche I didn't buy.' Now he says to himself, 'That's my children's education for three generations, a villa in Monte Carlo, a duplex on Fifth Avenue and a fleet of Rolls-Royces - all sitting over my fireplace.' When some Dutch academics take all that away from you, a conspicuously awful fit looks like a conspicuously appropriate response.'
Of the Wallace Collection pictures that have been deattributed by the RRP, Mr Ingamells says that he was frankly relieved to see at least three go. 'I was never very happy about the Pellicorne portraits being by Rembrandt, and I was pleased when The Artist in a Black Cap was marked down because I'd always con-sidered it a weak picture even though it was thought to be above questioning. Having said that, I feel there may be something in the argument that the RRP are sometimes a little too rigorous, that they expect Rem-brandt to be too perfect, too much on tip-top form all the time - but in that case I am convinced by their ar-guments.'
Mr Ingamells took longer to decide about The Good Samaritan but says he is now 'quite convinced by the fairly complicated arguments that the RRP have put for its being by Flinck'. His feelings about the Land-scape with a Coach are more mixed. 'It was bought by the Third Marquess of Hertford, adviser to King George IV on Dutch pictures - nearly all the great Dutch paintings in the Queen's collection were bought by George IV on his advice - in 1815, the year of Waterloo. The whole world thought then that it was a Rem-brandt, and has done until now. It is the most marvellous picture: it's magical, it's whimsical, it's beautiful, and I know of at least one serious Rembrandt scholar who disagrees with the RRP and still thinks it is a Rembrandt.
'Let me put it this way: it seems a great shame that a picture which in previous Wallace Collection cata-logues was called 'Rembrandt' might appear as a 'Flinck (attributed to)', because that suggests, unfairly, a lack of quality in the picture. It's not that it is so damaging that the picture may not be thought to be by Rembrandt - I am fairly convinced by the RRP's argument that it differs significantly from any of the absolute, definite Rembrandt landscapes that we know - it's just that 'attributed to' always looks somehow apologetic.
'One of the great problems that we face is that the reputation, the aura of Rembrandt has been such for so many centuries that no one has paid such attention to the work of his pupils - their identities have been swept aside because of the much more spectacular sport of identifying Rembrandts.
'Part of the problem always used to be that so many of the paintings in question were privately owned, and the old-fashioned art historian who probably went in through the tradesman's entrance was hardly likely to tell his lordship that his Rembrandt was actually an Eghout, or a Flinck. It's only now, with Sumowski (he gestures to three massive volumes devoted to the work of Rembrandt's pupils) that we are beginning to get a clear picture of the school of Rembrandt. Art history might have decided that the Landscape with a Coach is not by Rembrandt, but the next challenge is to stimulate interest in the painter who did execute it - to make people realise that it's not a reject, but a masterpiece by a different artist.'
Mr Ingamells was honoured by the RRP yesterday when they formally presented him with the first copy of A Corpus, Volume III. The presentation has been widely interpreted as a wooden spoon award, a consola-tion prize for the museum director who has lost more Rembrandts than anyone else. Mr Ingamells himself has a different explanation. 'Josua Bruyn (the head of the RRP) once said, 'Do you know you're the only person to write and thank us for what we've been able to tell them about their pictures.' I do feel genuinely grateful, for reasons which I think you will now understand.' He speaks with the relaxed air of a man who has nothing to lose.