A model society
Date: 03-01-1989
Owning Institution: Madame Tussauds
Publication: The Independent 1987 - 1999
Subject: Now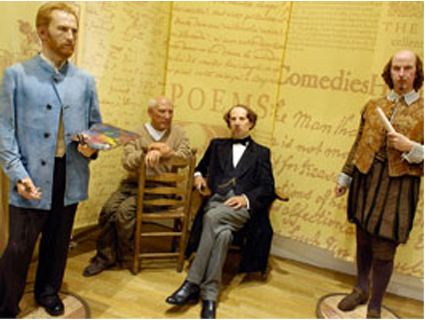 Andrew Graham-Dixon visits 'Britain's most popular sculpture gallery'
WHEN MADAME Tussaud published the first catalogue to her waxworks, back in the early nineteenth century, she expressed the hope that the figures displayed would 'convey to the minds of young Persons much biographical knowledge - a branch of education universally allowed to be of the highest importance.' Not all of the eminent Victorians who flocked to Madame Tussaud's were convinced. Charles Dickens, a frequent visitor, conceded that by the 1850s the place had become 'something more than an exhibition . . . it is an institution,' but still had his doubts about its claims to educate and enlighten. 'What can be said of the young man from the provinces,' he wondered, 'who, with red and beefy neck, gazes up at 'The Death of Marat' while consuming an underdone pork pie?'
You will still find 'The Death of Marat' if you visit Madame Tussaud's today, in 'The Chamber of Horrors'. These days, the young man gazing up at it is more likely to be an American tourist from the Midwest; if he's eating anything, it is probably a soggy Big Mac. But Dickens' original question still holds good: what can be said of him, and the thousands like him who, year in, year out, make their pilgrimage to the cathedral of wax on the Marylebone Road?
Madame Tussaud's is an enigma, an apparent anachronism which has, somehow, managed to retain its grip on the popular imagination. What is it that has enabled this particular nineteenth century institution to survive and prosper into modern times, while virtually every other species of mass-appeal visual art of the period - the panorama, for example, which pulled them in in their thousands in the Victorian era - has been killed off by the competing attractions of cinema, photography and the other modern media? Madame Tus-saud's has around 2.5 million visitors a year (some 800,000 more than the Tate Gallery). It is the most fre-quented profit-making tourist attraction in Britain. You could - just - make out a case for it as the country's most popular sculpture gallery.
While successive managements have strained their resourcefulness to keep Madame Tussaud's up-to-the-minute, the place is full of bizarre reminders of its past. The latest additions to 'The Chamber of Horrors' include a likeness of Dennis Nilsen, the bone-boiler of Crouch End, but the display remains, in es-sence, a throwback - a Wunderkammer of human atrocity, its centrepiece the gorily intestinal likeness of a Ripper victim. Elsewhere, you encounter the figure of Anneka Rice, swinging gleefully from a rope ladder strung from the ceiling, followed, in swift succession, by that of Voltaire. It is one of the more striking juxtapositions - full-of-herself Anneka meets philosophe Voltaire - but also a measure of Madame Tussaud's pride in its own history, its status as unlikely survivor.
Its first display is devoted to a fairly arbitrary selection of Moments From British History. The English Civil War is represented by a tableau which itself reproduces a nineteenth century painter's lachrymose rep-resentation of an imaginary episode from it - W F Yeames's And When Did You Last See Your Father? ren-dered in wax, plucky little-boy-Cavalier interrogated by stern jury of Roundheads. Here you will also find the angelic, blonde-wigged waxworks of 'The Princes in the Tower', based on Delaroche's nineteenth century picture in the Wallace Collection; imaginary tableaux include the inevitable Guy Fawkes among powder kegs, and a Bonnie Prince Charlie who looks disconcertingly like QPR's player-manager Trevor Francis.
You could, on the basis of all this, argue the case for Madame Tussaud's as a peculiarly modern - even post-modern - phenomenon. History dissolves into fantasy, enacted by these immobile, glassy-eyed constructs of the imagination, themselves modelled on the frozen imaginings of the painter. Its attitude to contemporary realities is no less fanciful: in 'The Great Hall', the current British royalty, on a podium, lords it over the world's politicians as if the days of empire had never ended. This is, to lift a quotation from Malcolm Bradbury, 'a total invention with delusory approximations to historical reality, just as is history itself.' Except at Madame Tussaud's the elision between history and fantasy is effected without irony - its message seems to be that this is how things really were and are, and it is surprisingly often taken in the same spirit. A pair of American tourists whom I spoke to in The Queue (the first of Madame Tussaud's tableaux, where you get to play at being a waxwork yourself), Rhona and Charlene from Milwaukee, thought it was 'so interesting to see what people like Guy Fawkes or Shakespeare really looked like.'
The original Madame Tussaud was a kind of photo-journalist avant la lettre. In Paris at the height of the Terror, she regularly attended the cemetery of the Madeleine, where she would bribe the executioner to let her sort through his cargo of heads and take likenesses from the pick of the bunch. The heads of Robespi-erre et al in 'The Chamber of Horrors' - which were such crowdpullers when Madame Tussaud first brought her Maison de Cire to London - are reminders of the waxwork's original appeal, as a blend of sensationalism and reportage.
Waxworks have lost the aura of historical authenticity they once had (Jacques- Louis David commis-sioned Madame Tussaud to take the death-mask of Marat and used it as source material for his great portrait of the revolutionary). Now that you can compare the waxworks of the famous with what you have seen of them on TV or in the newspapers - and now that most are modelled, rather than taken from life- or death-masks - they are at something of a disadvantage. The modern sections of Madame Tussaud's, 'The Conservatory' or 'Superstars' (its wax and drugs and rock 'n' roll department) transport you from ye olde historical never-never land to a modern fantasia peopled by celebrities who - it has to be said - usually look almost nothing like the real thing.
Looking at the pug-faced Joan Collins, stretched out on a chaise-longue in a silver cocktail dress, or the singularly unconvincing John Lennon (made seven years after he died), it dawns that one of the chief attractions of Madame Tussaud's now lies in trying to work out where the modeller went wrong. The deterioration of the wax doesn't help; many of the waxworks look as though they are suffering from melanoma.
The waxwork is a poor way to attempt the illusion of flesh and blood. Unlike virtually any other artistic medium, wax scorns the concessions made to a convention. Traditional painting or sculpture - whose re-spective flatness and hard, monochrome surface never leave the viewers in doubt that what they are wit-nessing is an illusion - invite the willing suspension of disbelief. The waxwork, by contrast, invites belief. It is a form that seeks, however misguidedly, the perfect fusion of artifice and reality (hence the occasional 'sur-prise', like the wax sales assistant in the gift shop). The waxworks wear, where possible, clothes once owned by their originals. Flesh tone and hair colour are precisely matched. Madame Tussaud's prides itself on the extensive notes and measurements that go into its human reduplications; it is currently working on 'audio-animatronic', moving waxworks.

Of course, the illusion as a whole doesn't actually work, but in one vital respect it does. Whether you think the model of Terry Wogan in 'The Conservatory' looks like him or not, you can be sure that the height and bulk of the figure are accurate. Perhaps this, more than anything else, accounts for the enduring popu-larity of waxworks. The Queue's main reason for going seemed to be that 'you can see how big or little peo-ple are - it's interesting to find out that you're a couple of inches taller than Gorbachev.' This is the one way in which wax as Madame Tussaud intended it, as reportage, has not been superseded by the modern mass media.
We live in an age when we know the world, more than we have ever done, through reproductions of it, its major events and figures - and those reproductions, relayed via cathode ray or the dot matrix schemata of the mass-published photograph, are almost entirely lacking in any tactile, volumetric, three-dimensional sense of the world. Madame Tussaud's appeals to the same, prurient sensibility that is addressed by the gutter press. Its presiding deity is Celebrity, to which it takes a lowest common denominator approach - it will immortalise you for making the headlines, even if only for killing sufficient numbers of people. But its chief appeal is that it offers a kind of realism that is to be had nowhere else (unless, that is, you happen to be on first name terms with Michael Jackson, or dine regularly with the Queen - in which case you probably don't have a lot of time for waxworks).
It is a house rule that you may touch the exhibits, which gives Madame Tussaud's a curious, parodic resemblance to the Orthodox or Catholic church. There, worshippers sustain their faith in the world according to scripture by kissing or embracing the icons and statues; Madame Tussaud's offers the same kind of token reassurance, about a world rendered phantasmal not by biblical prose but by the alienating side effects of the mass media. It lets you know that the people whom you will probably only ever see on celluloid, on TV, or in newspapers and magazines do, like yourself, occupy physical space; it exists to prove that a certain kind of reality, known only through reproductions, is nevertheless real. Madame Tussaud's (which has, incidentally, its own cosmology, its heaven and hell in 'The Conservatory' and 'The Chamber of Horrors') is the last, secular bastion of idolatry.