The Small Change of Art
Date: 25-04-1989
Owning Institution:
Publication: The Independent 1987 - 1999
Subject: 20th Century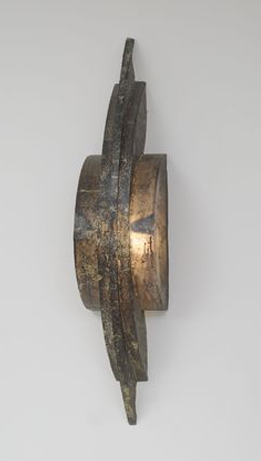 Exhibitions of work by Bruce Nauman, Robert Mangold and Anthony Green.
BRUCE NAUMAN has said that he is not interested in 'adding to a collection of things that are art', but in 'investigating the possibilities of what art might be.' Several of his investigations have, nonetheless, found their way into Charles and Doris Saatchi's collection of things that are art, and most of them are currently on view in the collectors' paint-warehouse-turned-museum in St John's Wood, London.
Early Nauman, like any self-respecting American avant-gardist, took the anything-goes approach. Busily questioning what art might be, he produced a series of rough-hewn imponderables. Untitled of 1965 is a columnar mould of snot-coloured fibreglass that looks like a trickle of gunge crawling down the gallery wall; a pair of similar forms lie in congress on the floor, where they look like copulating worms. This is art as reversion, to slime or primal coupling; Nauman was doubtless responding to the tabula rasa of art proposed by the American Minimalists, finding his own, terse language of reduction.
It was at around this time that Nauman photographed himself spitting out a thin jet of water and exhib-ited the result (not in the Saatchi Collection) as Self-Portrait as a Fountain. Turning himself into a fountain and calling it art was one of the ways in which Nauman - taking his cue, presumably, from Duchamp - poked fun at the cult of the artist. Others, which the Saatchis do own, were his Collection of Various Flexible Mate-rials Separated by Layers of Grease with Holes the Size of my Waist and Wrists, which is fairly well de-scribed by its title, and Wax Impression of the Knees of Five Famous Artists, a wall-hung panel constructed on the same principle as that pavement in Hollywood imprinted with the body traces of the stars - an attack on the saint's relic attitude to art, the notion that artists are somehow different, special people, whose least leavings are to be cherished. Nauman used his own knees.
The Saatchis own enough Naumans to mount what adds up to a full-blown retrospective of his work, serving another reminder that they have effectively replaced the Tate's Board of Trustees as Britain's most active collectors of contemporary art. The Saatchis have more money to spend, and have been able to buy the work of given artists in depth, which the Tate's acquisition-by-committee makes virtually impossible. The Tate owns two Naumans, a print and an installation from the early 1970s; the Saatchis own 14.
Still, I4 is probably overdoing it. Although Nauman is unusually eclectic, working in a wide range of me-dia, his is a deceptive eclecticism since no matter what form his work takes it all seems to relay essentially the same message. His early cynicism about art has gradually metamorphosed into a more general obses-sion with non-communication and an accompanying sense of futility. Nauman is preoccupied with bondage or entrapment. Henry Moore Bound to Fail is an early piece that hints at later developments, a simple cast of a man's back bound with ropes. His more recent South America Triangle features a dangling triangle of steel girders hanging from the gallery ceiling, an inverted chair at its centre - a sculpture deliberately contrived to look like an instrument of torture. Other recent Naumans include several large, unprepossessing geometrical sculptures which could be mistaken for roughed-up essays in Caro- esque formalism but are, in fact, models for underground networks of corridors which don't connect and have no exits. Since there are no plans to realise any of them, they simply take their place in the rest of his oeuvre, as metaphors for dead-endedness and imprisonment.
Nauman also works in neon, producing logos that flash alternating words or phrases ('Lust / Faith', 'Envy / Hope') or stick figures with flashing erections, on-off hard-ons that cast man as unthinking captive of his sexuality. The words flashed up by Nauman's neon signs are dumb, polar opposites which also function as verbal equivalents to the more literal prisons envisaged in his sculpture. Look, Nauman seems to imply, this is all there is to life. He claims Samuel Beckett as an influence.
Robert Mangold, who shares the space, achieves the near-impossible by making Bruce Nauman seem positively expansive. Mangold is what you could call a Minimalist's Minimalist, having pursued his goal of unmodulated pictorial blankness for more than 20 years. He began his career at around the same time as Nauman, with a series of large monochromatic paintings which he dubbed 'Areas' or 'Walls'. He spray-painted shaped pieces of masonite in single colours, going for an impersonal, commercial finish and thereby asserting - in true Minimalist fashion - that a painting could be an object and no more. The Saatchis only own one such early Mangold, Red Wall, but that is sufficient.
More recent examples tend to look like notes from a geometer's sketchpad, monochrome fields into which the painter has inserted line-drawn squares, triangles or circles: A Quarter Circle, a Square and a Tri-angle within a Rectangle; Three Squares within a Triangle and so on. Just occasionally, to spice it up a bit, he draws geometrical shapes that don't fit their shaped-canvas containers; in the context, A Square not to-tally within a Triangle looks fairly radical. The point of it all remains unclear.
Like Robert Mangold, Anthony Green uses shaped-canvas formats, but the resemblance stops there. Where Mangold is committed to vacancy, Green's project is recklessly accumulative, dedicated to cramming his whole life into paintings that crawl with slick, highly finished detail. The latest episodes in the Green soap opera are showing at the Mayor Rowan Gallery.
After more than 25 years spent 'chronicling my family and its continuing history' the signs are that Green is settling into late middle-age. Mrs Madeleyne Joscelyne with her Son (Anthony Green) strands the artist and his mam in a forest of chintz, waiting for the tea to brew. There's less sex than there used to be: Breakfast in Bed: the 27th Wedding Anniversary, finds Anthony and Mary in a rather more decorous posture than usual, side by side under the duvet with their morning coffee. Something in his expression suggests that he's not entirely happy with the new-image Green, but he's coping stoically.
Even when the paintings do run to copulation, it's in well-heeled circumstances: Love at the Ritz III is a reminder, among other things, that these paintings sell for a lot of money (Green is big in Japan). Such pic-tures create an odd sense of anticlimax, presented as slightly risque, confessional works but not, in the end, having much more to confess than that the Greens are a happily married, sexually active couple living in Dartmouth Park. Maybe that partly explains why these pictures have continued to find their way up the noses of the British art establishment; Green's effusions of contentment seem like a fairly radical form of self-expression in an era where angst has become the respectable norm.
Green's art is unashamedly provincial. Fine art references are made, but usually debased so that his paintings tend to look, for instance, like poor man's Van Eyck. Even Green's zany formats make his paintings look like those cut-out shapes on the back of cereal packets, art striking a blow for the homespun. As he wrote in A Green Part of the World: 'I wanted to paint adolescence, bicycles, carpets, dog, Eric, failure, Greens, hair, irritation, Joscelyne, kisses, Mary, nasturtiums, optimism, penises . . .' The list goes on.