The Philosophy of Wallpaper
Date: 14-02-1989
Owning Institution:
Publication: The Independent 1987 - 1999
Subject: 18th Century 19th Century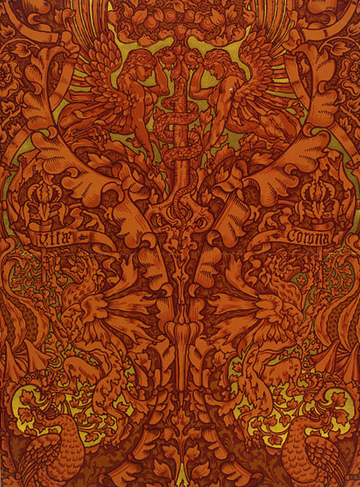 Andrew Graham-Dixon reviews exhibitions of Walter Crane and 'The Last Romantics.

'STARING, wild-eyed, and clutching her 'fantastic garlands', John William Waterhouse's Ophelia prepares to take her last dip. Her hysteria seems stale, stage-managed, but perhaps that was inevitable; by the time Waterhouse got round to painting the nineteenth century's favourite nutcase, in 1910, Ophelia had already been done to death, so to speak, by the Pre-Raphaelites.
It might be weak and derivative, but Waterhouse's painting is an appropriate prologue to the Barbican's massive survey of British narrative painting circa 1890-1950 - dedicated as it is to art that insisted on non-originality, that consecrated itself, for the most part, to cliche.
Whole rooms throng with Ophelias and her fellow sisters in woe, who collectively emit the drawn-out sigh of Pre-Raphaelitism's slow, slow death. But this show is more than epitaph and epilogue; it argues for a coherent but forgotten tradition in British art, no less. Casting its net wide, it finds space for, inter alia, 'Celtic Elements in Scottish Art at the Turn of the Century', assorted Rome Scholars, would-be muralists and later practitioners of narrative art such as David Bomberg, Mark Gertler and Stanley Spencer.

The exhibition organisers have opted for 'The Last Romantics' as a hold-all title, which is fine - it's fairly catchy, and has the advantage of being a line from Yeats - except that none of the work on display has any connection with Romanticism. The show is better understood as a belated riposte to The Royal Academy's 'British Art in the Twentieth Century: The Modern Movement'. Its subject is The Non- Modern Movement, its theme the survival of late nineteenth-century attitudes into this one.

Some of the survivals are, indeed, remarkable. The palm for reactionary persistence goes to Frank Cadogan Cowper, whose Pre-Raphaelite painting, The Four Queens Find Lancelot Sleeping, dates from 1954. Only when you read the label and look again do you notice, perhaps, that these four Rosettian femmes fatales are coiffed and made up like 1950s movie-stars. It was no spoof; while Abstract Expressionism was bubbling under in New York, Mr Cowper genuinely felt that this sort of thing represented the way forward for art.

The earlier 'Post-Pre-Raphaelites', as they have been called, prove him wrong. Evelyn de Morgan's Flora, painted 60 years before Cowper's stunning anachronism, is a morbidly decorative, terminal example. She has been shamelessly lifted from Botticelli's Primavera; the paintwork does its best to enamel her to death, in true Post- Pre-Raphaelite style, while de Morgan's half-hearted attempt at a jewelled luxuriance of vegetation gives the impression that the spirit of Spring is being strangled by William Morris wallpaper.

Pre-Raphaelitism had effectively become Symbolism by the date this exhibition grinds into motion. Dispensing with the old Pre-Raphaelite obsession with every-last-leaf fidelity to nature, artists concentrated on isolating and enhancing its incipient morbidity. Edward Robert Hughes's 'Oh, What's That in the Hollow?' - a marble-faced youth dead in a ditch, twined with Burne-Jonesian dog-rose - is pure Symbolist necrophilia. Even the living turn oddly pallid; Edward Reginald Frampton makes his Maid of Bruges appropriately 'spiritual' by giving her the complexion of a dead person.

All of these artists, even the most pitifully inept, attempt to revive Tradition. Their problem is that by the later stages of the nineteenth century tradition had degenerated into historicism, the vacant mimicking of every past style under the sun. Most if not all of the great political, moral, social and religious structures that had underpinned the great narrative painting of the past had collapsed; so, instead of religious paintings, you find mock-religious paintings, framed like pretend-altarpieces. The gilded angels of John Duncan's St Bride impress, not with their sanctity but their ornateness, painted so thickly they're a bas-relief.

Other artists seek to canonise human attributes or conditions, aiming to establish the principles of a new, secular religion. Thomas Cooper Gotch contributes a grotesque painting of his daughter Phyllis, kitted out with a halo and titled The Child Enthroned. The so- called 'Last Romantics' specialise in such incongruities. Sir Thomas Monnington's mock-quattrocento, fresco-like Allegory looks like an Adam and Eve but is, in fact, autobiography writ large, a celebration of the painter's love for his wife. Elsewhere, artists enlist modernist techniques in the service of hallowed subject matter and discover failures of fit. In Winifred Margaret Knights' striking Deluge, Vorticist figures flee from water as turbid as sump oil in a landscape all sharp edges and gunmetal colours: biblical cataclysm seen through the eyes of the Machine Age.

Virtually all the artists in this show seem obsessed by the decline of public art and the shrinking possibilities for grand statement. 'Painting,' as Walter Crane put it, 'becomes more and more a matter of individual expression, and modern economic and commercial conditions favour this individualism.' There are several Cranes in 'The Last Romantics', the most impressive being Primavera - his contribution to neo- Botticelli-ism - which depicts a windblown maid gathering daffodils in the fields of Arcady. 'Walter Crane: Artist, Designer and Socialist', at the Whitworth, tells a fuller story, revealing him in all his formidable, Arts and Crafts manysidedness.

Crane's ideal, apres William Morris, was the Gothic cathedral, since it embodied the 'primal unity of the arts in architecture' that he cherished. In its absence, he channelled his energies into easel painting, book illustration, design, furniture, crafts, and just about everything else. The home of the average Victorian was to be his cathedral, crammed with symbolic reminders of universal truth and morality. As a painter and atheist, Crane developed a ponderous form of symbolism, specialising in neo-pagan personifications of 'the spirits of nature'. Regeneration was a favourite theme, hence the Barbican's Primavera; when Crane painted The Renascence of Venus, another Botticelli pastiche, this time of The Birth of Venus, he meant it as a millenial statement, predicting a brave new dawn in which Truth and Beauty would awake.

Socialism, which he discovered in 1885, seems to have suited Crane's almost obsessive allegorical frame of mind. He became a prolific designer of posters, adapting Pre-Raphaelite ideals of man- and womanhood to come up with an impressive range of heroic stereotypes, Socialist Realism avant la lettre - the Honest Worker, the Spirits of Liberty or Labour. But even Crane was not entirely immune to the attractions of Mammon; reading the inscription on what seems to be another rendition of Liberte Egalite Fraternite or some such, you find that his three graces are there to advertise Pear's Soap as the route to 'Health, Beauty and Economy.'

Everything Crane touched teems with allegorical intentions. Tiles depict the seasons or the times of the day; a vase symbolises The End of Slavery. There is something insecure about Crane's need to freight his work with symbolism. Perhaps he realised that his art, with its sinuous, Pre-Raphaelite grace, was closer to Liberty's than Liberty. Crane even provided purchasers of his pretty floral wallcovering, Coronae Vitae, with a long explanatory text which emphasised that 'the design may be understood as, generally, emblematic of a full, rich and ample life, not without its changes and contrasts, but ever springing anew to flower and fruition.' There is something rather sad about the investment of such high ideals in domestic wallpaper.