Pacific Overtures
Date: 24-01-1989
Owning Institution: Grand Palais, Paris
Publication: The Independent 1987 - 1999
Subject: 19th Century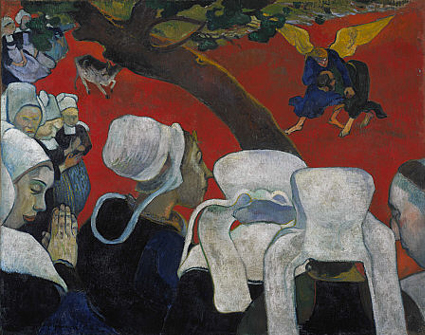 NEAR THE end of the superb, once-in-a-lifetime Gauguin exhibition currently at the Grand Palais, you find the artist's Christ in the Garden of Olives. Despite the title, it is a self-portrait (that long, uneven jaw-line, that crooked blade of a nose are unmistakable), an image of the artist as a misunderstood genius. Downcast, he crouches alone in a landscape of desolate simplicity, its windblown olive trees flattened patches of colour on an empty horizon.

Gauguin painted Christ in the Garden of Olives in 1889. 14 years before his death, in desperate circum-stances, in the South Seas, he is already making out his itinerary. 'There is a road to Calvary that all we art-ists must tread,' he wrote to Van Gogh, as a gloss on this painting.

Gauguin happily contributed to the myth of Gauguin - the man with a one-way ticket to tragedy, crucified by the intensity of his desire for a life and art of primitive simplicity - which would feed the kind of bio-pic sensationalism through which the 20th century has had its perception of so many great artists filtered. But the 250-plus exhibits at the Grand Palais - including many loans from the USSR which have not been seen in the West for years - suggest that the truth about Gauguin was both more complicated and more interesting. He emerges as an artist whose brilliance was always shot through with doubt, whose quest for the unspoiled Eden of his imagination led him, in fact, to a place and an art that proved far less simple than he had hoped.

Early, Impressionist Gauguin is characterised by the kind of derivativeness, the reliance on a melange of precedents, that you might expect in an artist still struggling to formulate his position. Apple Trees in the Hermitage Neighbourhood of Pontoise is characteristic - Gauguin-Pissarro, a sun-dappled orchard rendered in a flickering network of feathery brushstrokes that pays homage to Gauguin's first mentor both in its style and in its setting, a favourite Pissarro haunt.
The chronological display of the exhibition suits the nature of Gauguin's art, which is marked by sudden, dramatic advances, generally stimulated by changes of scene. In 1886, Gauguin moved to the remote village of Pont-Aven, near the southern coast of Brittany, which he liked because 'it is savage and primitive. The flat sound of my wooden clogs on the cobblestones, deep, hollow and powerful, is the note I seek in my painting.' Gauguin painted what he thought (wrongly) was a pre- industrial paragon of the simple society, with its quaintly coiffed peasantry, its folk superstitions - but his style remained, essentially, that of late Impressionism.

The real catalyst for Gauguin's breakthrough to a 'savage and primitive' style was not Brittany, but Mar-tinique, which he visited briefly in 1887; his Tropical Vegetation is a landmark painting, Gauguin's first break with the Impressionist, realist premises from which he had already begun to dissent. He paints what is, in effect, the Caribbean answer to Europe's Bay of Naples - a coastline that curves, in brilliant blue outline, to the horizon, seen through a foreground thicket of vegetation - and he does so in a way that is quite new in the history of painting. There are vestigial traces of the Impressionist manner, in the dabs and flicks of paint that capture the play of light and shade in the foreground, but most of the picture registers the landscape in those flat, patchy areas of unmodulated colour that have been Gauguin's most abiding formal contribution to the art of this century.

Back in Brittany, Gauguin consolidated his apostasy from Impressionism - an art 'without freedom, re-taining the bonds of verisimilitude' - by evolving a style and a subject matter that were increasingly detached from perceivable realities, and increasingly mystical in their orientation. Paintings of the late 1880s, like The Vision of the Sermon (Jacob Wrestling with the Angel) and Yellow Christ, amount to an assault on post-Renaissance tradition.

The subject, in both cases, is meant to demonstrate primitive Breton faith, a scene - the wrestling Jacob and the angel, on a shocking field of red; the stark, yellow figure of Christ on the cross - which exists not in reality but in the inflamed imagination of the Breton peasants who crowd the foreground of each painting. Art, Gauguin suggested, should stop trying to capture the minutiae of perception and explore, instead, the primitive heart of mankind. Pissarro, whose Impressionism was always allied with a positivist faith in precise observation, was shocked. 'This is a step backward,' was his terse verdict.

Yet Gauguin's art was always paradoxical, in that its evolution towards a supposedly pure, primitive style was immensely culturally sophisticated. Gauguin got his linear simplifications, flattened perspectives and areas of pure colour bound within a tight linear structure from a vast repertory of sources: the Japanese print, popular graphic art, and the presumed primitives of the Western tradition, the Byzantines and, after them, Giotto. He dreamed of creating an art that would be 'Japanese, but seen throught the eyes of a Peru-vian savage'; he seems to have felt, for a while at least, that such a multi-cultural hybrid of styles and sources could isolate some primitive essence of Man. He painted several (Japanese-ish) pictures of a female figure plunging into frothy surf, embodying his dream of a return to primal origins.

The story of Gauguin's attempt to live that dream - his voyages to Tahiti, separated by a brief, glum in-terlude back in France - is well known. He becomes the painter of dusky Tahitian Olympias, the transplanter of Christian mythology (as in Ia Orania Maria, where Tahitian natives stand in for the Holy Family) to foreign climes. These paintings represent Gauguin's most lasting achievement; in them, you sense Picasso and Ma-tisse waiting to happen. Yet perhaps what impresses most about later, mature Gauguin, is the mood of doubt that creeps into his vision of a putative Eden. If Gauguin is a great artist, it is because he has the courage to face up to the false premises of his original primitivism. In Tahiti he finds, not Man (and Woman) stripped to some original essence, but something less comfortable and certain.

Gauguin went to Tahiti, he told a journalist before he left, to make 'simple, very simple art . . . to im-merse myself in nature, see no one but savages, live their life.' Yet Gauguin's South Sea paintings come to dramatise the gap between his dream and what he found. Gauguin's mythological transplants - his Tahitian Holy Family, or the riders that prance along along a violet beach like fragments of the Parthenon frieze - seem to symbolise what he came increasingly to see as a failure of fit between European myth and tropical reality. Gauguin tries to sustain his faith in the idea of Tahiti as a simple, primitive culture, but the strain shows. There turns out to be virtually no indigenous art there, so he makes his own, carving idols in wood, creating his own, 'savage' mise- en-scene.

Gauguin's numerous paintings of his various Tahitian concubines are never, merely, images of exotic sex-objects - rather, these are brooding, melancholy, silent figures whose interior life remains a mystery to the painter. Their crises, the sudden accesses of superstition to which they are subject (depicted most fa-mously in Manao Tupapau, its recumbent figure paralysed by fear of the evil spirit in her imagination) are painted as, simply, mysterious emotional events that the painter himself cannot hope to partake in or under-stand. In retrospect, even Gauguin's earlier paintings of Breton Christian mysticism seem tinged with the artist's sense of exclusion from the experience he records - they are paintings of other people giving in to the urges of faith.

At the same time, Gauguin's increasing radiances of colour, his near-abstract treatment of sky, sea and land, merely heighten the sense of mystery, of the impenetrably exotic. The sheer, irresistible gorgeousness of these paintings is, also, poignant - a melancholy luxuriance, Gauguin's palliative to incomprehension.

One particularly moving painting, of Gauguin's first Tahitian mistress, Tehamana, seems especially sig-nificant. She is surrounded by the attributes of her alienness - a frieze inscribed with indecipherable glyphs, and carved with Buddhist figures. She wears a starched, high-necked missionary dress, a Western garment that merely increases the distance between her and the West - and, by implication, Gauguin himself. He called the painting Tehamana Has Many Parents, which amounts to an admission that the people Gauguin found on the rim of the world were just as freighted with cultural history, just as complicated, as Gauguin himself. Half-smiling, she's the symbol of the enigma that the South Seas, in the end, posed for Gauguin - a Tahitian Mona Lisa.