The Italian Job
Date: 19-01-1989
Owning Institution: Royal Academy
Publication: The Independent 1987 - 1999
Subject: 20th Century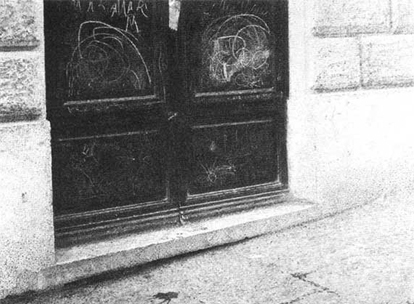 RIGHT AT the start of the Royal Academy's whirlwind tour of 'Italian Art in the Twentieth Century', you come across a small, unassuming picture painted by Giacomo Balla in 1902, titled Bankruptcy. Rendered in a light drizzle of Divisionist brushmarks, its subject is, on the face of it, nothing much - a pair of closed doors set into a facade of heavily rusticated, honey-coloured stone. No people are included, so all the eye can do is take in the dull, urban details that Balla's brush has dwelt on - the wriggling graffiti that deface these barred doors, the indeterminate stain that marks the pavement before them.
Yet Balla's painting has a kind of downbeat, generic potency. Thisfaded, timeworn excerpt from Italian urban existence at the turn of the century is, still, quintessentially Italian - an image of dusty, creeping decay of precisely the kind that you might encounter in any Italian town today. It is a reminder of Italy's stubborn rootedness in the past, of its inability - notwithstanding the efforts of the likes of Alitalia and Fiat, joint sponsors of this exhibition - to be wholeheartedly, technologically modern.

There is, inevitably, something inherently suspect about any attempt to find evidence of national identity in a country's art. But this exhibition mounts an extremely convincing case for what it sees as the Italianness of Italian art - arguing that Italian art has always been peculiarly attracted or repulsed by the idea of the past.

The ghost of history, that haunts even Italy's most modern cities, turns out to be both modern Italian art's bane and its driving force. The show starts with a bang, its opening room given over to the Futurists, whose manic embrace of modernity puts a brave face on Italian art's perennial, neurotic sense of the past. Marinetti, the movement's chief spokesman (present in Carlo Carra's demonic, splintered portrait of 1910-11), reviled Italy as 'an immense Pompeii still whitening with sepulchres'; Balla's Bankruptcy, in the context, reads like a clarion call, an image of precisely the sullen, inconsequential past that was to be thrown off.

You enter a demolition site of sorts, each painting a detonation. Balla paints stuttering diagrams of se-quential motion, motor- driven Cubism, or celebrates the glories of electricity, his Street Lamp a burst of multi-coloured chevrons emanating from a streetlight that's been painted as if it were a supernova. Carlo Carra weighs in with What the Tram Told Me, a blur of vehicle and architecture, a paean to urban restless-ness.

Futurism is often linked with technological utopianism, but its roots lay more in emotional outburst than scientific research. Umberto Boccioni's Modern Idol provides the first room with its presiding deity, a Futurist femme fatale - unreason personified, she's a maenad of the future, her glowering blue face staring out from beneath the explosively cornucopian flower-and-fruit arrangement on her head. Her hatpins are streetlights.

At this point, in an inspired piece of curatorship, the organisers choose to slam on the brakes. Early Futurism, with its giddy whirl of imagery, is immediately succeeded by 'Giorgio de Chirico and Pittura Metafisica.' The contrast establishes the polar extremes of modern Italian art - the Futurists' yearning for modernity, their obsession with movement and change, is set against de Chirico's stilled, melancholic enig-mas, his obsessive broodings on an Italy that throngs with odd, stranded fragments of history.

In de Chirico's timeless piazze, or his still combinations of clutter - a mannequin, a biscuit, an egg, some fragments of statuary - nothing moves or changes. A statue, its plinth inscribed, simply, with the word Melanconia, reclines in one of his abandoned, colonnaded city squares. Long shadows fall, conjuring a mood of ominousness. You wait for something to happen, in this art, but nothing does, so you spend your time puzzling over its enigmas. Why does the broken stone foot in Self-Portrait 1913 have six toes? Why does the smoke rise serenely from the stationary train (in Ariadne's Afternoon), while the pennants on the pair of towers in the same picture flutter so energetically? De Chirico's dry, exquisitely worked pictures are deeply cynical, expressing his nihilistic vision of the world as, simply, an illogical coming-together of stuff. 'The discovery of the terrible void,' he wrote, 'is nothing other than the truly senseless and tranquil beauty of matter.'

De Chirico's nihilism is, in one sense at least, a logical response to Italy - a country of fragments, where bits and pieces from this or that dead culture coexist, but without logic. Italy's numberless centri storici are theme parks of the past where everything conspires to create an odd sense of theatricality, of a backdrop devised for a play that stopped running centuries ago. De Chirico seized, too, on that; in his art, the world turns into a stage-set.

De Chirico's influence runs much deeper than that of another great early Italian modernist, Modigliani, whose brittly beautiful portraits are confined to a small, chapel-like space in the RA. Giorgio Morandi, the Scuola Metafisica's greatest exponent of still life, would adopt many of de Chirico's formal tactics - the heavy black outline, for example, which makes the objects he paints stand out with such eerie, unsettling clarity. Oddly heightened, arranged in compositions of stunning formal subtlety, Morandi's bottles, peaches or flower arrangements have the air of stage props. Depicting a world of dumb objects - these still lifes have none of the genre's old, moralising overtones - Morandi finds consoling beauty in de Chirico's senseless matter.

There was no Fascist equivalent to the Reich Chamber of Visual Arts in Nazi Germany - partly, perhaps, because many Italian artists embraced the Fascist cause. Yet the most interesting feature of Italian art between the wars, on this showing, is its seeming inability to come up with convincing propaganda. Mario Sironi's magnificent, bleak industrial cityscapes were meant to dramatise the kind of social conditions that Fascism would put an end to - but his disquieting, unpeopled factory squares and sooty railway sidings feel as dislocated, as stagy, as de Chirico's melancholy piazze. Nothing, in the heavy, ominous mood of these pictures, suggests the possibility of amelioration. Carlo Carra opts for Giottesque pastiche in search of a patriotically Italian style, but he's a Lilliputian in the shadow of the Renaissance greats. His bathers, stranded by a stormy sea, were doubtless meant as heroic embodiments of masculine Fascist youth; they only succeed in looking like sad loiterers.

The twin strands of Italian art survive into the 1950s and beyond. Lucio Fontana,canvas-ripper extra-ordinaire, takes the Futurists' old obsessions with movement and modernity into the space age, aiming to create symbols of the expanding universe. His idealism finds its cynical counter in the work of Piero Manzoni, whose attacks on the cult of artistic individualism included canned morsels of his own excrement (not present) and samples of 'the artist's breath' (one survives at the RA, a sorry, decomposed plastic balloon).

Considering art itself to be a fraud which deflected attention from the fact that everything, in fact, is art, Manzoni's most eloquent gesture was to place an upside-down plinth in a sculpture park in Germany and thus designate the whole world, officially, an art object. Later he killed himself.

Italian art of the past 30 years has demonstrated a peculiarly strong sense of Italy's abiding shabbiness, its resolute non-modernity. On the basis of works like Alberto Burri's sackcloth collages, or the Arte Povera movement's fondness for 'poor', materials (evident in Luciano Fabro's dangling little Italies, outlining the famous boot in scrap metal) you could argue for something like a national aesthetic. This is an art of the worn, the faded, the battered-but-stylish. When Pop Art arrived in Italy, it spawned Mimmo Rotella, whose torn movie-poster collages don't celebrate the glossiness of mass culture but turn it into its opposite, mimicking the look of the peeling, flyposted walls you find in most Italian cities. Elvis and Marilyn, given the Italian treatment, acquire the instant patina of age.

If this generally superb show opens with a bang, it ends with a whimper, a would-be celebration of Ital-ian neo-figurative artists. Part of the problem is that, thanks to the creeping gigantism of late modern art, there is only enough room to show two or three pieces by each. But the main stumbling block is the inarticu-lacy of their work. Mimmo Paladino shows a couple of examples of the archaising mumbo-jumbo that took up so much space at the last Venice Biennale. Sandro Chia is represented by some empty, self- dramatising narratives of the early 1980s. Francesco Clemente contributes one of the oddest works in the show, Broth-erhood - a triptych that depicts a brick wall, nothing more, washed in pastel colours. It makes a neat finale, in its way, this painting of a cul-de- sac, another version of Balla's Bankruptcy - which would seem, on balance, a fair summary of the state of contemporary Italian art.