The Unpleasant Taste of Success
Date: 10-11-1990
Owning Institution:
Publication: The Independent 1987 - 1999
Subject: 20th Century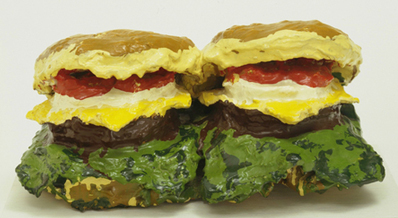 Claes Ildenburg's unbuilt folly, the Maus Museum - a civic art gallery - in the shape of Mickey Mouse's head - is a fantasy with serious intent: a symbol, this imaginary institution, of all those collisions between high and low culture that Oldenburg and his generation engineered. If Pop Art was a party, the guests came from all social backgrounds: the Mona Lisa shook hands with Krazy Kat; Michelangelo rubbed shoulders with the Velvet Underground. The Maus Museum - where Vermeers might hang next to Warhol soup cans - would have been the perfect venue.
It would, too, have been a good place to hang Peter Saul's 1985 painting, Donald Duck Descending a Staircase. Saul's parody of Marcel Duchamp's 1912 Nude Descending a Staircase wittily compresses high modernism and cartoon culture into a single, ludicrous image. In questionable taste, maybe, but artists have been flirting with bad taste ever since Braque and Picasso began to paint with Ripolin and stick bits of newspapers to their canvases. Duchamp himself might not have disapproved of Saul's pastiche. ''The worst danger,'' as he once remarked, ''is that one might arrive at a sort of taste''.
The Oldenburg and the Saul are prominently reproduced in ''High & Low'', by Adam Gopnik and Kirk Varnedoe. This is the catalogue to an exhibition now at the Museum of Modern Art in New York but stands on its own as a brilliant account of the vexed relationship between the visual arts and popular culture during the course of this century. It also turns out to be essential reading for anyone interested in art now.
The authors write tellingly of the gap that separates the contemporary artist seeking inspiration in ''low'' culture from his twentieth-century predecessors. While ''the low world outside the studio'' was, ''for over a century, a source of irreverent energy'', it prompts the contemporary artist to morbidity and discontent. The shift is likened to ''the moment at the end of The Beatles' 'A Day in the Life' - the mounting and increasingly incoherent orchestral scream subsiding into the big, endlessly sustained funereal chord''. This thesis is strikingly confirmed by a tour of the London galleries at the moment.
For the ''irreverent energy'' of the past, see ''Claes Oldenburg'' at the Mayor Gallery: a cornucopia of exuberant Pop Art tastelessness whose best emblem is, perhaps, the 1962 Pancake, Sausages, Butter and Syrup. Rendered in stuffed canvas painted in lurid, glossy colours, Oldenburg's work proposes the Howard Johnson Big Breakfast as sculpture. It's a more ambitious object than it looks, attempting in effect a complete rewriting of the rules of sculpture: out with the solid, the monumental (and by implication grandiose); in with the soft, the ephemeral, the meltingly edible. Remaking art in the image of fast food, Oldenburg encourages his audience to enjoy a joyously infantilised response to its effects, a visual ingestion of slick, greasy surfaces. For Oldenburg, popular culture and its by-products seem to represent - however tackily - the possibility of redemption, of return to a state of sticky-fingered innocence.
At the Nicola Jacobs Gallery, on the other side of Cork Street, Belgian artist Guillaume Bijl's deadpan assemblages of store-bought objects propose a very different vision of consumer culture and its effects. Bijl's previous works include the construction, to scale, of a Belgian suburbanite's ideal home (for the 1988 Venice Biennale) and, more recently, the transformation of a commercial art gallery in Basle into a fully stocked and functioning supermarket. In London, the strategy is the same even if the scale of operations is smaller: four mock-satin headboards purchased from John Lewis, Oxford Street (Bedroom Furniture Department) and hung on the gallery wall; unexceptional Venetian blind, poster, vase and table displayed much as they might be in Habitat.
Bijl's work is more interesting as a symptom of the times than it is as art. It is questionable, in fact, whether what Bijl does even qualifies as art, since it seems closer to sociology: a taxonomy of modern taste (or tastelessness) presented as a series of mises-en-scenes which, the artist indicates, are given, provided by the joint efforts of modern design and marketing. Abdicating responsibility for his own creations (since he is only calling attention to stuff that is already out there, in the world), Bijl suggests that this is what most of us do in real life: we acquire our taste, so to speak, off the shelf. Taste is merely the index of social class and shopping habits.
Eric Bainbridge's In Heliotrope, at the Riverside Gallery, revisits Oldenburg territory and also comes back disheartened. Bainbridge's sculpture is a Brobdingnagian model (in pink fur fabric, fibre glass and plywood) of a bathroom air freshener. While Oldenburg often managed to extract a sort of resonance from the common object - his vast clothespeg, bestriding a plaza in Philadelphia, cunningly parodies the gung-ho civic statuary of the past - no such transfiguration seems possible for Bainbridge. But contemplating his enlarged air-freshener with fleur- de-lys cavity, you are left merely to meditate on its banality: to consider how dumb, how pointless are the vast majority of those objects offered to us by consumer culture.
The funereal chord continues to sound at Waddington Galleries, where Meyer Vaisman (an American who rode to prominence on the new wave of American neo-conceptualism of a few years ago) is showing objects still more horrible to contemplate. The Crusaders is characteristic: a machine-woven facsimile (obtained by mail order) of a late sixteenth-century tapestry of Judas Maccabeus, to which the artist has added the figures of Mickey Mouse and Tweety Pie, among others. Renaissance tapestry, Vaisman confesses, is a closed book to him. He knows nothing of Judas Maccabeus, one of the nine heroes of mediaeval iconography - but he's a mine of information on Benji the Moose. Vaisman's art represents a shotgun wedding between high and low culture - but one that underlines, too, their complete alienation from one another. Dream or nightmare, Oldenburg's Maus Museum doesn't need to be built. We're living in it.