Wrapped Attention
Date: 12-03-1991
Owning Institution:
Publication: The Independent 1987 - 1999
Subject: 20th Century Now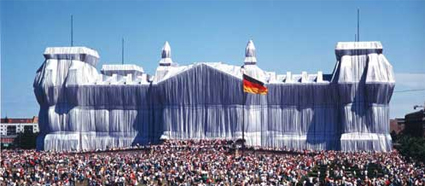 COVERAGE has always been a priority for Christo. If you weren't there in 1969, when he swathed a million square feet of the Sydney coastline in opaque polypropylene mesh; if you couldn't make it in 1985, when he packaged the Pont-Neuf in Paris in 40,877 square metres of woven polyamide fabric - don't worry. It was captured on film. Christo's contemporary Andy Warhol made art that referred to the mass media, but Christo's was made for the mass media. Cameras roll. Cut. It's a wrap.
For Christo, the packaging is the product. This lends most Christos a certain ambiguity. The wrapped bridge, for example, was both tantalus and paradox: a present that you couldn't open (for to do so would have been to destroy it); a work of visual art whose purpose was to conceal. Christo's art presents itself as a series of gifts - not least to the cartoonist, for whom its creator has become the epitome of The Crazy Modern Artist. When he packaged that stretch of Australian shore, Sydney's The Sun ran a Frank Benier cartoon in which the beaming artist contemplates the whole city, suspension bridge, opera house and all, smothered in brown paper and string. ''Well, that just about wraps it up Mr Christo,'' says an Aussie workman, hands on hips. Christo's grand spectaculars have always invited the deflating pun.
Frank Benier probably couldn't give a XXXX for modern art, and while his cartoon gets Christo's megalomania just about right it says little about the possible logic behind it. For that, you need to look not at the solitary Christo but at the range of what he's done (and is planning to do). A fair sample of the oeuvre is offered by a show now in London at the Annely Juda Gallery, including preparatory sketches and maquettes for ''projects not realised and works in progress''.
The works on view range from a 1962 photomontage suggesting what the Arc de Triomphe might look like wrapped, to several sketches for The Umbrellas, a project scheduled for realisation later this year which - at a cost rumoured to be in excess of pounds 10 million - will see the simultaneous erection of several thousand freestanding 18-foot-high umbrellas in California and Japan. The full production number itself, of course, is missing from the present London exhibition, but what the show does provide is a reasonably full picture of Christo's concerns. It is an opportunity for reflection; an invitation to unwrap the artist's work and see what meanings might be inside.
Christo was born Christo Javacheff, to Marxist intellectual parents, in Bulgaria in 1935. He left to work in the theatre in Prague in 1956 and defected across the Iron Curtain a year later. His career as an artist began in 1958 in Paris, where he made the first of his packaged objects. The package, which would become his signature as an artist, had already acquired a certain personal significance for Christo. He had left Eastern Europe disguised as one, hiding himself in a box contained in a sealed railway freight car. No wonder, perhaps, that the act of wrapping, of concealing, would come to acquire a redemptive significance in his art.
Although all the works at Annely Juda are essentially small scale, their ambitions are huge. This is art that wants, however temporarily, to change the world. Take Christo's sketches (which are, incidentally, extremely beautiful) for the wrapping of No 1 Times Square, the Allied Chemical Tower in New York. What is being envisaged, here, is an urban miracle. This comes across most strongly in Christo's small photomontage illustrating the desired effect of the transformation: pedestrians, lining the street before the mummified skyscraper, stare up at the wonder that has sprung up in their midst.
The date of this project seems significant. Christo's earliest proposals for the wrapping of public monuments or buildings date back to the early 1960s, but this particular scheme, like the first full-scale wrapping ever to take place, that of the Berne Kunsthalle, dates from 1968. It was Christo's year, and appropriately so, since his work might be said to represent a bridge between two eras of revolutionary fervour. Christo is a link between the idealism of the early Communist artists - he had been employed for a time in Bulgaria working on state propaganda - and the spirit of soixante-huit.
''A square of canvas is a feeble and irrelevant means of communication,'' Mayakovsky had told his fellow Soviet artists in the wake of the October 1917 Revolution. ''The streets are yours to paint, the squares and bridges the obvious arena of activity.'' The ''happening'', in the hands of Christo some 50 years later, sought to revive the tradition of the revolutionary carnival, of street theatre in the service of Utopian ideals. Christo dreamed of transformations of civic urban space on a scale unimagined since the 1920s.
But there were differences too. The Russians dreamed of the transformation of an entire society and found their metaphors for radical political change in new machine technology. The great symbol of early Soviet Communism, had it ever been constructed, would have been Tatlin's Monument to the IIIrd International, a conference centre considerably taller than the Eiffel Tower, in three revolving parts designed to complete their respective revolutions in a day, a month and a year. A literally revolutionary design, Tatlin's projected monument would have given architectural form to the Marxist notion of historical determinism, the inexorable march of time towards social change. Christo has a different notion of time, and a different set of ideals.
Where Tatlin dreamed of a bright technological future, Christo practises a form of transformation of the present which expresses a yearning for the past. To wrap a New York skyscraper, a centre of business activity, is to muffle it, to still its beating heart and give it a brief holiday from the adult regime of the nine-to-five. It is, also, to turn it into a toy. The past Christo dreams of is collective, not historical: he wants to transform us all into innocent children, rapt before the mystery of the unopened gift.
Several of the drawings at Annely Juda propose the wrapping of public monuments: the Arc de Triomphe, the Arco della Pace in Milan, the monument to Cristobal Colon in Barcelona. To wrap such objects is to subvert them - since you can no longer read their figures, their allegories - and also to replace their nostalgia, for the heroic past of great deeds, with Christo's, for the communal past of youth. Traditional monumental sculpture, with its memorials to the illustrious dead, is intended as a reproof to the living: the past, invested with the aura of civic authority, towers over the present. The festive temporariness of Christo's wrapping is pitted against the grim permanence of the monument, which is remade as an object of fun, a fairground spectacle.
Christo's techniques, his wrapping and what-have- you, are themselves wrapped in historical precedent. Much of what he has done could be described as the expansion of traditional artistic practices on to the grandest feasible scale. His Running Fence, a 25-mile- long barrier of white nylon fabric suspended between steel poles which meandered, for a few weeks in 1976, through Sonoma and Marin Counties, California, was essentially a feat of draughtsmanship: a line drawn on the land. His Umbrellas project, should it ever be realised, seems ideal for viewing from the air, whence it may resemble a gargantuan passage of pointilliste painting, each umbrella standing in for a Seurat dot. But the most characteristic and loaded of his methods is wrapping. It is both his main claim to avant- gardism and the most traditional of his techniques.
Christo was anticipated most obviously by Man Ray, who in 1926 wrapped a sewing machine in a blanket and entitled the result The Enigma of Isidore Ducasse. Christo's ''gentle disturbances'', as he calls them, might be seen as grandiose variations on a Surrealist theme: they interrupt ''bourgeois'' normality; they are incursions of the bizarre into the everyday world. Yet Christo's wrapping, and the way he uses it, also suggest older precedents: in ancient Egyptian funeral rites, for example, or - more tellingly - in art theory since the Renaissance, which had always placed considerable emphasis on the felicitous handling of drapery.
''The art of disposing the folds of the drapery,'' wrote Joshua Reynolds in his Discourses on Art, ''makes a very considerable part of the painter's study. It requires the nicest judgement to dispose the drapery, so that the folds shall have an easy communication, and gracefully follow each other, with such natural negligence as to look like the effect of chance, and at the same time shew the figure under it to the utmost advantage.'' Christo's ''drapery'' is not conceived in anything like the grand, classicising spirit recommended by Reynolds. But it does have something of the sexual frisson, the titillating intent of Rococo deshabille. It is a form of clothing designed to eroticise what it conceals.
Christo's packaging of the urban landmark is a way of investing the thing packaged with the status of a fetish. The skyscraper, already a fairly obvious phallic symbol, is made still more phallic when wrapped - to dress it is to enhance its anthropomorphic aspect (and to suggest the possibility of its being undressed). Christo seeks to redeem the city of New York by making it an intimate and physical place. His proposals for New York are conceived on a massive scale, but they actually imply a subtle diminishment of that city's overbearing massiveness. Christo's Manhattan becomes a model of the human body.
If its skyscrapers are phalluses, its streets and walkways are the body's passages, which Christo may choose to constipate - as he does in the proposed blockage of 53rd Street with 800 oil barrels - or otherwise metaphorically enhance. In this respect, his most interesting unrealised project remains The Gates designed for New York's Central Park: a passage of thousands of steel-framed gates, running along some 25 miles of twisting park path, with a length of golden fabric suspended from each. On a windy day, these strips of cloth would stream upwards, creating a bright, canopied passage; when the wind fell they would become more obstructive, a sequence of soft barriers for the pedestrian to negotiate.
This is Christo's most extreme and Utopian project, his ultimate dream of a return to pre-adult origins: New York's rabble transfigured, turned into a host of spermatozoa processing through an open-air womb. The audience, finally, would become the contents of the package - just like Christo Javacheff himself, stowed away on that freight train, fleeing from East to West back in 1957.