Piecing it together
Date: 29-10-1991
Owning Institution: Tate
Publication: The Independent 1987 - 1999
Subject: 20th Century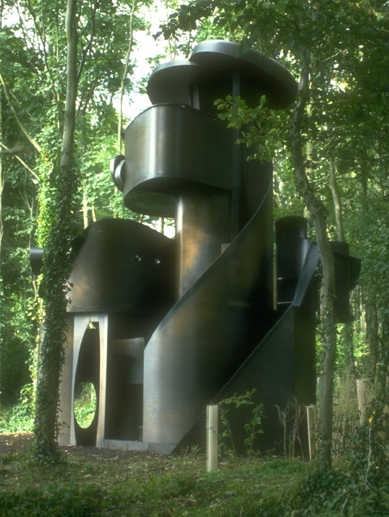 It has been clear for a while now that Sir Anthony Caro, alias ''Britain's most distinguished living sculptor'', is going through some kind of crisis. Not that production in Caro's Camden Town studio has showed any signs of slowing down. There are now said to be 2,500 of his sculptures in existence: it is going some, over a 30-year career, to sustain creativity at a rate of about two works (and often such large works) every week. But some of the most recent additions to the Caro oeuvre are, to put it politely, rather eccentric; and Caro's very productiveness - he is surely among the most prolific sculptors of the century - may in itself contain a clue to the nature of his problem.
Caro's choice of medium, the metal assemblage, was famously grounded in a rejection of the principles of modelled or carved sculpture. It represents, or has always been held to, a reproof to both the monumental and the symbolic aspirations of the grand tradition of classical statuary, which might be said to extend from the art of Helenistic Greece to that of Michelangelo, Rodin and Henry Moore (whose assistant Caro once was, briefly in the early 1950s). Caro has long been the principal torchbearer of a notion of sculpture as itself and nothing but; he has been a constant discourager of metaphorical or symbolic or indeed any kind of non-formalistic interpretations of his abstract works. Yet the sheer size of Caro's output and, latterly, the increasing scale and monumental ambitiousness of his art, suggest a kind of unhappiness, a discontent with the consequences of his own devotion to abstract literalism. He has come to seem like an artist at odds both with his time and with his language: an abstractionist fatally touched by nostalgia for the very forms of monumental figurative sculpture he has done so much to discredit; the creator of once shockingly stark sculptures who has developed a late taste for grand, neo-Baroque spectacle; a modern who would be Rodin.
Caro's exhibition of recent work in the Duveen Galleries of the Tate provides the latest evidence of his troubled state of mind. An exhibition that seems at once wistful and confused, it is dominated by two works which, in their different ways, lead to the heart of Caro's current crisis. The first, the artist's Octagon Tower - Tower of Discovery - is a large, quasi-architectural construction in brown painted steel which looks a little like a fairground attraction in the process of construction. It is, frankly, a dreadful, dispiriting piece of work, although not (more of this later) entirely without significance.
The second piece, After Olympia, is more impressive but even more bizarre. Apparently conceived as a homage to the art of ancient Greece, it is an abstract impression, made from welded metal bits and pieces, of the West pediment of the Temple of Zeus at Olympia. The human and equine anatomies preserved as fragments in the Olympia Museum in Greece have become even more fragmented and ruined in Caro's at-tenuated recreation of them: vast folds and curves of steel, great broken ears of metal, process along an arrangement of girders and culminate in an apex that imitates the long, low, triangular shape of Caro's source. All very odd - and all the more so in the light of Caro's statement, recorded in the exhibition's catalogue, that he intends this work as ''the War and Peace'' of his oeuvre.
A very considerable distance separates such works from the sculptures that made Caro a force to be reckoned with in the 1960s and 1970s. How great a distance can be readily gauged by even the most cur-sory inspection of a fine new picture book, Caro, published by Prestel with a short text by Karen Wilkin. Caro's early works have never looked better in reproduction than they do here, a fact for which much credit is due to photographer John Riddy. This book is essential background reading (or, rather, background looking) to Caro's current Tate show - it is a monument to Caro's dedication to, and furtherance of, a particular kind of abstract constructed sculpture. Yet it also suggests how utterly incompatible that form of sculpture is with the sorts of ambition that seem to lie behind a work like After Olympia.
Much has always been made of the lightness and grace of Caro's early works - of that peculiar gift of sculptural legerdemain which enabled him, in major pieces like Prairie or Early One Morning, to make solid, heavy materials like girders and I-beams and steel plates appear weightless, to float above the ground as if levitating. John Riddy's photographs do perfect justice to this unusual quality in Caro's art, and Karen Wilkin has a nice line about the artist as a practitioner, in sculpture, of a form of Indian rope-trick. Caro's assem-blages, which rest on the floor rather than the plinth, might be said to translate the concerns of much older figurative sculpture - the articulation of the figure, its resistance to the forces of gravity, into abstract terms. Yet precisely because Caro had got rid of the figure from his work, such concerns had to be hinted at rather then stated. His work is often said to be balletic, but what it presents you with is the dance without the dancer. Likewise, his more horizontal works are often said to be language-like, almost resembling sentences in their disposition of discrete elements, separated by pauses, across space (this claim was repeated by the sculptor Richard Deacon, in an absorbing Late Show item on Caro broadcast last Monday). But again, something is necessarily missing: Caro gives you language without the words.
Caro has often, and sometimes with considerable wit, refuted the notion that sculptures need mean anything specific. ''What does breakfast mean?'' he is said to have once responded to a query about the significance of a particular work. Abstract art, and particularly abstract art of the kind which he has practised for so long, is clearly not suited to the articulation of the kinds of meaning found in figurative art. Yet the signs are that Caro has, in recent times, become obsessed with precisely the kinds of meanings embedded in the figurative art of the past, After Olympia presents an odd spectacle, largely perhaps for this reason: it is conceived on the scale of a monument but speaks the elusive, non-referential language of abstraction.
After Olympia also looks like a sad, solemn meditation on his sculpture by an artist disillusioned with his own innovations. It is an arresting, if not an entirely successful work, because it calls attention so clearly to the chief characteristic of Caro's sculptural idiom: not grace or elegance, in fact, nor the manipulation of three-dimensional forms in such a way that they suggest linguistic or choreographic metaphors, but broken-ness, fragmentation. The sculpture is a ruin: a vast, rusting hulk drydocked in the art gallery.
The roots of Caro's sculpture lie, as is often said, in the constructed metal assemblages of Julio Gon-zalez and Pablo Picasso and the American sculptor David Smith. But, behind those influences and more urgently relevant to Caro's work lies the greatest and most radical innovation of the art of this century: Cubism. It becomes logical, in the wake of Cubism, to build sculptures as Caro does: that is to say, to assemble them, like kits, from found scraps, rather than to model them from marble or wood. To model is to create an image whose wholeness, whose self-integration, runs counter to modern sensibilities. But to assemble sculpture, as Caro does, is to translate the principles of brokenness, of arbitrariness and of disintegration that are central to modern thought into an artistic method. After Olympia is moving, in its way, because it seems predicated on a melancholy opposition: it is an elegy to the art of ancient Greece - long enshrined in Western thought as a cultural ideal of health and grandeur and unity - which is phrased in the fractured idiom of modernist sculpture. After Olympia's wrecked appearance gives it its pathos. This is sculpture that parades its own dissatisfaction with itself.
Caro's other large new sculpture, or example of ''sculpitecture'' as it has been called, assumes a certain logic in the light of all this. The artist has said that he intends this towering folly as a kind of adult adventure playground accessory, a place in which grown-ups can try out being children again. Yet its playfulness seems less zestful than lugubrious: entering Caro's Octagon Tower - Tower of Discovery, what you discover is a sequence of gloomy, uncomfortable and cramped spaces. What Caro's tower most resembles, in fact, is not a fairground helter-skelter but the model for what, had it ever been built, would have been the greatest public symbol of early Soviet Communism: Vladimir Tatlin's maquette for a Monument to the IIIrd interna-tional.
Tatlin's project for a conference centre, in three revolving parts designed to complete their respective revolutions in a day, a month and a year, represents one of the greatest attempts to harness the abstract language of modern art to public symbolic ends: his building would have been a monument to the inexorability of social revolution as envisaged in the writings of Marx. Caro clearly feels such large ambitions to be both grandiose and silly, and his own tower, remaking Tatlin's as an absurd toy, is mischievously iconoclastic. Yet grand symbolic ambitions - or at least a sad sense that they are beyond his own art - would seem to lurk behind After Olympia. Confusion and contradiction seem so embedded in Caro's late work that it is hard to envisage him emerging from the crisis in which he finds himself. The clarity and the faith in abstract sculpture that once made him seem such a confident artist are long gone. Against the odds, Caro has become yet another late twentieth-century malcontent, bemoaning the exhaustedness of the modernist tradition. You might even say that he has become a postmodern artist, almost in spite of himself.