"The Call of the Sea" at the St. Barbe Museum and Art Gallery
The work of Charles Brooking remains one of the better kept secrets in the history of British art. A painter of exceptional brilliance and delicacy, he was to eighteenth-century marine painting what George Stubbs was to eighteenth-century equestrian art. Born in 1723, Brooking took a traditionally humble genre of painting, the workmanlike depiction of ships and their paraphernalia, and elevated it to an altogether new level. His pictures are grand and profound, uncannily attuned to effects of nature such as the ephemeral play of light on water.
Brooking is less well known than he should be, partly because his career was short and partly because the voracious American collector Paul Mellon picked up many of his finest works for a song during the 1950s and 1960s. Many of those pictures are now owned by the Yale Centre for British Art, a vastly well endowed but relatively little attended museum of British art in New Haven, Connecticut. In Britain, the Greenwich Maritime Museum holds the largest public collection of Brooking's work. The institution has served him well, while also contributing to his fossilisation as a mere specialist in sea-pieces. Compelling evidence to the contrary is to be found at the Foundling Museum, in London, which owns the most spectacularly monumental of all Brooking's seascapes, a picture to stand comparison with any of the masterpieces of English eighteenth-century painting. But the Foundling Museum itself is somewhat off the beaten track, so the artist's reputation has continued to languish.
"The Call of the Sea" is a small but captivating exhibition in the modest rooms of the St Barbe Museum and Art Gallery, Lymington. Curated by David Joel, the foremost expert on Brooking's art, the show consists of approximately fifty works drawn largely from private collections in this country. The focus is on Brooking together with his older contemporary and fellow painter of the sea, Peter Monamy. Monamy is an interesting artist in his own right, if rather theatrical in his sensibility, who painted sea-storms and naval engagements with a morbid sense of panache, while also developing a popular line in nocturnes, or "Moonlights", as they were known to eighteenth-century connoisseurs. But it is Brooking's work that steals the show.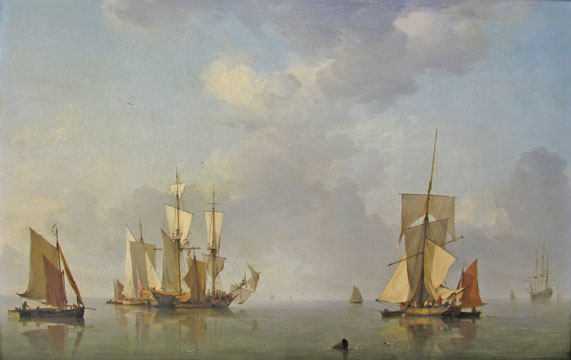 Brooking is a much more various, fluid and enigmatic artist than Monamy. He painted the many different moods of the sea, responding so deeply to its restlessness and ceaseless changeability that his best pictures carry an almost palpable charge of feeling. Most were painted in the 1750s, surprisingly early for such masterpieces of incipient Romanticism. Brooking captured the vivid, vaporous skies of the British coastline, full of wind and freshness and fast-moving clouds, with just as much skill and passion as John Constable would bring to the same subject matter half a century later.
Brooking's pictures satisfy on many levels, because he is so expertly attentive to every last detail of his chosen world. He is the keenest student of ships and boats, harbours and docks, the ebb and flow of the tide. He ensures that each vessel has the right sails and masts, and that it draws the correct amount of water. He pays the same attention to the sea itself, capturing wind-stirred waves crashing into a breakwater with such an acute sense of nature's rhythms that the viewer might almost hear the rushing, grating sound of the tide's withdrawing roar.
Brooking's art is a fascinating compound of vivid emotion and acute accuracy. Naval historians regard his work as a highly reliable visual record of eighteenth-century ship design, outfitting and rigging. He was also a virtuoso when it came to depicting the behaviour of ships, and their captains, in specific wind and weather conditions. According to David Joel's erudite catalogue to the present exhibition, the exhilarating
Ships in a Light Breeze
contains a textbook demonstration of a seventy-gun ship "lee bowing the tide, a technique known to all sailors whereby the tide is pushing the ship physically to windward".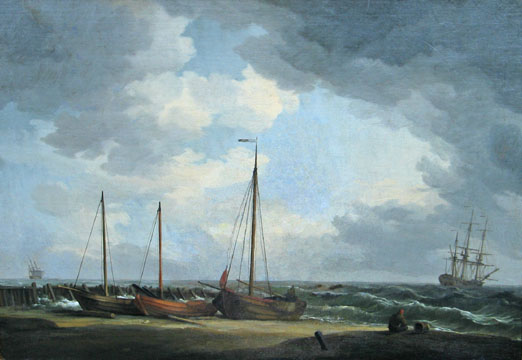 Such pictures embody a disappearing world of expertise, as well as conjuring up the intrepid, seafaring spirit of Georgian Britain. But Brooking's greatest achievement was to transcend the particularities of his chosen genre and create an art of compelling beauty and humanity. The theme to which he constantly returned was that of a ship, sails full of wind, scudding across the pewter disc of the North Sea, under trails and columns of shape-shifting cloud. It is an image of transience, as well as a symbol of imperial power.
Beneath the waters of Brooking's art, there is often an undertow of melancholy. Perhaps the artist himself sensed just how brief his own journey through life would prove to be. A tubercular young man, he died at the age of just thirty-six, in 1759. Two hundred and fifty years later, he deserves to be more fully recognised.