"Seen in My Visions: Wlliam Blake at Tate Britain".
Date: 24-05-2009
Owning Institution: Tate Britain
Publication: Sunday Telegraph Reviews 2004-2013
Subject: 18th Century 19th Century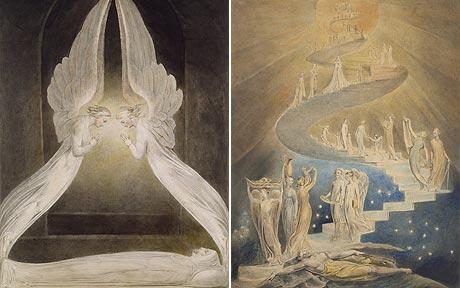 William Blake's annotations to his copy of Sir Joshua Reynolds' Discourses on Art are among the most vigorous expressions of disgust in the history of British art. In these frenetic scribblings, the visionary Romantic outsider screamed his rage at the ghost of the Royal Academy's first President. On the title page of the book, next to Reynolds' name, Blake wrote bluntly that "This Man was Hired to Depress Art." Then he warmed to his task: "Having spent the vigour my Youth & Genius under the Oppression of Sr Joshua & his Gang of Cunning Hired Knaves Without Employment & as much as could possibly be Without Bread, The Reader must Expect to Read in all my Remarks on these Books Nothing but Indignation & Resentment. While Sr Joshua was rolling in Riches, Barry was Poor & Unemploy'd except by his own Energy; Mortimer was call'd a Madman, & only Portrait Painting applauded by the Rich & Great ... Fuseli, Indignant, almost hid himself. I am hid."

Blake hated Reynolds for encouraging the British aristocracy in its woeful attachment to the lesser genre of portraiture. His own counter-cultural heroes were men such as John Hamilton Mortimer, Henry Fuseli and James Barry, who had dedicated themselves to the production of grand narrative history paintings despite an almost total lack of patronage for such work in the British Isles. The diminutive, Swiss-born Fuseli had nearly ruined himself by opening his so-called "Milton Gallery" in London, full of unmarketable mannerist depictions of scenes from Paradise Lost. Barry had toiled unpaid, for seven whole years, on four monumental canvases for the Royal Society of Arts illustrating "the progress of human civilisation" – a group of magnificently weird pictures that can still be seen, today, in the lecture room of the RSA's headquarters, just off the Strand. "Barry told me that while he Did that Work, he Lived on Bread & Apples," Blake angrily noted in another of his marginalia to Reynolds' Discourses.

But the story of Blake's hatred of Reynolds is also the story of how Blake came to develop his vision of himself – an unheeded prophet, out of step with his times, whose hard destiny it would be to pursue his visions alone, far from the gaze of an indifferent public. The essential chapter in the development of that story was Blake's first and only public exhibition of his works. It took place in the upstairs rooms of the hosiery shop owned by the artist's brother in Golden Square, Soho. The admission fee was two shillings and sixpence, which included the cost of the catalogue, written by Blake himself. The artist was in his early fifties at the time, and had already created some of his finest work, including a modern illuminated book entitled The Songs of Innocence and Experience. But he was an obscure poet and painter, with virtually no reputation. Sixteen works, in total, were exhibited, including a monumental painting, now lost, entitled The Ancient Britons. Had it survived, Blake's deep sense of belonging to the same band of frustrated brothers as Barry, Mortimer and Fuseli would have been much easier for most people to grasp.

To mark the two hundredth anniversary of Blake's exhibition of 1809, Tate Britain has invited the scholar and art historian Martin Myrone to stage a partial reconstruction of it. The result is a small, captivatingly odd display. Eleven of Blake's originally exhibited works survive, nine of which have been brought together for the occasion. Painted white squares on the gallery wall, done exactly to the scale of the missing works, mark the missing images. Blake's "Descriptive Catalogue has also been reprinted for the occasion.

Blake did not make the experience particularly easy for his audience, to judge by the pictures on display. They include some terminal murks painted when he was experimenting with egg tempera. Peering into their clotted darkness, discovering Blake's idiosyncratic conflation of modern politics and ancient myth, members of his first audience may have been surprised to find William Pitt enfolded in the coils of the great serpent, Behemoth – or to encounter Nelson, hero of Trafalgar, "guiding Leviathan, in whose wreathings are infolded the Nations of the Earth." Blake included his most impenetrably dark picture of all, the image of "Satan calling up his Legions, from Milton's Paradise Lost", precisely because he regarded it as a failure. He wanted to show it as evidence of his struggle with the "Venetian demons", above all Titian, whose hellish influence and "infernal machine, called Chiaro Oscuro", he now repudiated.

Yet there were also some lucid, radiant works of Christian art in the display, such as the bright visionary fantasy of a stairway to heaven, Jacob's Ladder. Best of all is the transfixing watercolour, Christ in the Sepulchre, Guarded by Angels, surely inspired by memories of Blake's apprenticeship, when he engraved tombstones in Westminster Abbey. Like stone statues remade from gossamer, two angels hover above a tomb-effigy figure of Jesus, their wing-tips touching to form a Gothic arch. Suddenly Blake's stated ambition, of founding a new school of monumental religious art, seems almost plausible.

Predictably, perhaps, the exhibition was not a sucess. Over the course of many months, only a handful of visitors paid the modest admission fee, and most were plainly baffled by what they saw. Just one review appeared in the press. It was written by Robert Hunt, and was less than favourable. "The poor man fancies himself a great master, and has painted a few wretched pictures, some of which are unintelligible allegory ... These he calls an Exhibition, of which he has published a Catalogue, or rather a farrago of nonsense, unintelligibleness, and egregious vanity, the wild effusions of a distempered brain." Shortly afterwards, Blake started writing those angry asides about Reynolds. And for the most of the rest of his life, he retreated in on himself.