"Sickert in Venice" at The Dulwich Picture Gallery
Date: 08-03-2009
Owning Institution: Dulwich Picture Gallery
Publication: Sunday Telegraph Reviews 2004-2013
Subject: 19th Century 20th Century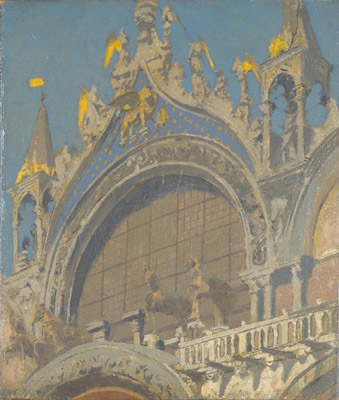 "The effect of St Mark's with the late afternoon sun shining upon it is too delicious for words," wrote the painter Frank Richards, in an issue of The Studio, published in 1894; "it is simply marvellous – the upper part and domes shine out, as it were, beset with diamonds and mosaics, all glittering in the unpolluted sunlight from a Venetian sky; the lower part of the Cathedral and Piazza being in shadow of the most lovely lilac hue, dotted here and there with the many-tinted costumes of the natives, and occasionally with the white dresses of nurses."

A year or two later, Walter Richard Sickert painted a dazzling series of pictures of St Mark's that might have been inspired by that very encomium. In rapidly worked skeins and meshes of paint, dabbed on to the canvas with a loaded brush, Sickert conjured up its Byzantine mosaics and the play of light on its hump-backed, onion-domed bulk. In version after version, he caught the different moods of different times of day. He painted it against the flat and green-tinged sky of a misty afternoon, on one of those days when the air takes on the same milky colours as the lagoon. He painted it against a crepuscular sky of aching crimson and against a red sky at night. Closing in on a fragment of the whole, he painted the famous horses of St Mark's. They are prancing equine ghosts, beneath a teetering parade of stone angels, against the clear blue infinity of noon.

"Sickert in Venice", at the Dulwich Picture Gallery, is a small exhibition with a tight focus. The most adventurous English painter of his time visited the city regularly between 1894 and 1904. Robert Upstone, who has curated the exhibition and written its excellent catalogue, argues that Sickert developed many of his most distinctive strategies and techniques in Venice. Upstone believes that the work that Sickert produced during his various painting campaigns there has not, until now, been sufficiciently appreciated. The point is well made, and reinforced by the surprising fact that this is, indeed, the very first exhibition devoted to the subject.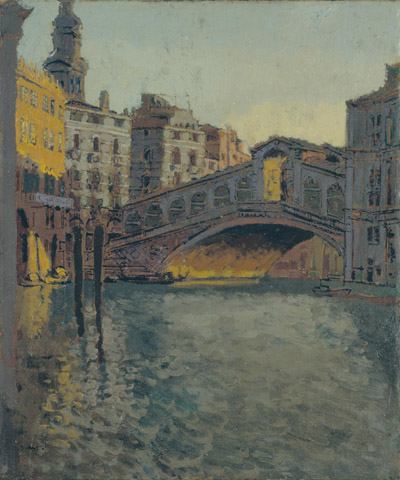 Sickert described Venice as "the loveliest city in the world". He gradually came to regard the place with an almost proprietorial fervour. He had first experienced its palaces, churches and canals through the oblique medium of art, while working as a studio assistant for James McNeill Whistler in the early 1880s. Sickert helped Whistler to print some of his Venetian etchings, works which he loved but which also rather annoyed him. He objected to the older artist's habit of drawing directly on the etching-plate, which meant that in the final impression all the geographical relationships of the city were reversed. "I do not want to think I am looking along the Riva towards the Via Garibaldi when I am really looking towards the Ducal Palace," Sickert complained. "It worries me, and spoils my pleasure, to see the Salute on the Giudecca and San Giorgio on the Zattere. Whistler is great – but so is Venice."


Sickert first went to Venice for at a time of great flux in his professional and his personal life. He was in his early thirties, and much preoccupied by the startling innovations and advances of late nineteenth-century avant-garde painting. Sickert was familiar with Whistler's nocturnes and with Turner's etherised oils and watercolours, works of art so delicately suggestive they might almost have been painted in the medium of light itself. But he was also enthralled by Monet's so-called "series paintings" of the 1890s (in fact Monet's many depictions of the rugged front of Rouen Cathedral may partly have inspired Sickert's own variations on the theme of St Mark's). He was equally fascinated by the cropped, snapshot snatches of city life painted by Manet and by Degas.


All of these influences coalesce and cohere in Sickert's Venetian paintings of the mid-to-late 1890s. Yet from them he makes something distinctively his own. Sickert's Venice is rougher and rawer than the city painted by Monet, or indeed by Turner. While Turner found in Venice a grand, sad symbol of the transience of empire, Monet looked at the lagoon as if it were a waterlily pond without the waterlilies. But Sickert saw raggedness and even a kind of brutality in the faded grandeur of the city's quieter squares and more neglected backwaters. He painted the overcrowded tenements of the ghetto as a smudged palimpsest of blank windows. He painted the inside of the city's churches as abandoned stagesets, still lit by candles, glowing as if with the memory of belief, but sadly depopulated: the very image of a faithless age. He painted the city's palaces, as they crumbled slowly into the sea, anthropomorphising the pathos of their slow atrophy. Their walls are livid as flesh, their doors and windows like sightless eyes and unspeaking mouths. They are like bruised human bodies standing in water.


Sickert's mood was darkened, during his first few visits to Venice, by the collapse of his marriage and the perilous state of his finances. His long-suffering wife, Ellen, was the daughter of Richard Cobden, a rich MP who campaigned vigorously in favour of free trade. It was she who supported the couple during these years of pictorial experiment, when Sickert's work was regarded with a mixture of distaste and puzzlement by the stuck-in-the-mud critics of turn-of-the-century London. But the painter had embarked on, and subsequently confessed, a whole string of affairs. After years of argument and unhappiness, their marriage came to an end in 1898 – terminated by a letter in which the painter brusquely stated that "As I told you long ago, I cannot continue a life of dissimulation; I have chosen my mode of life and I am unable to alter it."

In Venice, Sickert sought out images that matched his own, restless inconstancy and sense of abandonment. He did not have to look too hard. He became a connoisseur of the empty canal and the dead piazza, increasingly enveloped in the deep, dark purple of twilight that became the signature of his melancholy. One or two of his more unsympathetic critics complained that his pictures were so dark they were outshone by their frames. For once they had a point.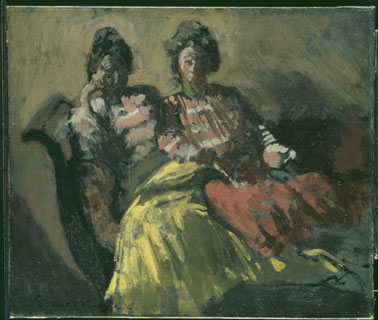 The exhibition ends with Sickert's Venetian paintings of the early twentieth century. From 1903 to 1904, the artist suddenly rang the changes. He hired models and focused on the human figure, alone or in company, in muted interiors. The pictures are no more cheerful, but just as intriguing.
Mamma Mia Poveretta
, an octogenarian, sits slumped in a chair. Younger women, so abstracted as to be faceless, consider undisclosed mysteries, as the clock of time ticks. Thirty years on Francis Bacon would look at pictures like these and find much to admire in them. In Venice, it might be said, Sickert perfected a very particular form of English existentialism, even if no one knew yet to call it by that name. Silks gleam and rustle. Mirrors darkly reflect. The women come and go. There is nothing more to life than this.