Umberto Boccioni and 100 years of Futurism
Date: 18-01-2009
Owning Institution: Estorick Foundation
Publication: Sunday Telegraph Reviews 2004-2013
Subject: 20th Century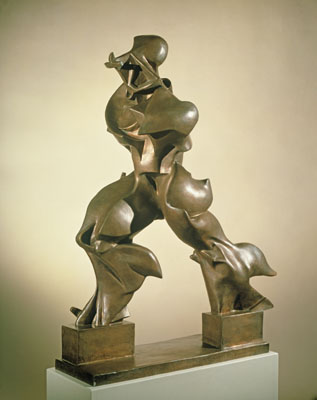 Filippo Marinetti's breathlessly excited Futurist manifesto is one of the founding texts of modern art. Rooted in rabid disgust for the past and an equally crazed enthusiasm for the future, it is an inflamed paean to the iconoclastic energies of the early twentieth century. Composed as a series of manically effusive ejaculations, it is a text that aspires to the condition of a multiple orgasm.

The author begins by recalling a sleepless vigil followed by an excursion, at dawn, into the centre of Milan: "An immense pride swelled in our hearts because we felt ourselves alone at that hour, alert and upright like magnificent beacons and advance guard posts ... alone with the stokers working before the infernal fires of the great ships; alone with the black phantoms that poke into the red-hot bellies of locomotives launched at mad speed..."

Various urban adventures follow, including a sado-masochistic coupling between a man and a double-decker tram, as well as a car crash caused by two weaving cyclists which leaves Marinetti – every inch the Toad of Toad Hall of Italian modernism – briefly trapped under his car in a state of bemused ecstasy. After all that comes the manifesto proper: "We declare that the splendour of the world has been enriched with a new form of beauty, the beauty of speed ... a race-automobile which seems to rush over exploding powder is more beautiful than the Victory of Samothrace... There is no beauty except in struggle ... No masterpiece without the stamp of aggressiveness... We will glorify war – the only true hygiene of the world ... We will destroy museums, libraries .. We will sing the multicoloured and polyphonic surf of revolutions in modern capitals... greedy stations devouring smoking serpents ... factories hanging from the clouds by the threads of their smoke..."

This year marks the hundredth anniversary of the publication of Marinetti's "Foundation and Manifesto of Futurism". The event will be marked on a grand scale later this year, with a large exhibition at Tate Modern. Meanwhile, the Estorick Foundation of Modern Italian Art has put on a small but select show of works by the most gifted and dynamic of the early Futurist painters, Umberto Boccioni.

When he rallied to Marinetti's battle cry Boccioni was in his late twenties, a mature painter who had already dabbled in Expressionism, Symbolism and Divisionism. He was well equipped to respond to the call for an art that might mirror the electrified dynamism of the modern city. Boccioni's Study for the City Rises, a sketch in tempera created in 1910, is a small but explosive work of art. A horse, rendered in lines of slashing, elemental vigour, hurtles through a cityscape punctuated by a cubiform block of scaffolding, scarred by smoke-exuding factory chimneys and invaded by the steam-exhaling "serpent" of a train.
Italian Futurism is often seen as a poor relation of French Cubism, but Boccioni's work gives the lie to that preconception. His is an art that exists primarily to express energy, rather than define form. He was familiar with the fractured style of painting that Picasso and Braque had pioneered in Paris, but found it inadequate to his own perceptions and intuitions. Boccioni was influenced by the philosopher Henri Bergson, who shared the Cubists' belief in the essentially fugitive nature of all experience but argued that it could never be apprehended analytically – as it is, in their works – as a coherent collage of separate surfaces and forms. Like Bergson, Boccioni saw life as an indivisible flux, marked by ceaseless dispersion of energy. Dynamism of a Cyclist, which he created in 1913– inspired, possibly, by the image of weaving cyclists in Marinetti's manifesto – is a far cry indeed from Cubism. The cyclist and his machine are depicted as if dissolving into air. It is an image that expresses Boccioni's intense awareness of the temporal fragility, even the molecular instability, of every human life.

The most striking work in the show is the artist's imposing bronze sculpture, Unique Forms of Continuity in Space – a cast of which has been lent, to the present exhibition, by the Tate. Originally inspired by the sight of a football player moving on to a perfectly weighted pass, it is the quintessenceof Boccioni's serious, sensuous, philosophically contemplative art. The human figure in motion, prime element of Western art since antiquity, has been reconceived with stark and stunning originality. Boccioni's running man is whorled and noduled, almost overwhelmed as a human being by the artist's determination to incorporate, into his image, the vectors of motion. The sculpture does not depict a man so much as the unleashed expansion of his energies – rather as they might be revealed in a scientific study of wind resistance – into the circumambient world. Although it is one of the most extreme expressions of the Futurist movement, its final appearance is also surprisingly archaic. The footballer has acquired winged feet and resembles a figure taking flight. Seen through half-closed eyes it might even be the Victory of Samothrace itself.

Boccioni died young and unnecessarily, in a freak accident during a military training exercise, in 1916. He never lived to develop what he had begun. But neither did he witness the long, slow decline of the movement Marinetti had christened – to the point where it had become, by the mid-1930s, little more than the tired house style of Mussolini's Fascism. Boccioni's work remains the purest expression of the ideals and contradictions of Futurism, as it burst upon an unsuspecting world, exactly a century ago.