"Coming of Age" at The Dulwich Picture Gallery
Date: 16-03-2008
Owning Institution: Dulwich Picture Gallery
Publication: Sunday Telegraph Reviews 2004-2013
Subject: 19th Century 20th Century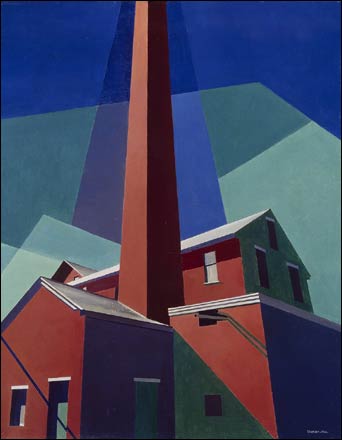 "Coming of Age", a new exhibition at the Dulwich Picture Gallery, tells the story of American art as it developed from the middle of the nineteenth century to the middle of the twentieth. Starting with the Hudson River School, exemplified by the landscapes of Frederic Church and Albert Bierstadt, the show culminates in the Abstract Expressionism of Franz Kline and Jackson Pollock. A large majority of the seventy or so exhibits are paintings, although room has been found for a delicate mobile by Alexander Calder and a sabre-toothed man-trap of a sculpture by David Smith. All the works have been drawn from the collections of the Addison Gallery of American Art, which is on the campus of the Phillips Academy in Andover, Massachussetts – one of the leading university galleries in America, with one of the strongest collections of nineteenth- and twentieth-century American art.
The exhibition is a miscellany, although it has its own form of internal consistency, reflecting the fact that the Addison Gallery's collection was originally shaped by a desire to chart – or at any rate explore – what might be described as the Americanness of American art. Much of the work has a self-questioning and exploratory quality. American painters knew that they were pioneers, the frontiersmen of a new art for a young nation. That knowledge could breed in them either a mood of defiant independence or an habitual sense of insecurity. As a result, their art has a tendency to veer between aggressive indifference to European tradition and a timid dependence on it.
The show begins with the work of a generation of painters for whom the American landscape was a touchstone. America, they believed, was the closest thing on earth to the Eden from which Adam and Eve so long ago had been expelled; and they painted its flora and fauna with the wide-eyed wonder of men witnessing at first hand the purity and splendour of God's own creation. Martin Johnson Heade's Apple Blossoms and Hummingbird of 1871 shows the blooms of the title in exaggerated close-up, so they resemble a vision or apparition. Albert Bierstadt's The Coming Storm of 1869 is the image of a glassy lake, close to which mighty oaks tower into a sky rapidly changing from blue to gunmetal grey. The only witnesses to this scene of majestic nature, barometer of God's awesome unpredictability, are four unsuspecting deer, close to the water's edge.
Asher B. Durand is represented by a picture somewhat disingenuously entitled Study of a Wood Interior, circa 1855. Aware of a growing European fashion for sketches and sketchiness, the artist implies that his painting too is a mere ebauche or "study", when in fact it is a beetle-browed and positively Pre-Raphaelitic depiction of some woody American hollow. Every last leaf, every last gradation of lichen-covered stone has been painted with loving attention to detail. Durand attempted to find God in nature, not through the sublime vastness of cloud-capped mountains, but by attending to "the still small voice" of a dusky patch of woodland.
The result looks like an American version of mid-nineteenth-century painting carried out according to the prescriptions of John Ruskin – and that, in fact, is a pretty good description of Durand's art. He was deeply influenced by the publication, in America, of Ruskin's Modern Painters; and he wrote a series of essays of his own, for a magazine called The Crayon, in which he preached the idea that Ruskinian doctrine might be most truly realised by the painters of America, precisely because of the superior beauty and innocence of American landscape. "Go not abroad then in search of material for the exercise of your pencil, while the virgin charms of our native land have claims on your deepest affections," he exhorted his fellow artists. "The 'lone and tranquil' lakes embosomed in ancient forests, that abound in our wild districts, the unshorn mountains surrounding them with their richly textured covering, the ocean prairies of the West, and many other forms of Nature yet spared from the pollutions of civilisation, afford a guarantee for a reputation of originality that you may elsewhere long seek and find not."
But even by the late 1860s, the fantasy of the American landscape as a place of unsullied purity was coming under increasing strain. The virgin forests once painted by the Hudson River School were being felled by what one dismayed artist called "the axe of civilisation". Railways and new settlements were rapidly transforming the American West. Jasper F. Cropsey's Greenwood Lake, New Jersey is a bucolic scene, but also a far cry from the untenanted landscapes painted by his immediate American predecessors. Under a golden sky, clusters of people can be seen boating or enjoying an impromptu lunch on the grass by the side of a lake painted as it might have been by the seventeenth-century masters of European landscape, Claude or Poussin. This is no longer untamed nature, but nature as an opportunity for picnickers. Worthington Whittredge's Home by the Sea is a gold-tinted vision of a simple homestead in an expanse of natural wilderness. But the scene he recorded was vasnishing even as he painted it. Lengthening shadows carry the implication that this is a world on the cusp of change.
The obverse of American pastoralism is a form of tough pragmatism. Winslow Homer, at once the most original and most unsentimental American painter of the natural world, is represented by a pair of outstanding pictures. Eight Bells of 1886, shows two doughty mariners wearing sou-westers and armed with instruments of navigation. Clouds and spume, sea and sky merging in a fury of weather, explode all around them. Yet they persist in calmly taking their bearings. Nature here is not man's friend, nor is it blessed by any sense of divine immanence. It is a harsh force that man must strive to conquer if he is to survive. Something of the same message, albeit leavened by humour, can also be discerned in his brisk and breezy The West Wind, of 1891. A solitary woman in billowing crinolines stands atop a sand dune, facing the immensity of a billowing and hostile sea. She clings on to her hat for dear life.
Nearby hangs a piercingly memorable picture by Eastman Johnson, The Conversation of 1879, in which two more redoubtable American ladies, dressed with formidable sobriety, talk quietly in some other corner of some other American wilderness. One of them perches on a barrel, shopping basket by her side. They are kept company by two wooden buckets and their own shadows. The rest is barren land and an expanse of sea. The incongruity of women living out harsh lives while dressed in the voluminously formal attire of the Victorian period would become a familiar trope of the American western, but it is rare to see it observed so poignantly in art.
Until the late 1940s, America was regarded as a cultural backwater by most serious European collectors, including the directors of the majority of Europe's principal museums. That is why so many of the painters whose work is included in this show are barely represented in Britain's national collections. Certain artists will be familiar to audiences in this country, especially the likes of Winslow Homer, Thomas Eakins and Edward Hopper – represented here by one of his masterpieces, Manhattan Bridge Loop of 1928, a boldly sullen celebration of New York as a thrusting, angular modern metropolis of brick-built tenements and elevated railways, lit by a raking sunlight as harsh as a punch in the face.
But many of the other painters whose work is on view will be all but unknown to those without a specialist knowledge of American art. So this is a show full of brilliant surprises, unexpected masterpieces by relatively unheralded names. John Sloan's Sunday, Women Drying Their Hair, of 1911, is a cheerily voluble counter to the images of urban alienation in which Hopper came to specialise – a painting of three doughty working girls letting their hair down, chatting and laughing on the roof of their tenement. Frederic Remington's Moonlight Wolf of about 1909 is a powerfully strange and spooky picture, painted in a sombre range of low-toned greens and blacks. A wolf, on the prowl, stops and stares. The flash of its gleaming eyes is repeated in the stars and also in the speckle of their reflections in a pool of black water, to create the paranoid image of a world where malignity lurks in every corner. But even this is outdone for weirdness by Oscar Bluemner's Radiant Night of 1932-3, a painting of a haunted house, glowing in a ghost-infested night, that might almost be a storboard for the Nightmare on Elm Street movies.
Elswehere, Charles Sheeler stands confirmed as one of the most remarkable American painters of his time by a magnificently austere factoryscape of the mid-1940s. The same is true of Stuart Davis, whose Red Cart is painted in essentially the same modernist idiom as Sheeler but is set apart by a kind of wonky psychedelic exuberance – a relish in colour and form unmoored from ostensible subject matter. Both artists are surely overdue for a serious retrospective in this country. They are certainly far superior to the overexposed and overhyped Georgia O'Keeffe, whose pictures look good in reproduction but almost invariably disappoint in the flesh, with their flat handling and deadened, slick surfaces. That is certainly the case with Wave, Night, of 1928, the picture that represents her in this show.
The last room in the exhibition exemplifies the "Coming of Age" implied by its title. Jackson Pollock, deciding that the representation of natural form is no longer necessary because he himself embodies nature, covers the canvas edge to edge with the exuberant traces of his own gestures – loops and scribbles of dripped and wristily splashed paint, like a freeze-frame of the expanding universe. Franz Kline erects a doughty scaffold of brushstrokes on a canvas the colour of a flat morning sky. Frank Stella decides that New York itself can be distilled to a mute accumulation of battered stripes, buildings and awnings and people all condensed to a few simple shapes with bruising confidence. Because the scale of this show is so modest, its climax might be compared to a controlled explosion in a small room. But is no less invigorating for that. In fact it is hard to imagine a better short introduction to American art than this meticulously selected and constantly engaging exhibition.