German Stained Glass at the National Gallery
Date: 09-12-2007
Owning Institution: National Gallery
Publication: Sunday Telegraph Reviews 2004-2013
Subject: Renaissance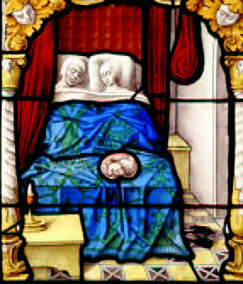 The Old Testament tells us that Sarah, wife of Tobias, was a dangerously energetic woman. She had "brought death" to seven previous husbands on seven previous wedding nights, so what was poor old husband number eight to do? Fortunately for Tobias, the Archangel Raphael stepped in with some timely advice. Do not consummate the marriage for three days and all will be well; and so it came to pass, in this quintessential parable of chastity rewarded.
This is the story eloquently told in the first, exquisite panel of stained glass encountered by visitors to the National Gallery's compelling new exhibition: "Art of Light: German Renaissance Stained Glass". Created by an anonymous artist-craftsman working in the Lower Rhine in about 1520, the panel in question shows the couple safely tucked up in bed together, the covers drawn decorously up to their chins. Sarah is a doe-eyed blonde whose head lolls sleepily on a plump white pillow. Tobias, who has a prominent Adam's apple and a somewhat knobbly face to match, inclines towards his wife but, obedient to his angelic instructions, refrains from embracing her. The artist has transplanted the scene to his own time and place, setting it in a well-to-do Rhenish merchant's house, captured in the finest detail and using the very latest in Renaissance pictorial techniques, such as mathematically calculated perspective and trompe l'oeil illusionism. A pair of leather shoes lies discarded on a chessboard floor of alternating brown and yellow tiles. An unlit candle – symbol of temptation extinguished – stands on a sideboard decorated with shivers and squiggles of paint artfully arranged to suggest the grain of wood. A looped-up swag of bed curtain, positively Van Eyckian in richness of colour and subtlety of depiction, has been conjured from a teardrop of deep red stained glass. The bed's luxurious blue coverlet, broken into a crystalline configuration of folds by the bodies of the couple beneath it, is interrupted by an oval piece of white glass, on which the artist has painted a small sleeping dog. The scene has a rapt, fairytale quality. A moment of utter, perfect tranquillity has been perpetuated.
The art of stained glass is underappreciated, the richness and complexity of its history all too unfamiliar. There are various reasons for this. It is an inherently fragile medium and the very story of its development is full of the holes and gaps caused by loss and destruction. Vast amounts of the finest stained glass were lost in the waves of iconoclasm that have periodically washed through Europe's abbeys, churches and cathedrals. It is also a medium that has been unfairly tarnished by the idea that it is a merely "applied" art, merely decorative rather than truly expressive – and although the fallacy of such a preconception is instantly exposed by a visit to Bourges, or Chartres, it is a prejudice that still, to a degree, persists. There are signs of change, however. In recent years the London dealer Sam Fogg has held a number of influential exhibitions of stained glass, much of which has been purchased not by private individuals but by leading art institutions in Europe and America. The development of new methods of display – in particular, the invention of a slim, elegant light-box-cum-frame – has completely transformed the appearance of stained glass in galleries and museums, making it possible for an audience to appreciate finer details in a way that was not possible before. The simple fact that the National Gallery has put its own considerable force behind an exhibition of stained glass may set the seal on a sea-change in attitudes.
Curated by Susan Foister, the present exhibition argues that the finest German Renaissance stained glass deserves comparison with the works of such masters of German Renaissance painting as Albrecht Durer or Hans Baldung Grien. The case is presented through a series of comparisons, principally between paintings from the National Gallery's own collection and a group of about twenty stained glass panels on loan from the Victoria and Albert Museum. The techniques of the painter and the creator of stained glass remained, of necessity, fundamentally different. But what this show proves beyond doubt is the extent to which the goals of each rapidly converged during the early years of the sixteenth century.
The works on display in "Art of Light" mark a great shift in Northern European art. German Renaissance painters developed a keen interest in human identity and individuality, which they used to tell the stories of the Bible and of ancient mythology in a more compelling way. They developed a heightened feel for drama and a more monumental sense of composition. They experimented with new techniques, such as aerial perspective, to set their scenes and figures in fresh, vivid, extensive landscapes. The result was a revolution in ways of seeing and depicting in Renaissance Germany – one that soon found a very close mirror in the medium of stained glass.
Although their techniques were different, and much more time-consuming, the makers of stained glass also developed a whole new range of methods for depicting both the world of nature and the world of human emotions and stories. By the late fifteenth century, improved technology and changes in the raw materials used in the production of stained glass meant that the glass itself could be considerably thinner – and that designs could be correspondingly more sophisticated, delicate and complex. Artists working in the medium no longer had to compose in broad areas of relatively unmodulated colour, so in accordance with the new Renaissance aesthetic, they were able to abandon the more abstract and schematic devices of Gothic stained glass – with its own, very different beauties – and created compositions greatly more detailed and minute.
This stylistic shift can be seen even within a relatively modest piece of heraldic stained glass, such as Lukas Zeiner's The Arms of Balthasar II von Hohenlandenberg, of 1500 – in which a coat of arms becomes the pretext for the depiction of an alluring femme fatale reminiscent less of Durer and Hans Baldung Grien, perhaps, than of the temptresses of Lucas Cranach. Her head and bosom have been painted on a single piece of glass. Shadows have been created by subtle scratchings away of the undercoat of colour – the "matte" – with which the stained-glass maker primed the image. Elsewhere, one colour has been laid on another, dark blue on blue, and once again scraped with a brush handle or some other implement, to create an effect of damasking. The point of all this ingenuity is a form of alchemy – to make the flesh-and-blood likeness of a human being from the hard materials of iron and glass.
Durer straddled both traditions, a painter who actually made designs for stained glass. But he was such a giant of the German Renaissance that his designs, above all his subtle and intricate woodcuts, were always liable to be appropriated without his permission anyway. The results were by no means always regrettable. The National Gallery's exhibition includes a stunning transformation of Durer's The Virgin as Queen of Heaven into a stained glass roundel. A beatific virgin clasps the infant Jesus to her bosom as they ascend into heaven. In his original, Durer had used the so-called "reserve", the whiteness of paper left blank around and behind the image, to suggest the radiance of divine majesty. The stained-glass maker improves on that by floating the figures on a golden sunburst – in which can still be seen, like a tiny imperfection preserved forever in amber, a glass bubble in the shape of a scar.
The exhibition reaches its climax in the last of its three rooms, with a reconstruction of one of the great windows of the cloister of the Abbey of Mariawald. Created by the workshop of Hans Gitschmann von Ropstein, after designs by Hans Baldung Grien, it was completed in about 1520-21. The date is the same as that of the small panel of Tobias and Sarah from the Lower Rhine with which the exhibition begins; but the effect is far more monumental and dramatic. The work resembles a polyptych, a many-panelled altarpiece, but realised in the glowing, backlit medium of stained glass. It is full of sharp, sudden touches of drama. Jacob meets Esau, who signs away his birthright for a bowl of hot soup, a scene which the artist has turned into a tantalising depiction of the experience of searing hunger. The story unfolds in front of a cosy kitchen where racks of fish are hung up to smoke, while a boy bastes a suckling pig as he turns it on a spit. Esau's hunger is implicit in his own, open arms, and then re-enacted by his dog, which pauses wistfully to sniff at the door to the kitchen of plenty. Elsewhere, Christ is solemnly baptised by St John and then not so solemnly tempted by a magnificently malevolent devil with pointed ears. Below, Abbot Heinrich von Binsfeld of Cornelmunster richly named and full of stomach, kneels at an altar to give thanks to the lord. Behind him stretches an extraordinary, fantastical landscape, a place where mountains assume the shape of crests of surf, and where great towers and castles seem as though created from crystal, not mere bricks and mortar.
The larger suggestion behind this enthralling show is that the specialised nature of our major museums' holdings can impede knowledge as well as advance it – and that the cordons sanitaires that have been erected between one art form and another often obscure the relations between each. The V&A's masterpieces of German Renaissance stained glass have been returned, temporarily, to the history of western painting. That is the history to which these fascinating works originally belonged, and indeed contributed – bringing, to the painted image, a new and unique quality of illumination.