"The Changing Face of Childhood" at Dulwich Picture Gallery
Date: 05-08-2007
Owning Institution: Dulwich Picture Gallery
Publication: Sunday Telegraph Reviews 2004-2013
Subject: 18th Century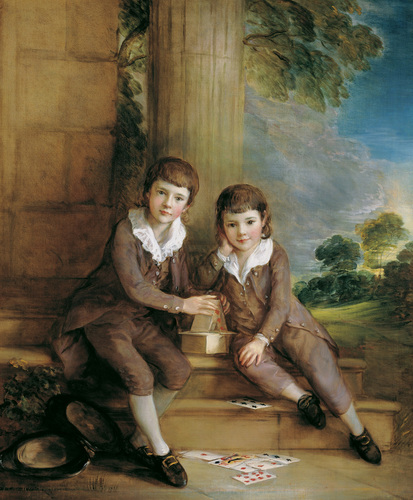 Attitudes to children underwent a profound shift in eighteenth-century Europe. The publication in 1693 of John Locke's treatise, Some Thoughts Concerning Education, revolutionised prevailing ideas about the nature of childhood itself, as well as its role in the formation of character and morals. Locke saw education as a social rather than spiritual process and argued against stifling the whims and desires of children with draconian punishments. The most famous metaphor of his epistemology, according to which the human mind is a tabula rasa – a blank piece of paper, so to speak – boldly contradicted the traditional Christian belief in Original Sin. Whereas writers from the time of St Augustine onwards had argued that children are corrupt from birth, because of their inherent sinfulness, Locke argued that the mind of the child is essentially innocent, pure of evil until exposed to it. He believed that children should be allowed to play, should even be encouraged to do so, and should only gradually be taught how to think rationally and make moral judgements.
Eighteenth-century attitudes to children were further transformed by the writings of Jean-Jacques Rousseau, whose Emile, or On Education, of 1763, was also very influential. Rousseau did not merely argue, as Locke had done, that childhood should be accepted as a necessary stage of human growth. He believed that childhood was itself the golden period of every human life. Rousseau believed that children exist in an innocent state both of naturalness and of closeness to nature. To become "civilised", to learn the laws and codes of human behaviour, is to become a creature of habit, dead to the true wonder of the world. Rousseau's beliefs would be reflected in many of the most celebrated works of Romantic literature – in the essays of Hazlitt, who railed against the deadening force of habit, and in the poetry of Shelley, Keats and Wordsworth, whose most famous work, The Prelude, is an epic largely devoted to the poet's attempts to recall and recapture the intimacy of his experiences of nature as a child.
"The Changing Face of Childhood", a new exhibition at the Dulwich Picture Gallery, explores the consequences of these new ideas for visual art. Its focus is principally on British painting from about 1750 to about 1815, although a number of seventeenth-century pictures have also been included for the sake of context. The show's subject is children's portraiture, a genre which suddenly exploded into life in Britain during the second half of the eighteenth century under the impetus of the new cult of the child that sprung up during the so-called "age of feeling". The works on display include a brace of exceptional Gainsboroughs, including a stunning and rarely exhibited picture from a private collection; a number of outstanding works by Reynolds, Romney and Thomas Lawrence; as well as several variously intriguing and sentimental paintings by other less well known artists. Organised in conjunction with the Stadel Museum in Frankfurt, the show also explores developments in children's portraiture in eighteenth-century Germany and Scandinavia, albeit in a very limited way.
By way of an introduction to its main theme, the opening gallery is dedicated to Baroque portraits of children by Anthony Van Dyck and Peter Lely. Van Dyck's Maddalena Cattaneo, of 1623, shows the painter's sensitivity to the shy and withdrawn character of this daughter of a wealthy Genoese family. The girl, who can be no more than five or six years old, stares somewhat nervously into space, seeming at once dwarfed and isolated by the grand, dark room in which she finds herself. She wears an elaborate lace-trimmed dress and is posed against a plush velvet cushion, trimmed with gold, and a classical pillar – both details indicating her high social status. She holds an apple, which does not symbolise Original Sin here but is intended instead as the attribute of Venus – expressing the hope that this little girl, just like Venus, will be blessed by beauty and fertility and therefore bring good fortune to her family. The child is seen from the perspective of the adults whose hopes she carries.
Van Dyck's children – like those of Velazquez and other court painters of the seventeenth century – are painted as if they were miniature adults. There is a poignancy in the contrast between their youthful vulnerability and the weight of social expectation implied by their fine and no doubt uncomfortably formal clothing. The Balbi Children, whom Van Dyck also painted in Genoa, some time between 1625 and 1627, stand within the portico of an imaginary classical temple, a swag of fantastical velvet drapery fluttering above their three heads. Their skin is porcelain white, their glassy eyes circumspect. They are dressed up like courtiers, their clothes stitched with silver and gold thread, and the oldest of the three wears an ornate lace ruff at his throat. The three boys, who are about ten, seven and five, are ostensibly shown playing. The youngest has a bird, a tame chough, in his hand, although he clutches the creature so tightly he might almost be throttling it. But even their game is a symbol of the responsibilities that await them. The tame bird is an emblem of their duty to learn and obey, so that will be ready for their tasks in the adult world.
This group of early portraits also includes a tenderly wistful Portrait of a Young Man as a Shepherd, painted by Peter Lely in about 1660. The boy, who is perhaps fifteen, is shown in Arcadian fancy dress, wearing the silken rags of a shepherd as he might have been played in one of the court masques popular at the time. In one hand, he holds a flute, in the other, a shepherd's crook. He is seated below a dark rock in a blurrily idealised landscape. He has long wavy hair and cherry-red lips and he wears an expression of wistful dreaminess on his adolescent face. He is a boy masquerading as a courtier masquerading as a shepherd, performing a rich man's charade of discontent with the sophisticated world of the city.
The paintings of Van Dyck and Lely represent the world of children's portraiture before the advent of Locke and Rousseau's ideas. The rest of the pictures in the exhibition, some thirty paintings in total, explore the impact which those ideas had on the representation of children in art and show how rapidly the genre changed and evolved during the late eighteenth and early nineteenth centuries. Two Gainsboroughs immediately stand out. The first is a sketch of his own two daughters, Mary and Margaret, or "Molly and The Captain", as he affectionately nicknamed them. Both girls are dressed in simple yellow smocks. Mary reaches out to stroke Margaret's hair and perhaps, a little clumsily, to try to rearrange it. Margaret, the older of the two, stares out at her father with quiet good humour, as if to share a little joke about her sister's heavy-handed but affectionate attentions. It is a picture which radiates an air of freshness and informality quite alien to the earlier portraits of the Baroque. Gainsborough paints the sisters' closeness to one another, and to him, and that is all. The second of the artist's pictures in the show is a little known work of about 1783, a portrait of Master John Truman-Villebois and his Brother Henry. Like van Dyck's Balbi children, they are shown on the steps of an imaginary temple, at the foot of a classical column. They too are playing a game, this time building a house of cards. But they are sitting rather than standing, relaxed rather than warily self-possessed – simply two children enjoying a game. In earlier times the house of cards might have stood as a shaky emblem of the folly and transience of childish pursuits. That is certainly what it would have meant in the work of even a relatively recent predecessor of Gainsborough's, such as William Hogarth. But here there is no hint of such punitive symbolism.
Juvenile games had long been considered a pointless waste of time – a corollary to the old belief that children were inherently sinful and that childhood itself was an insignificant period of life, to be kept as short as possible so that children might quickly pass into productive adulthood. But eighteenth-century portraits reflect a new belief in the value, to children, of play and outdoor pursuits. Francis Cotes paints Lewis Cage as "The Young Cricketer". Armed with an impressively sturdy piece of willow, he poses, hand on hip like an improbably young English Apollo Belvedere, beside a wicket composed of a twig balanced on two cleft sticks. In William Beechey's The Oddie Children, of 1789, a young boy plays with his bow and arrows while his even younger sisters look on admiringly. Jens Juel, the only Danish artist to have been included in the show, paints a future privy counsellor and mayor of Copenhagen, Marcus Pauli Karenus Holst von Schmidten, simply as A Running Boy. A work of snapshot immediacy, it is the portrait of a distinctly gauche teenager in a tearing hurry to play with his friends.
Free time to play was a privilege of the leisured classes, so the pictures in this exhibition might be said to represent only the merest tip of the iceberg of the experience of eighteenth-century children. Most childhoods were considerably more difficult than those lived by the insouciant boys and girls painted by the likes of Reynolds, Raeburn and Lawrence – and would become harder still in the factories and at the coalfaces of the Industrial Revolution.
Only once, in this exhibition, is the spectre of child poverty allowed to intrude into the world of the portrait-painter's well-heeled clientele. William Beechey's Portrait of Sir Francis Ford's Children Giving a Coin to a Beggar Boy is a fascinatingly awkward picture. The encounter takes place under a tree, somewhere, presumably, on the extensive Ford estates. A ragged, whey-faced, painfully thin urchin gratefully accepts the money that is offered to him by a graceful young girl wearing a spotless white dress and a cream-coloured bonnet. Her brother, who is dressed even more splendidly, contemplates the malnourished boy with an expression in which complacency is mingled with shock. The picture was painted in 1793, a time when the Terror in Paris was at its height, and when fears were rife that the contagion of revolution might soon spread to England. It was meant, perhaps, to carry a message of reassurance, to assert the impossibility of popular revolt against an aristocracy with such a keen sense of social responsibility that even its children were exemplars of compassion.
Beechey's painting may represent an ideal of charity that was far from the real truth. But like all of the other pictures in this show it is a work that reveals a newly sharpened sense of the importance of children. If suffering is bad, it implies, how much worse is a society in which children are allowed to suffer. The portraits of the Augustan period may evoke a distant world of aristocratic wealth and privilege, but they also vividly demonstrate the extent to which modern attitudes towards the rights and needs of children were forged during the eighteenth century.