ITP 56: Portrait of a Kleptomaniac, by Theodore Gericault
Date: 13-05-2001
Owning Institution: Museum of Fine Arts Ghent
Publication: Sunday Telegraph "In The Picture"
Subject: 19th Century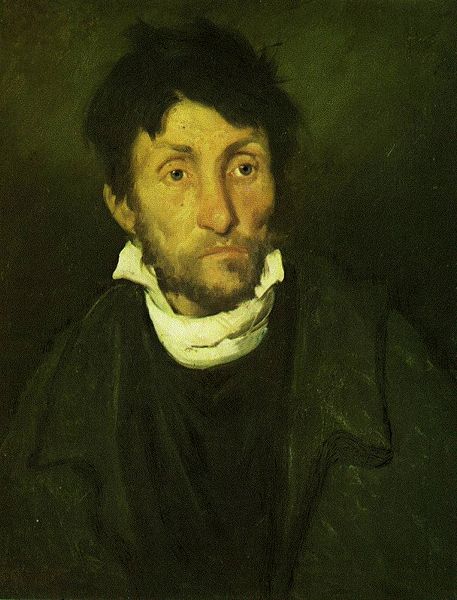 Just two days before the feast day of St Dymphna, patron saint of the insane, this week's picture is the portrait of an inmate of a lunatic asylum by the French romantic artist Theodore Gericault. It was painted some time in the 1820s.
Gericault is principally famous for his enormous history painting, The Raft of the Medusa, inspired by the most notorious maritime disaster of the age. But he created many other great works of art, none more remarkable than the so-called Portraits de Fous, or "Portraits of the Insane", done shortly before his death at the age of 33 from complications caused by a riding accident.
Gericault was one of the first painters of post-Enlightenment Europe to reject the centuries-old convention of depicting the mentally ill as raving monsters or buffoons – a tradition which had its origins in the superstitious notion that people exhibiting signs of instability must be possessed by evil spirits or the Devil. The unprecedented restraint and dignity of the portrait reproduced here imply a more sensitive, reasoned attitude to those suffering from disorders of the mind. The artist has taken care to leave out anything which might too loudly trumpet the presumed "madness" of his sitter. Instead of a straitjacket, or any of the other restraints in common use in asylums at the time, the man wears his own clothes, which have been abbreviated to little more than a white collar and cravat and a dark, sketchily indicated coat. Likewise, the insititution of his confinement has been reduced to nothing more than a patch of dim wall in the background. Other artists of the time (including Goya) depicted lunatic asylums as thrilling, dangerous theatres of madness. But sensationalism has no place here. Gericault is not after the frisson of the grotesque. Lunacy is not, for him, a riotous and obscene carnival. It is a human mystery. Accordingly, he leaves us nothing else to look at but a human face.
The artist had recently travelled to England, where he had been impressed by the deftness and vitality of Sir Thomas Lawrence's society portraits. The bravura and fluency of the picture owes much to Lawrence's example. The the highlights in the eyes, limpid and lifelike, are is a typical Lawrence touch. So too is the rapidly painted collar, which in the English painter's work hints at the insouciance that comes naturally to the upper class. In Gericault's painting it has an incongruously similar effect, suggesting that one of the symptoms of the sitter's mental illness might have been a kind of misplaced hauteur, or lofty detachment from the world around him.
For all its reticence, Gericault's picture is a deeply revealing portrayal of its subject. Everything about the sitter's appearance suggests that something is subtly wrong within. His sallow skin has an unhealthy, slightly greasy sheen. His scraggly beard is unkempt. His hair is dishevelled, sticking out in tufts. His left cheekbone is puffy, suggesting a recent fall or altercation. The impression is of a person who has become somehow disconnected from the shared assumptions and expectations of everyday social existence. This is reinforced by his disconcerting, oblique gaze. The man's eyes are full of expression but just what they express –beyond an abstractedness that seems almost to verge on autism – remains open to question. The windows of the soul are opaque. The painter does not presume to understand what he sees, but he nevertheless pays close attention to every detail. The sympathy and fascination that he feels for the enigma before him is almost palpable. It may be not entirely fanciful to see, in this picture, early stirrings of the psychoanalytical impulse.
Gericault's precise reasons for creating his Portraits des Fous are not known. Five such pictures exist, all of which were found by Louis Viardot – husband of the celebrated singer and muse to Turgenev, Pauline Viardot – as he was rooting around in the dusty attic of a house in the spa resort of Baden-Baden on a winter's day in 1867. Unframed, unstretched, bundled together and abandoned like so much bric-a-brac, they owe their survival to Viardot's connoisseurship. A failed artist himself, as well as a great admirer of Gericault, he recognised them as works from the painter's hand. Charles Clement, who published the first catalogue raisonne just twelve years later, researched their origins. He found that they had all belonged to a certain Dr Lacheze, to whom they had been bequeathed by another medical man, the psychiatrist Dr Etienne Georget. Georget was said to have commissioned the pictures from Gericault. Clement also established their subjects. Each one, he found, depicted an individual suffering from a different form of "monomania", or overwhelming obsession. Besides the portrait shown here, of a compulsive thief, or kleptomaniac, the series includes portrayals of a man suffering delusions of military grandeur, a compulsive pederast, a female gambler and a woman consumed by jealousy. Five more such pictures, left by Georget to another doctor, have disappeared.
Gericault may have met Etienne Georget while researching his masterpiece, The Raft of the Medusa. The subject of that painting – a group of mostly dead and dying shipwrecked men, desperately signalling for help – had led him to contact a variety of medical specialists. His principal concern had been to gain access to human bodies in various states of putrefaction, to ensure the verisimilitude of his work; but he may also have consulted those who worked with the mentally ill, such as Georget, about the psychological trauma suffered by the victims of the Medusa shipwreck.
Georget belonged to the third generation of modern French psychiatry, a discipline founded by Philippe Pinel in the immediate aftermath of the French Revolution. Pinel oversaw the liberation of thousands of mental patients from the prisons in which they had been confined under the ancien regime. He also helped to establish clinics and asylums which, although doubtless primitive by modern standards, marked a vast improvement in the lot of most indigent sufferers from mental illness. Pinel's pupil, Jean-Etienne-Dominique Esquirol, undertook the systematic classification of types of insanity. He claimed to have identified five: idiocy; dementia; depression; violent delusion or "mania"; and finally "monomania", which was his term for obsessive delusions of a systematic nature. Georget, who was in turn Esquirol's pupil, differed from him in some respects while accepting his general classificatory scheme. It is not known whether he commissioned Gericault's paintings to illustrate one of his teacher's works, or his own essay De la Folie ("On Madness"). It seems likely that the pictures were originally intended for one of those two purposes, probably to be reproduced in the form of engravings. But Georget, like Gericault, died suddenly and young, which may explain why this never happened.
Esquirol's theory of "monomania" has long fallen out of favour with psychiatrists and psychoanalysts alike but it marked an important development in the history of both of their disciplines. It was important because it finally put an end to the old idea that "madness" and "sanity" are antithetical states of being, having nothing in common with each other. Being mad on one point but sane on most others, monomaniacs were living proof that this is not so, Esquirol argued. Madmen are not a different, accursed race, as they had long been treated; they are human beings, just like the rest of us. It is difficult to think of a more eloquent illustration of that idea than Gericault's painting. But there may be more besides to his Portraits des Fous.
Etienne Georget, who commissioned the pictures, was an interesting theorist in his own right. His many original ideas included the belief that insanity was on the increase, in the early years of the nineteenth century, thanks chiefly to the great upheavals that had altered the political and social fabric of Europe during the previous 30 or 40 years. The principal factors that he cited were the spread of education to all social classes; the effects of the Industrial Revolution such as the expansion of cities; and the widespread political uncertainty caused by world-shaking events such as the French Revolution and the rise and fall of Napoleon. With circumstances such as these "galvanising the mind of man, setting his soul in turmoil and putting every single one of his passions in play" it was no wonder, Georget believed, that so many people should be slipping into insanity.
Such ideas may well have made the project of painting a group of the mentally disturbed seem both more interesting and more important to Gericault. As a history painter, he had always striven to do more than merely depict the world around him. He had sought to give enduring artistic expression to the temper of the times, to create works that might stand in some sense as emblems of their era. Perhaps, turning Georget's theories over in his mind, he came to see his portraits of the mentally ill in the same light. I think he meant them to be seen as a kind of composite history painting - each one the image, not just of a single individual, but also of France itself, inwardly bruised and damaged by the catastrophes of the Napoleonic era, slipping inexorably into darkness and incoherence.