Rembrandt & Co: Dealing in Masterpieces at the Dulwich Picture Gallery 2006
Date: 11-06-2006
Owning Institution: Dulwich picture Gallery
Publication: Sunday Telegraph Reviews 2004-2013
Subject: 17th Century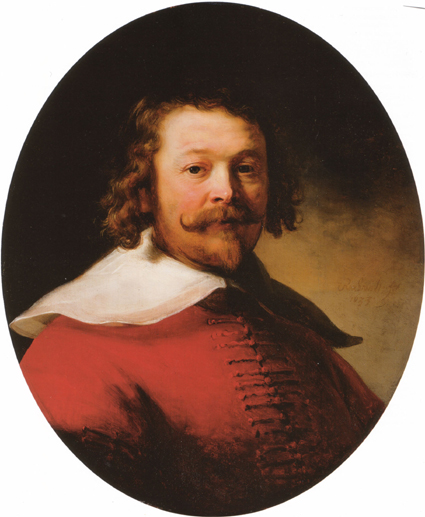 The archives of old Holland give us a sudden, all-too-brief snapshot of the young painter Rembrandt, in the summer of 1632. The date is 26 July and an Amsterdam notary, sent out on some minor, mundane business, has come looking for the artist at the home of a "Mr Heyndrick Ulenburch, near St Anthonissluys in Brestraet in this city." The notary asks "a certain daughter who came to the door" whether "Mr Rembrant (sic) Harmensz van Rijn, painter, lodging at this address, is at home and disposed to receive visitors." The young girl calls for Rembrandt and the two men meet in "the front room". They make small talk, the notary remarking that Rembrandt appears "hale and hearty and faring well", to which the artist replies that "I am of sound constitution, the Lord be praised." That, tantalisingly, is all.
The encounter can almost be imagined as a series of Rembrandt paintings. A girl at a door. Two men talking in a room. A portrait of the painter himself, his face caught by a shaft of light. "Rembrandt & Co: Dealing in Masterpieces", at the Dulwich Picture Gallery, is a piercingly original attempt to shed light on Rembrandt's crucial early years in Amsterdam – and it opens, aptly, with the revelation of a rare, small-scale, exquisitely painted self-portrait by Rembrandt, done in the same year that the notary came to call on him. Long obscured by overpainting and previously considered a copy, at best, it was recently cleaned and unanimously attributed to the master himself (doubtless to the huge satisfaction of its anonymous American owner, who has generously lent the work to Dulwich). Rembrandt is dressed soberly, his white lace ruff the only trace of opulence. He does not flatter himself, making no attempt, for example, to amend the contours of his already rather battered nose. He gives the impression of having too much self-confidence to bother with such vanity and stares out from the canvas with an expression of cool self-confidence, tinged by an almost aristocratic hauteur.
Dulwich's small and scholarly exhibition, which originated at the Rembrandt House in Amsterdam, is based on the prodigious researches of two Dutchmen, Friso Lammertse and Jaap van der Ween. They set themselves the fascinating task of delving into the business run by Rembrandt's first art dealer, Hendrick Uylenburgh (c. 1584-1661), and his son Gerrit Uylenburgh (c.1625-1679). The Uylenburghs' connection with Rembrandt is a matter of historical record. The painter lived and worked in the house of Hendrick Uylenburgh for the first four years of his life in Amsterdam, the city to which he moved, from Leiden, in 1631, in search of more influential clientele and better commissions – fame and fortune, in short. He ran the Uylenburgh workshop pretty well from the moment of his arrival, so it is a fair assumption that Rembrandt was head-hunted by Hendrick, who saw that this young man from Leiden was destined for great things. It is a fair bet that Rembrandt met his bride in the Uylenburgh house – not that "certain daughter" who opened to the notary, but one of Hendrick's nieces, Saskia van Uylenburgh. A document of 1634 records their betrothal and notes that Rembrandt was still, at that time, lodging in the big house on the Breestraet.
All this has been known to scholars for some considerable time. The originality of "Rembrandt & Co", as an exhibition, is that it attempts to put real flesh on the bones of the Rembrandt-Uylenburgh connection. It sets out to explain the unusual and distinctive nature of the establishment which the painter was asked to join – a dealership trading in Old Masters that was also a workshop producing contemporary art for sale – and explores the extent to which his art may have been shaped by the experience. In doing so, it hammers yet another nail into the coffin of Rembrandt as the Romantics used to imagine him – a spontaneous, untutored genius, at odds with convention and oblivious to the imperatives of commerce. The exhibition at Dulwich paints a very different picture of him, suggesting that had Rembrandt never met the cannily commercial Hendrick Uylenburgh his art might never have developed in the way that it did.
The show's opening galleries are lined with portraits painted by Rembrandt, together with members of his new workshop on Amsterdam's Breestraet, in the early 1630s. These include a splendidly free and virtuoso, almost Frans Hals-like, Portrait of a Man in a Red Doublet, signed and dated 1633. Staring out at the viewer with an expression of disarming frankness, this unknown gentleman's countenance seems nearly as ruddy as his postbox-red doublet. The exhibition also contains a number of more intimate images, including a touchingly informal study of Saskia van Uylenburgh and a beautiful little pen-and-brush sketch of her sister, Titia, bent myopically over her needlework. This was presumably a private memento for Saskia, who was plainly very fond of her sister (when she and Rembrandt married, they would name their son, Titus, after her).
On the opposite wall, Rembrandt's newly rediscovered Self-portrait of 1632 hangs beside two of his very finest portraits of the same year, depicting two close friends, Maurits Huygens and Jacob de Gheyn III. The pictures were obviously painted as a pair, in that they are exactly the same size and designed, compositionally, so that the sitters seem to incline towards one another when placed side by side. Both men wear white ruffs and black doublets and gaze out from blank backgrounds mottled with shadow. They have nothing to declare but their thoughtful humanity. A pair of inscriptions on the back of the portrait of Jacob de Gheyn has unlocked the secret of the motives that lay behind this unusual, dual commission. "Jacob de Gheyn gave his portrait … as a last duty on dying", reads the first; the second noting that "now this portrait has its companion, alas." It seems that the two men agreed that the first of them to die would leave his portrait to the other, so that the friends might be united in art if not in life.
How might all this suggest the influence of Uylenburgh, Rembrandt's new dealer and employer, on the artist and his practice? A single statistic, published on page 128 of the tombstone-like catalogue to the exhibition – which is really a book in itself, devoted to the minutiae of the Uylenburgh business – is extremely telling. Before coming to Amsterdam from Leiden, Rembrandt, who was destined to become among other things the greatest portraitist of his age, is not known to have been given a single portrait commission. So it seems that not only was Hendrick van Uylenburgh responsible for persuading Rembrandt to paint portraits in the first place, but also that this was part of a carefully planned strategy – one that affected Rembrandt's career in all kinds of other ways too.
The plan was simple and effective. Uylenburgh would entice the wealthy burghers of Amsterdam to have their portraits painted by his new prodigy of the brush – and men such as the prodigiously wealthy merchant Nicolaes Ruts, or Marten Looten, were delighted with the results. On their visits to the busy workshop-cum-gallery that was the Uylenbergh establishment, they were also tempted to purchase works from the dealer's stock, which included numerous works by the Italian Old Masters, as well as more recent Flemish masterpieces by the likes of Van Dyck. The exhibition contains a number of such pictures, including four of Van Dyck's Apostles, and succeeds in conveying the extremely eclectic pictorial surroundings in which the young Rembrandt found himself on moving into Uylenburgh's house. This is in itself suggestive, raising the possibility that Rembrandt's distinctive eclecticism as a painter – his habit of borrowing techniques and devices from all kinds of artists, ranging from Titian to van Dyck – may also have been shaped there. Uylenburgh also seems to have had a well-stocked prop box and wardrobe, on which Rembrandt drew for his "tronies", such as the outstanding Man in an Oriental Costume, of 1632 – a kind of exotic, fancy-dress portrait that he would paint throughout his life.
Painting portraits of Amsterdam's elite also opened other doors for the Uylenburgh-Rembrandt partnership, because the influence of men like Ruts and Looten was vital when it came to winning larger, more prestigious commissions. It seems almost inconceivable that a young, relatively unestablished painter such as Rembrandt would ever have been given the commission to paint the large, multi-figure group portrait now known as The Anatomy Lesson of Dr Tulp – the masterpiece of his early years, painted in1632 – had he and his dealer not succeeded in making some very powerful friends. That famous picture is not in the exhibition, being too precious to lend, but the show does suggest, so to speak, the hidden mechanisms and networks that made its creation possible.
Hendrick Uylenburgh was particularly closely associated with the Mennonites of Amsterdam, members of a strict Anabaptist sect who wielded considerable influence in the city. So it is that many of Rembrandt's early sitters turn out to have been Mennonites, distinguished among other things for their sobriety of costume and intensely introspective demeanour. The painter maintained close links with Amsterdam's Mennonites after he had left Uylenburgh's workshop, to judge by his outstanding half-length portrait of Agatha Bas, of 1641, which has been loaned from the Royal Collection and instantly stands out as one of the highlights of the show. Rembrandt and Uylenburgh's links with the Mennonites may also explain why the artist suddenly turned to religious painting in the 1630s, creating such brooding and solemn masterpieces as The Preaching of St John the Baptist – another outstanding loan, from Berlin – as well as his great etching of The Descent of the Cross, of 1632. It is possible – although Lammertse and van der Ween stop short of suggesting this – that the Mennonite milieu of Amsterdam shaped the distinctly sombre, shadowed, introspective quality of such work. In which case, even the most quintessentially "Rembrandtesque" traits of Rembrandt's style are linked to his association with Hendrick Uylenburgh.
The exhibition does not end with Rembrandt, tracing the fortunes of the Uylenburgh workshop in the years after he left it, in the not so capable hands of his pupil Govert Flinck – and taking the story forward to the second half of the seventeenth century, when the family business was taken over by Hendrick's son Gerrit Uylenburgh, who eventually went bankrupt and ended his days in England, as Surveyor of King Charles II's pictures. But the Rembrandt-Uylenbergh connection lies at its centre, and rightly so. It is not often that a small exhibition shows a world-famous Old Master in an entirely new light. But that is exactly what this one does.