The advantages of displaying sculpture alongside paintings at the National Gallery
Date: 28-08-2005
Owning Institution: The National Gallery, London
Publication: Sunday Telegraph Reviews 2004-2013
Subject: Renaissance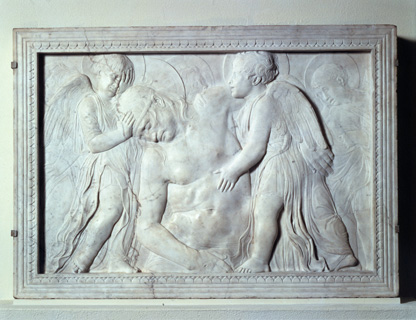 The walls of the Sainsbury Wing of the National Gallery are painted in the cool grey colour of
pietra serena
, the stone so ubiquitously used in the churches and palaces of fifteenth and sixteenth-century Tuscany that it instantly conjures up the world of the Florentine Renaissance. But evocative as it is, the gallery can be no more than a stage set for the contemplation of the Renaissance masterpieces which it contains – pictures long removed from the sacred and domestic spaces which they were originally designed to adorn.
Museums inevitably tell a partial story of the past; and perhaps no museum can hope to reconstruct the richly interwoven texture of Renaissance art.The difficulty is exacerbated by the specialised nature of most museums. A rich Renaissance collector and connoisseur such as Lorenzo de Medici would certainly have seen many of the paintings in the National Gallery's collection, but he would have seen them in their original settings. In addition, he would have admired portfolios of drawings, such as Botticelli's muscular illustrations to Dante's
Inferno
. He would have enjoyed handling the collection of antique gems and cameos which he kept in his cabinet, together with their modern equivalents, the elaborately allegorical medals designed and struck by Pisanello, and other artists bent on reviving the artistic forms of classical antiquity. He would have admired classical sculptures themselves, both sculptures in the round and the bas-reliefs on the sides of Roman sarcophagi, many of which, recently exhumed, formed part of his family's art collection. He would have admired the sculptures created by his own contemporaries.
Yet because the National Gallery was established, purely and simply, as a museum of western European painting, it only bears witness to a fraction – albeit a very important and beautiful fraction – of the Renaissance artistic world. The museum has made occasional, admirably attempts to enrich its audience's understanding of the broader creative context of the period, with temporary exhibitions that have included drawings, engravings, sculptures and other objects. But such things have rarely been exhibited in the main galleries of the museum. That has now changed, thanks to the generosity of the Victoria and Albert Museum, which recently loaned to the National Gallery fourteen works from its own magnificent collection of Italian Renaissance sculpture – the finest such collection, of its kind, outside Italy. They will eventually return to the V&A, which is currently redevoloping and redesigning its own sculpture galleries, but in the meanwhile they have, in many subtle ways, transformed the experience of visiting the Sainsbury Wing. Collectively, they vigorously dispel the illusion that Renaissance painting developed in a vacuum, while vividly displaying the extent to which the painters and sculptors of the time took inspiration from one another.
One of the many juxtapositions in the National Gallery's new hang finds a group of Mantegna's most beautiful
grisailles
on classical themes placed next to a pair of bronze roundels showing scenes from the life of Hercules by the aptly nick-named classicising sculptor Antico (born, more prosaically, Pier Jacopo Aleri Bonacesi). Mantegna's paintings, which include one of his most ambitious and crowded depictions of an ancient Roman scene,
The Intoduction of the Cult at Cybele at Rome
, were intended to evoke both antique cameos and ancient carved bas-reliefs, and they are framed by richly coloured trompe l'oeil panels painted to resemble veined marble. This is painting that nakedly aspires to the condition of sculpture, paying eloquent testimony not only to Mantegna's passionate, archaological interest in the remains of antiquity, but also to his desire to brings its myths and legends back to life in his own work.
Antico's contemporary roundels represent a form of Renaissance one-upmanship, in that they are an attempt to out-Mantegna Mantegna, by not only imitating the appearance and subject matter of antique art but its forms and materials too. Being relief work, they resemble paintings – as Leonardo da Vinci remarked, "
basso relievo
is a kind of painting" – or perhaps it would be more accurate to say that they are really like drawings in bronze. In the finer of the pair Hercules, naked save for a lionskin, muscularly slays the Erymanthian Boar. Part of the pleasure taken in such a work by its original owner would have been that of touch. To look at it is to want to run a finger along its contours as if it were a piece of braille. For all its diminutive scale, the figure has a monumental quality.
Nearby is displayed Antonio Lombardo's early sixteenth-century sculpture of the agonised
Philoctetes
– an appropriate inclusion in this temporarily assembled brotherhood of objects, since it was originally created for the Duke of Ferrara, brother to Isabella d'Este, for whom Mantegna had painted two of his trompe l'oeil painted bas-reliefs just a short while before. Like Antico, Antonio Lombardo clearly saw himself in competition with Mantegna. Although his sculpture is technically a relief, he has separated the figure of Philoctetes to such an extent that it is, in effect, a figure in the round. Not only his face but his physique is animated by pain, muscles taut across an emaciated abdomen. Emphasising the physicality of sculpture, its ability to conjure the tactile, palpable presence of the human body, was one way for the sculptor to advertise his superiority to the painter. As if to underscore his determination to beat Mantegna at his own game, Lombardo has inserted into his work a piece of real polychrome marble matching the colours of the fictive marble that frames Mantegna's trompe l'oeil creations.
Painters and sculptors competed with one another throughout the Renaissance, not just to impress their increasingly demanding patrons with their ability to emulate the art of antiquity, but also to prove the preeminence of their respective art forms. Michelangelo, great painter that he was, always maintained the innate superiority of sculpture as a medium, which stung his rival Leonardo da Vinci into making his own, satirical comparison between the painter and the sculptor. Leonardo argued that the painter was far more subtle and sophisticated than the sculptor, partly because "the art of painting includes in its domain all visible things, and sculpture with its limitations, does not"; partly because "sculpture is less intellectual than painting"; and partly because the very activity of sculpting struck him as irredeemably vulgar. While the sculptor worked like a mere manual labourer, his studio resounding to the hammer blows of the chisel, his face obscured by sweat, mingled with a thousand particles of marble dust, the painter sat and worked at his ease, like a gentleman, while musicians played to soothe and inspire him. But Leonardo himself had trained as a sculptor, and secretly knew his debts to those who had worked in that medium. Some of the more subtle effects of his painting may well have had their origins in sculpture. Leonardo's unparalleled use of
sfumato
, the rendition of blurred shadows along the contours of a form, making it seem as if lightly veiled by smoke, is prefigured in some of the effects of blur and movement created by Donatello in his extraordinarily delicate
schiacciata
reliefs – reliefs so finely incised that they seem like pictures miraculously incised into stone.
Elsewhere in the displays, the inclusion of Pisanello's portrait medals, including a powerful, warts-and-all likeness of Domenico Novello Malatesta, provide a succinct explanation for why so many Renaissance patrons – like the woman in Alessandro Baldovinetti's wonderful
Portrait of a Lady in Yellow
– had themselves painted in profile. They did so because they wanted to be thought of as the heirs to ancient Rome, and the ancient Romans had had themselves portrayed in profile on their coins and medals. In other words, a whole genre of Renaissance portraiture had its origins in the emulation of an art form that had nothing to do with painting at all.
Central to the development of Renaissance art was the rediscovery of the potential of the human body, when accurately depicted, to convey a whole universe of feelings and spiritual intimations. When Renaissance artists first conceived the ambition of putting the body centre stage in their art, they turned, naturally, to the most sophisticated form of figurative art that they knew – namely the multitude of surviving Roman statues, and fragments of statues, to be found across the Italian peninsula. The primacy of sculpture as a medium for conjuring the illusion of physical presence can be sensed in Lombardo's relief, but even more so in the relief work of Donatello – represented, most movingly, in the National Gallery display by the
Christ Supported by Saints
. To see this work beside similarly agonised and pathetic renditions of the crucified Christ by artists as various as Cima da Conegliano and Giovanni Bellini, is to be reminded of how deeply that sculptor's genius worked itself under the skin of Italian Renaissance painting.
In addition to this welcome innovation in its displays, two outstanding new additions have been made to the National Gallery's permanent collection. The first, a beautifully understated
Still Life with Lemons and Origins
, by the eighteenth-century Spanish painter Luis Melendez, can be found in Room 39. It was bequeathed to the museum by a generous private collector, recently deceased, and has been on display for less than a month. The second, an even more exciting acquisition – as significant in its own way, if less well publicised, as that of Raphael's
Madonna of the Pinks
– is that of the Montalto Madonna, lost for centuries but recently rediscovered, by the great baroque artist Annibale Carracci. Cannily displayed, in Room ??, alongside a number of other devotional works including a tender and beautiful
Madonna and Child
by the considerably earlier painter Correggio – a large influence on Annibale – this picture is instantly confirmed as a masterpiece.
Annibale's Virgin is depicted in the act of rising, as the Christ child squirms on her knees, brandishing an apple, and while an extremely animated Joseph, eyes lifted from his book, looks on. The sweetness and grace of the painting are extraordinary, but so are its sheer compactness, the vibrancy of its colours, the ascending energies of its composition. Painted at the outset of the seventeenth century and long considered one of the greatest paintings of Baroque Rome, it must have had an enormous influence on the sculpture of Bernini – yet another, albeit rather later, proof of the enduringly fruitful relationship between painting and sculpture.