Drawing
Date: 30-11-1999
Owning Institution:
Publication: Sunday Telegraph Reviews 2004-2013
Subject: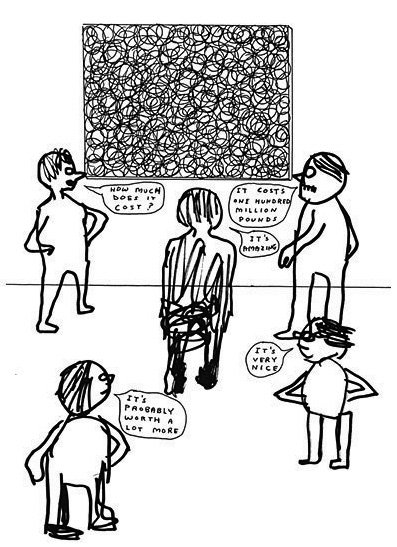 "Drawing is the probity of art," declared the nineteenth-century French painter Jean-Auguste-Dominique Ingres, staunch upholder of tradition and self-proclaimed last bastion of
le pur classique
. "Drawing includes three and a half quarters of the content of painting. If I were asked to put a sign above my door it would read 'School of Drawing', and I am certain that I would produce painters." Times have changed in the world of fine art education, to put it mildly. For many centuries, indeed for millennia, to judge by the ancient Roman painters' motto, "
nulla dies sine linea
" – never a day without a line – drawing was regarded as the first and most essential skill needed by any artist. But in the age of the unmade bed, the pickled shark and the bust of frozen blood, the practice is widely perceived as an old-fashioned activity – outmoded, fogeyish even.
Drawing has what spin doctors call an image problem. This is compounded by the fact that its most fervent apologists, those who lament the modern artist's apparently declining standards in draughtsmanship most vocally and melancholically, tend to occupy the extreme right wing of contemporary artistic debate (much as Ingres did, in fact, in mid-nineteenth-century France). The importance of drawing is the sort of thing that Brian Sewell enjoys fulminating about, when he is not busy chastising the panjandrums of Tate Modern for their refusal to allow anyone producing anything resembling traditional painting or sculpture to win the Turner Prize. Drawing is something championed by the likes of the Stuckists, that coterie of neo-traditional artists who proudly took their
nom de guerre
from the tirade directed against them by Tracey Emin – the gist of which was that they were "stuck, stuck, stuck" in the dead past.
Given the way in which discussion has become polarised, it is perhaps no wonder that many a modern art school does not even offer tuition in the subject. In
soi-disant
avant-garde circles, the knee-jerk thinking seems to be that drawing is for conservatives and dullards – and that if a talented student is armed with a digital or video camera and adequately instructed in the finer points of contemporary art theory, there is every chance that he or she will turn out to be the next Damien Hirst. Perhaps that is true, but given that so few art students end up actually pursuing careers as fine artists, it might still be worthwhile encouraging and teaching them to draw. (Hirst, as it happens, draws very well, as do many of his contemporaries, such as Michael Landy, Rachel Whiteread and Gary Hume.) Drawing is not just a teachable skill, but a universal language. The ability to draw accurately, or at least with some fluency and expression, is liable to stand pretty much anyone in good stead for the rest of their life.
Last year I was approached to write and present a series of four documentaries about drawing for the BBC, the first of which goes out next saturday night ("The Secret of Drawing", BBC2, 8pm). Some of my friends had their doubts, seeming to regard the commission as a kind of art critical Mission Impossible, the mission in question – should I choose to accept it – being to make four hours of prime-time television about a peculiarly arid subject of interest to none bar a handful of connoisseurs and reactionaries. I preferred to see it as an unusual opportunity – a chance both to challenge a tedious modern prejudice and to demonstrate that, far from being a merely preparatory or peripheral medium of visual self-expression, drawing is the single most vital and productive artistic skill in general use today.
To understand why this is so, it is necessary to look beyond the world of fine art alone. The simple truth is that drawing lies behind almost everything that we see or use in our daily lives. The cars we drive, the clothes we wear, the buildings we inhabit, the mobile phones with which we impoverish and infuriate ourselves – more or less every object in the modern built environment started out as a sketch on a designer's drawing board. The way in which the language of contemporary design drawing evolved, from its origins in the Florentine Renaissance world of Brunelleschi and Piero della Francesca, is one of the stories which the series attempts to tell. That language, of accurate scale drawing in perspective, which was originally an architect and engineer's tool (hence its development by Brunelleschi) has remained pretty well unchanged. The biggest innovation in the way in which it has been used, over the past half millenium, has been the invention of the computer, which is sometimes regarded as having contributed to the decline of drawing but has in fact done nothing of the sort. Computers are tools that accelerate the process by which design becomes reality. Because of their ability to pool and apply vast amounts of synthesised knowledge – complex mathematical formulae for building curved structures, for example, or the precise stress tolerances of particular materials – computers seem, often almost effortlessly, to bridge the gap traditionally separating fantasy from reality. To watch the way in which the so-called "Gherkin" was drawn, then computer-modelled and built, is to see how astonishingly quickly a drawn idea can be turned into a monument on the London skyline. I wonder if it is because the computer has taken so much sweat out of the design process – not all, by any means, but a lot none the less – that so many modern designs so clearly preserve their origins in the the drawn line. Ever-increasingly, it seems to me, when I walk through the cities of the today, all the world is a drawing.
Four hours might seem a relatively generous allotment of time, but given the scale and potential of the subject a considerable amount of compression was necessary. Rather than attempting a chronological history, it seemed more sensible to identify particular traditions of drawing as well as particular ways in which drawing has shaped human experience – and to take each particular line of enquiry for a walk. So as well as looking at drawing as design (Programme 4), I explore drawing as a medium of scientific discovery (Programme 1, which happens to be my own personal favourite, starring Leonardo da Vinci, Cassiano dal Pozzo, George Stubbs and John James Audubon, among others). I also explore the the tradition of storytelling drawing that runs from the satires of Hogarth and Gillray to the work of Goya and Picasso and, beyond, to the comic strip and the modern animated cartoon (Programme 2). And I examine the close and intimate relationship between drawing and the processes of the mind (Programme 3).
The title chosen for the series as a whole is "The Secret of Drawing", which does, I admit, have a slight Discovery Channel ring to it, but which also happens to be true to the nature of the subject. Many of the most extraordinary drawings are necessarily kept under lock and key in the collections of such institutions as the British Museum, the Royal Library, the V&A and the Tate. Fragile works of art, light-sensitive, they are only rarely exhibited and, as a consequence, remain far less well known than the great paintings of the world. One of the things that a television series can do is, so to speak, unlock these great museums of the drawn image in new and different ways. In that sense, without wanting to sound too Reithian, I hope that "The Secret of Drawing" performs a practical public service. I also hope that some viewers may be encouraged to take a greater interest in drawing, and the many remarkable institutions that house drawings in this country, as a result. Those institutions certainly need support and encouragement. I find it hard to think of a truly world-class collection that has been more scandalously underfunded, in recent years, than that held in the British Museum's Department of Prints and Drawings. The last time I checked, its annual acquisitions budget was not enough to pay for even a tenth of one drawing by a Renaissance master.
In the course of making the series, I have been lucky enough to spend large amounts of time studying some of the greatest drawings ever created, ranging from Leonardo's profound and intricate studies of the human heart, to Raphael's astonishing actual-size cartoon for the
School of Athens
– one of the peculiarly unappreciated and relatively unvisited treasures of the Ambrosiana in Milan. If the experience has brought one thing home to me more forcefully than anything else, it is the compelling straightforwardness with which artists through the centuries have communicated through the drawn image. There is a rawness about the best drawings, a directness, a lack of elaboration and overcomplication, that makes looking at them feel like looking at naked thought and emotion itself. Giorgio Vasari, writing nearly 500 years ago, put his finger on this particular and most powerful quality of drawings: "It often happens that these rough sketches, which are born in the instant in the heat of inspiration, express the idea of their author in a few strokes, while on the other hand too much vitality and diligence sometimes saps the vitality and powers of those who never know when to leave off."
Being one of those who never know when to leave off, I spent far too much time in cutting-rooms earlier this week, tweaking and rewriting a couple of the programmes in the series. Emerging into unexpectedly strong October sunshine, I bumped into one of the friends who had worried. "So," he boomed out, "is it BAFTA or is it NAFF-ta?" Well, it won't win a BAFTA because the award for arts documentaries was scrapped a few years ago. But the subject is anything but naff and the drawings themselves, never mind what I say about them, look beautiful. And that, gentle reader, concludes this shameless puff.