Vermeer and Tracy Chevalier's
Date: 18-01-2004
Owning Institution: The Mauritshuis, The Hague
Publication: Sunday Telegraph Reviews 2004-2013
Subject: Renaissance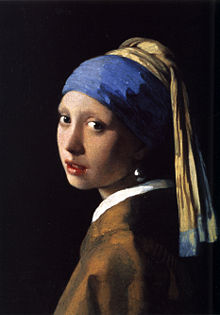 Arguably the week's most loudly trumpeted event in the field of the visual arts took place not in an art gallery, but in the cinema, with the release of the film
Girl with a Pearl Earring
. Based on Tracy Chevalier's surprise best-seller, the movie stars Colin Firth as an almost unbearably sensitive Johannes Vermeer: a figure whose profound visual acuteness is matched by such intense verbal reticence that he might, on occasion, pass for a mute. This is the sort of phenomenon that has the self-styled populists of the museum world drooling with enthusiasm, because it makes Vermeer more "accessible" – or so the argument runs. But this is a case of mistaken identity, because the Vermeer embodied by Colin Firth bears no closer a resemblance to the real Johannes Vermeer than Kirk Douglas in
Lust for Life
bore to Vincent Van Gogh, or than Charlton Heston in
The Agony and the Ecstasy
bore to Michelangelo. He is a fiction, and a deliberately attenuated fiction at that: a personification of the artist as a riddle wrapped in a mystery inside an enigma.
This might be seen as an act of commendable restraint on the part of the film-makers, a way of remaining true to the spirit of enigma pervading Vermeer's becalmed domestic idylls. They have certainly remained faithful, broadly speaking, to Tracy Chevalier's vision of the artist as a gentle puzzle of a man, sheltering behind deep reserve. She, for her part, has never made any bones about the fact that her Vermeer is a pure invention. But both book and film are, none the less, somewhat deceptive. They are so painstaking in their attempts to evoke a mood of historical authenticity – the film-makers even built their own version of seventeenth-century Delft in an abandoned industrial park on the outskirts of Luxemburg – that the innocent viewer could be forgiven for assuming that their reconstructions of the past extend to the known personality of Vermeer himself. But while many historical fictions draw on hard historical fact, this is true only to a very limited extent of
Girl with a Pearl Earring
. Elements of the truth are there – the numerousness of Vermeer's children, for example, and the background of his conversion from Protestantism to Catholicism – but only as the rudimentary armature for a tall tale.
Why should any of this matter? After all, works of fiction are not obliged to educate or inform. But it would be a shame if the publicity surrounding the release of the film of
Girl with a Pearl Earring
were to bolster the apparently popular misconception that Chevalier's novel is somehow
the
book to read about Vermeer. The fact is that for anyone interested in the historical Vermeer, there is only one essential text – and it is a work of fact, not fiction. Published some fifteen years ago it is the bible, so to speak, of Vermeer studies, although as bibles go it remains undeservedly obscure, read mostly by specialist art historians and students of seventeenth-century Dutch society. Entitled
Vermeer: A Web of Social History
, it is the work of an American historian of economics, John Michael Montias, who stumbled on a veritable treasure trove of material about Vermeer and his family while researching a quite different subject – the Delft art trade – in a number of Dutch historical archives during the mid-1980s.
Montias's book is not always an easy read, rooted as it is in the often dry materials of primary historical research, such as notarial records, registers of births and deaths, trial reports and intricate details of economic transactions. But it amounts to one of the most important and influential books ever published about a great artist. It transformed what had been an almost totally obscure picture of Vermeer and cast him in an entirely new and unexpectedly tragic light. Many of Montias's revelations touch only indirectly on Vermeer, concerning as they do the members of his extended family. But taken altogether they make it possible to piece together a compelling narrative of the painter's life, interwoven with the lives of those closest to him; a narrative, moreover, that is astonishingly troubled and turbulent.
Vermeer had a number of skeletons lurking in his family closet. His maternal grandfather, a colourful character who went by the name of Balthasar Gerrits, was implicated in one of the greatest money-forging scandals of early seventeenth-century Holland. His paternal grandmother, Neeltge Goris, was an "
uijtdraegster
" – literally, "a woman who carries out goods" from the houses of recently deceased people – with a reputation for fraudulent dealing. Vermeer's own parents were more respectable, running an inn from which they also conducted a small trade in paintings. But in wooing and wedding a young woman from a wealthy Catholic background, Vermeer married into a family with a violent and dysfunctional history.
Vermeer's mother-in-law, Maria Thins, lived in the same house as the married couple because she was estranged from her psychotic drunk of a husband. Vermeer's bride had had a miserable childhood. Her father was repeatedly brought to book for wife-beating and assaults on his children, particularly Catherina herself and her sister. He frequently hit his wife with a stick "until she was black and blue", even when she was pregnant. A witness to one of these many assaults – a tailor's widow, who happened to live nearby – described the young Catherina as looking as frightened, "as poor and dishevelled as if she were a beggar's child". Vermeer's mother-in-law was a battered wife and Vermeer's wife was a battered child.
Divorce, unusual in Holland at the time, had been the only solution but even that was not the end of the violence and abuse. Maria's only son, Willem Bolnes, inherited his father's hatred of the female members of the family. He was eventually committed to a house of correction for breaking and entering the Vermeer household to insult and attack his mother and sister. In a deposition made to a notary by Vermeer's maid, Tanneke Everpoel, "she declared that Maria Thins had suffered so much from the violence of her son that she dared not go out of her room… Also that Bolnes committed similar violence against the daughter of Maria, the wife of Johanne Vermeer, threatening to beat her with a stick, notwithstanding the fact that she was pregnant to the last degree." On several occasions, Tanneke apparently stepped in to prevent such attacks. She may well have served as the sturdy, broad-boned model for Vermeer's famous picture of
The Milkmaid
, in the Rijksmuseum. The role she had played in Vermeer's life may help to explain the power and uniqueness of that image. The serving maid in Dutch art is usually a tart and a tease; but Vermeer's milkmaid is a kind of domestic goddess, a provider of food and life who has been endowed with an almost sacramental quality by the painter, who floods her with a light like the light of grace.
The denouement of Vermeer's personal tragedy, like so much else in his life, remained quite unknown until Montias pieced it together. First Vermeer's principal patron, the purchaser of most of his works, died. Then, in 1672, Louis XIV of France invaded the Netherlands and the Dutch repelled his advance by breaking the dikes and flooding the country. This was a militarily succesful but financially disastrous stratagem, bringing the country to its knees and instantaneously ruining all those – like painters – who dealt in luxury goods. In the summer of 1675, perhaps in an impulsive act of desperation, Vermeer seems to have attempted to cheat his mother-in-law out of a considerable sum of money. Six months later he died, seemingly of a heart attack or some other kind of seizure, perhaps brought on by the combined effects of guilt and anxiety. (None of this, incidentally, finds a place in the film of
Girl with a Pearl Earring
; neither do any of Vermeer's variously disturbed or dodgy relations – although Catherina's mad brother and father do appear, in a brief passage of reported speech, in the novel.)
One of Montias's most touching discoveries was that of the previously overlooked document in which Vermeer's wife Catherina – while pleading for relief from her poverty, before a group of charity commissioners– actually described his death. "During the long and ruinous war with France not only had he been unable to sell any of his art, but also, to his great detriment, was left sitting with the paintings of the other masters that he was dealing in. As a result and owing to the very great burden of his children, having no means of his own, he had lapsed into such decay and decadence, which he had so taken to heart that, as if he had fallen into a frenzy, in a day or day and a half he had gone from being healthy to being dead." He was 43 years old.
The notion that art is essentially a form of self-expression is an invention of relatively recent date, and Vermeer would certainly not have been familiar with it, yet there is a particular quality of personal preoccupation about his work, the sense of an artist returning repeatedly if not obsessively to the same themes. And those themes do acquire a particular poignancy in the light of all that Montias reveals about his life. The many episodes of domestic violence suffered by his wife and mother-in-law seem profoundly at variance with Vermeer's preoccupation, as a painter, with scenes of perfect, calm, domestic bliss – scenes in which women in particular, some of whom, fascinatingly, are themselves pregnant, appear to contemplate their good fortune while a golden light plays about them like a benediction. But perhaps therein lies their significance. Was Vermeer moved to paint all those versions of a perfect home because he knew at first hand how vulnerable, how precious, how easily disrupted such a place is in reality?
Marcel Proust's favourite painting by Vermeer was that great tranquil panorama of Delft on market day, seen from outside the city walls:
The View of Delft
, in the Mauritshuis, in the Hague. Proust went so far as to have the character of Bergotte, in
A la Recherche du Temps Perdu
, expire in front of the work in an ecstasy of contemplation. Bergotte was particularly moved by the way in which Vermeer had painted one particular little patch of yellow wall towards the back of the scene; and it was while looking at a part of the painting very close to that, shortly after reading Montias's book, that I experienced what felt like my own revelation about that great painting, and about Vermeer in general.
I was idly wondering why Vermeer imparted a certain curiously sparkly texture to his paint, in the roofs of the houses of the city, and happened to mention my puzzlement to Jorgen Wadum, the chief conservator of the Mauritshuis. He explained that in his opinion, Vermeer had created the effect by having his pigments ground to a slightly more granular texture than usual, and that the explanation for this was to be found in the sky, with its depiction of fast-moving rain-clouds drifting aay from the city. The picture told a story of the weather. The granular, sparkly roofs I had noticed were Vermeer's way of suggesting rain-dampened tiles gleaming in the sun. His subject, Wadum explained, was the moment just after a storm.
As he said that, I felt rather stupid that I had never worked this out for myself; and then the thought occurred to me that perhaps his chance remark went to the heart of Vermeer's whole life and career. His own life, and the life of so many of those around him, was filled with clouds, with darkness, with debts and war and trouble and the permanent shadow of possible impending ruin. But he painted the opposite of that. He painted the moment after the storm, indeed: an ideal world, a dream of peace and perfection, perpetuated forever in art. He painted it because it represented a happiness that he yearned for but could never, or only very rarely, attain.
Of course, all that is only my view. Perhaps it is a fiction too, a fantasy built on the illusory foundations of a few documents. But I prefer it to the mental image of a taciturn Colin Firth, his eyes brimming with mysterious profundity.