ITP 20: Le Jeu de Morre by Rene Magritte, 1966; the Apple Corp. Logo, 1967
Date: 03-09-2000
Owning Institution: Apple Corp; Private Collection
Publication: Sunday Telegraph "In The Picture"
Subject: 20th Century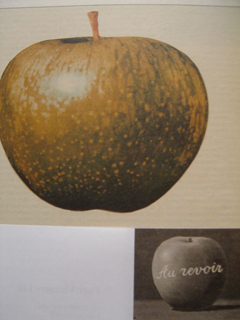 Given the theme of this week's magazine today's "In the Picture" is a tale of two Beatles-related images: the Surrealist artist Rene Magritte's painting of an apple, entitled Le Jeu de Morre, privately owned, jealously guarded, never exhibited and only reproducible in the form of a somewhat murky black-and-white illustration taken in the late 1960s; and the Beatle's Apple Corps logo, which, it recently emerged, was directly derived from it.

Magritte's picture, which dates from 1966, late in the artist's life, appears as number 1051 in Volume 3 of the catalogue raisonne of the artist's work. The authors of that weighty and learned tome, assembled under the editorial supervision of David Sylvester, quote the somewhat unilluminating Larousse dictionary definition of Mora, or Mourre, as "a game in which one of the players rapidly displays a hand with some fingers raised, the others folded inwards, while his opponent calls out a number which, for him to win, has to correspond to that of the total of raised fingers"; and they go on to speculate that Magritte's curious choice of title is probably a play on words, a pun on the phrase "Les jeunes amours" ("young love"), which the artist had already used for the title of an earlier picture showing three apples rather than one. They add that they "have not been able to examine the picture" and record its whereabouts simply as "Private Collection".

The truth about who owns the painting and how he came to possess it only emerged recently, with the publication of Harriet Vyner's 1999 book of reminiscences about the late lamented charismatic London art dealer Robert Fraser, Groovy Bob. Among many other strange and interesting revelations (including the suggestion that Fraser may have enjoyed a night of passion with fellow soldier Idi Amin while serving as an officer in the King's African Rifles) Vyner's book contains this anecdote, recounted by Paul McCartney, about a far-off summer's day in 1967:

"In my garden at Cavendish Avenue, which was a 100-year-old house I'd bought, Robert was a frequent visitor. One day he got hold of a Magritte he thought I'd love. Being Robert, he would just get it and bring it. I was out in the garden with some friends. I think I was filming Mary Hopkin with a film crew, just getting her to sing live in the garden, with bees and flies buzzing around, high summer. We were in the long grass, very beautiful, very country-like. We were out in the garden and Robert didn't want to interrupt, so when we went back in the big door from the garden to the living room, there on the table he'd just propped up this little Magritte. It was of a green apple. That became the basis of the Apple logo. Across the painting Magritte had written in that beautiful handwriting of his 'Au Revoir'. And Robert had split. I thought that was the coollest thing anyone's ever done with me. When I saw it, I just thought: 'Robert'. Nobody else could have done that. Of course we'd settle the bill later. He wouldn't hit me with a bill."

The arrival of Magritte's inspiring apple came at a time when the Beatle's finances were in turmoil. In that same year, 1967, they had been told that any further money they might earn could be taken instantly in tax and they had been advised to create a new company. Early in 1968, Beatles Ltd became Apple Corps Ltd.

The green apple logo adopted by the group came to stand for a euphoric and idealistic (some might say naïve) notion of creative freedom and independence from commercial interests. There was to be an Apple Foundation for the Arts, a film division as well as a record division, an electronics division and a music publishing division, all coexisting under the umbrella concept of an enterprise devoted to subverting the norms of conventional business practice. "Most companies are so big, and so out of touch with people like us who just want to sing or make films, that everyone has a bad time," McCartney said at the time. "We are just trying to set up a good organisation, not some great fat institution that doesn't care." The overarching aim of Apple Corps Ltd, he added, was to promote " a controlled weirdness… a kind of Western Communism." Perhaps inevitably, Apple did not survive very long in its original, anarchic form.
In some respects it seems rather appropriate that the Beatles should have taken the image of their ideal of artistic liberty from one of the leading painters of the Surrealist movement. After all, Surrealists such as Magritte had themselves been dedicated to upsetting the conventional expectations of the bourgeois and the businessman. But the fact remains that what the apple meant to the Beatles was never what the apple had meant to Magritte in the first place.
Magritte claimed to hate symbolic interpretation of his works but courted it assiduously none the less, and never more so than in the case of the apple, one of the most frequently encountered motifs in his art. During the course of his life he painted numerous versions of a work entitled The Listening Room, in which an enormous apple completely occupies the room of a house; and in the only self-portrait he ever consented to paint, a famous image called The Son of Man, he depicted himself in the guise of a bowler-hatted gent whose features are almost entirely obscured by a shiny green apple. Given the pointed title of the latter picture, and the well-known act of disobedience perpetrated by Adam and Eve, it is not hard to guess at the significance of this particular fruit in Magritte's work. It has been succinctly expressed by the painter's most assiduous interpreter, David Sylvester: "The son of man has the symbol of the Fall always before his eyes".

Le Jeu de Morre, with its pun on "Les Jeunes Amours" (another veiled allusion to Adam and Eve?), and its prominent inscription of "au revoir", seems to intensify the sombre nature of Magritte's symbolism. The apple stands for man's constant awareness of his own mortality. It stands for the knowledge that no matter how high he may rise, a fall of some kind will inevitably ensue. It stands for the fact that things will always change, and no Garden of Eden will ever remain intact.

I suppose that in a way, with the passage of time, the Apple logo has come to stand for some of those things too.