"Jan Steen: Paintings from the Golden Age", at the Rijksmuseum Schipol 2004
Date: 05-09-2004
Owning Institution: Rijksmusem
Publication: Sunday Telegraph Reviews 2004-2013
Subject: Renaissance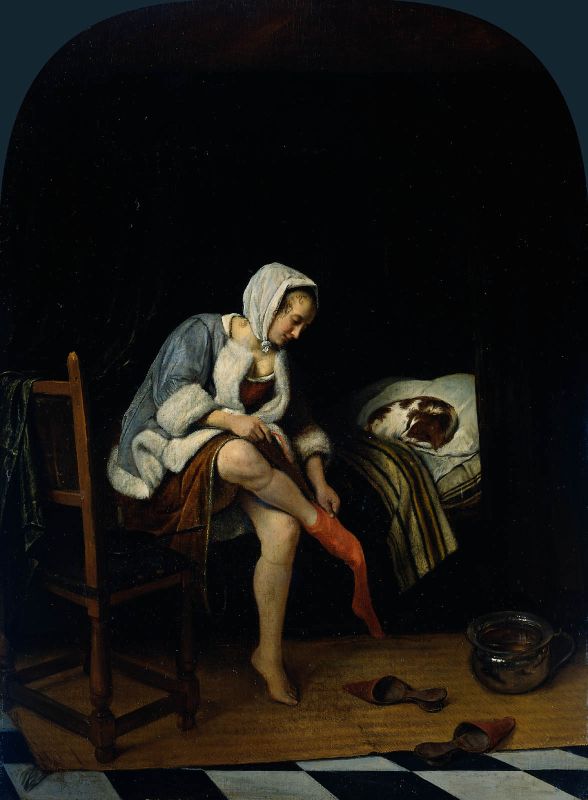 In recent years there has been growing discontent, among the directors of the world's major museums, with the limited amount of exhibition space available in the buildings which they have inherited. Many of those buildings were originally constructed in the nineteenth or early twentieth centuries and have long since been outgrown by the collections which they were once comfortably able to house. Collective dissatisfaction with this state of affairs has fuelled an unprecedented surge in new museum-building.
The National Gallery has its Sainsbury Wing, whereas the Tate under Nicholas Serota has metamorphosed from maiden aunt on Millbank into a hydra-headed marvel, not only annexing an entire power station opposite St Paul's for its collections of international modern art but also establishing outposts in Liverpool and St Ives. The trend has been equally conspicuous abroad. MOMA in New York is currently extending its existing premises and has also opened a new branch across the Hudson in Queen's, while the Guggenheim has its own extraordinary new building designed by Frank Gehry in Bilbao. One of the most unusual and exotic fruits of this age of museum expansionism is the new Rijksmuseum Schiphol – a gleaming glass and metal box suspended above one of the main concourses of Amsterdam airport, where an exhibition devoted to the art of the seventeenth-century Dutch master Jan Steen opened in the middle of last week.
The Rijksmuseum Schiphol is to be found on what the Amsterdam airport authorities have patriotically christened "Holland Boulevard", which is a long, light-filled corridor, complete with moving walkways, running between Lounge Two and Lounge Three. An arterial route connecting European and Intercontinental Departures, this is a place where people awaiting transfers, or whose flights have been delayed, congregate to while away the time with a little light shopping, a meal, a drink, or – now – a visit to an art exhibition. Being on the inside of the airport, on the far side of security, the new museum – consisting, in truth, of a single bright cube of a gallery – is exclusively for those with boarding cards. This means that anyone from Holland who wants to see an exhibition there but does not wish to fly would have to buy a budget airline ticket that they did not intend to use, simply in order to get access to the departure lounges. It seems safe to assume that the Rijksmuseum Sciphol's target audience is not native Amsterdammers but the vast transitory population of the airport. It is a space for the display of works of art which might otherwise have to remain in store, as well as a way of encouraging some of those who wander in, breaking their journey to some distant elsewhere, to come back to Holland some day and visit the main Rijksmuseum itself.
There is something peculiarly striking about the experience of looking at Old Master paintings in an airport. Whereas most art galleries studiously exclude the sights and sounds of the modern world, this one is transparently open to the hubbub that surrounds it. So instead of having to contend with sporadic distractions like the spiel of a passing lecturer, or the leaking headsets of people with acoustiguides, the visitor to the Rijksmuseum Schiphol must look at the paintings to the continuous accompanying soundtrack of the airport tannoy: "Mr Richard Evans, please contact the airport information desk … Passengers Schiff and Neilsen please proceed to Gate 7, where your flight is now closing…" While the pictures themselves are displayed behind sealed walls of safety glass, the sides of the gallery itself are unglazed, which means that the visitor's gaze is inevitably drawn from the paintings to the world outside, and vice-versa.
This is not simply distracting. The world of the Dutch seventeenth century, painted with such raucous immediacy by Jan Steen, seems to come into even sharper focus, in all fascinating strangeness, when set against the sprawling palace of numbed wooziness that is a modern airport's timekilling zone. The viewer glances from the painter's turbulent tavern and brothel scenes, filled with broken crockery and overturned flagons of wine, down to the "Casino Bar", where a group of wan, grey-faced Japanese businessmen sit slumped over their whiskies and a middle-aged lady is busily pumping her remaining Euros into a slot machine; or over to the "Meditation Zone", where someone has been fed into a blue tube for an "Aqua Massage"; or across to a large television screen which is soundlessly broadcasting various CNN reports on sundry global atrocities. Picasso said that he dreamed of painting pictures that seem more real than the reality around them and that is the slightly disconcerting effect here. The world within the pictures seems so much more solid, so much more reassuringly tangible and nailed down, than the weightless, plastic, pixellated world outside.
The German philosopher Hegel once remarked about Dutch genre painting that "We are confronted, not by vulgar sentiments and passions, but by the manners and morals of the peasantry, the way of life, racy of the soil, of the working classes, and all the gaiety and drollery that goes into their lives." He had the works of Jan Steen (1626-79) in mind. Jan Steen was an extremely prolific artist, who seems by the complete absence of surviving drawings by his hand to have worked directly and impulsively on canvas with little in the way of preparatory sketching. The exhibition at Schiphol is by no means large, comprising eight paintings from different periods of his life, but it conveys the restless character of the artist very well and shows him at his robust and humane best.
Although he is now principally known for his turbulent drinking and gaming scenes, he also tried his hand at religious painting and at mythologies, probably in a vain attempt to capture a share of the more lucrative market in such subjects. These are represented in the exhibition by a somewhat stiltedly tragic
Sacrifice of Iphigenia
, an idiosyncratic but memorably stilled
Supper at Emmaus
, in which Christ is shown somewhat unconvincingly melting into thin air – proof positive that depicting the miraculous or the transcendent was never the forte of this most worldly of painters – as well as an entertainingly overcrowded
Adoration of the Shepherds
, in which Mary, Joseph and her child seem in danger of being overrun by a bustling horde of music-playing, gift-bearing, porridge-cooking bumpkins spilling in at the door of the manger.
The exhibition also contains a number of Jan Steen's famously chaotic depictions of debauchery, actual or incipient.
The Merry Homecoming
shows a wonderfully absurd, paunchy drunk being hustled from a country pub to the canal-boat in which his family, including his evidently long-suffering wife, who nurses a young child, patiently await him. He feels up the barmaid who prods him boatwards as his erstwhile drinking companions, weird grotesques painted half out of focus, grin and leer from the doorway of a tavern so ramshackle it seems about to fall down. In the golden distance of a dawn landscape a church steeple pricks the sky. Hints of moral disapproval are usually outweighed, in Jan Steen's work, by evidence of the painter's forbearance and his sheer relish in depicting the many forms which human weakness can take.
Interior of an Inn
, also known as
The Two Games
, is probably the most famous of the works on display. The picture shows the inside of a sparely furnished tavern, its floor strewn with the usual Jan Steen bric-a-brac including broken eggshells, discarded mussel shells and bits and pieces of straw – few painters have ever been so good at palpable mess – but its real theme is misguided optimism. To the right, an old man tries his luck with a barmaid evidently far too young and comely to take any interest in him, while to the right a youth playing backgammon for money gazes beseechingly at the board, his body frozen in a pose of painfully evident anxiety. On the floor, phlegmatically oblivious to the human hopes about to be crushed like strewn eggshells around him, a dog defleas himself with vigorous, nose-wriggling determination.
Just as striking, in its way, is Jan Steen's rather less well known portrait of
The Leiden Baker Arend Oostwaert and his wife Catherina Keizerswaert
. The couple stand at the entrance to their shop amid a cornucopia of their wares. He is a bold, smiling, strong man in a white cap and shirt, bringing out yet another loaf for sale. She is slighter and more circumspect, and daintily holds a small flat bread between the thumb and first finger of her left hand. The perspective of this close-cropped composition is, as often the case with Jan Steen's work, somewhat wonky, but he has depicted the textures of the different types of bread, the gleam of a pretzel or the craquelure of a crusted loaf, with the skill of a virtuoso in paint. The work, which was probably painted as a gift, or in barter for goods, like most of his other known portraits, is a kind of hymn to baking and to bread, the stuff of life. If only it were possible to buy bread like that in an airport…
"Jan Steen" at the Rijksmuseum Schiphol is not a groundbreaking exhibition, but a modest show of some very good (and some not so good) pictures by a great albeit unneven painter; and Holland's newest gallery is an interesting innovation, which adds something unexpected to the experience of modern air travel – an opportunity to journey, albeit briefly, into the past.