Major Rubens Exhibition at the Palais des Beaux Arts, Lille 2004
Date: 07-03-2004
Owning Institution: Palais des Beaux Arts, Lille
Publication: Sunday Telegraph Reviews 2004-2013
Subject: Renaissance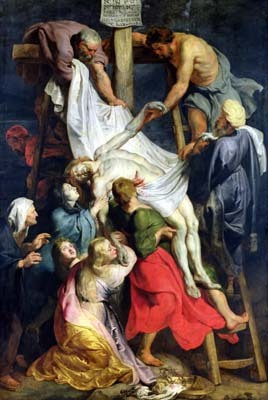 Sprawled awkwardly on his back, Prometheus twists in agony as Jupiter's broad-winged eagle gnaws implacably at his bowels. The Titan's aptly titanic form is coiled like a spring. His left wrist, manacled to a rock, flexes and clenches; his rippling torso is convulsed by pain; his toes are helplessly clenched. The great bird, its task nearly complete, seeks for purchase on the body of its prey, digging its talons into Prometheus's belly and at the same time clawing at his agonised face. With its beak the eagle gently, obscenely, eases his liver free from a gash in his body. The victim's blood flows red while his vital organ itself is an unpleasantly authentic blue.
Prometheus Bound
, on loan from the Philadelphia Museum of Art in America, is one of the prize exhibits in the cornucopian retrospective of the art of Peter Paul Rubens (1577-1640) which opened to the public yesterday at the Palais des Beaux-Arts, in the northern French town of Lille. This spotlit drama of a canvas could stand as an emblem of Rubens's own vital and unruly genius. The titan of Baroque painting, Rubens was the dominant painter in an age of great painting. Astonishingly prolific, vastly influential, he shaped the future direction of his chosen art not only in Flanders, where he spent much of his working career, but also in Spain, in England, and perhaps above all in France, where his huge allegories of the life of Marie de Medici, painted for the court, by turns inspired and intimidated aspiring artists for two centuries and more. It seems extraordinary that there should never have been a major Rubens exhibition in France. The Lille exhibition – timed to coincide with the designation of that city as this year's European Culture Capital – amounts to the repayment of a long overdue debt.
The artist is represented in all his sprawling variety: as a great portraitist; as a brilliant reinventor of mythological themes; as a toweringly ingenious altarpiece painter, as a master of intimate, devotional art; as a great designer of tapestries; as a brilliant draughtsman and oil-sketcher; and as a touchingly humane observer of his own friends and family. The only aspect of his genius insufficiently explored is his landscape painting But there is more than enough to look at and to wonder at in the show.
Rubens stole his creative fire not from the gods but, so to speak, from the gods of Italian Renaissance and post-Renaissance art. Having learned his craft under the less than inspiring tutelage of two minor Flemish painters, he went to Italy in 1600, aged 23, to deepen his experience and widen his horizons. It is with Rubens in Italy that the Lille exhibition begins, the artist having joined the household of Vincenzo Gonzaga, Duke of Mantua, for whom he worked not only as a painter but also as a diplomat. Rubens wheels to face the viewer, in the early
Self-Portrait in the Company of Friends
, surrounded by several of his Mantuan intimates. The picture was painted in about 1606 and already the artist's hair has begun slightly to recede. He wears an elegantly coiffed moustache and beard and an expression of quizzical bonhomie. One eyebrow is raised. He comes across as a convivial and utterly self-confident young man.
Rubens responded not only to the heroic scale and grandeur of Renaissance art but also to its rich colour, its invention and its wit. Partly because he worked so often on a large scale, on state or religious commissions which left little scope for light-heartedness, he has sometimes been falsely painted as a portentous and humourless artist. A number of early works in the Lille show give the lie to that particular misconception. His
Fall of Phaeton
is a comically chaotic mythology, a burlesque prelude to the great tumbling forms of his much later and more celebrated
Fall of the Rebel Angels
: a mid-air multi-vehicle pile-up of chariots, with bodies flying in all directions. Rubens was presumably influenced by the mock-heroic Mannerist charioteer, complete with dangling undercarriage, painted on the ceiling of the Palazzo del Te in Mantua by Giulio Romano seventy years earlier.
One of the most striking portraits in the early part of the show is a monumental depiction of a Genoese noblewoman with her dwarf, on loan from the National Trust property of Kingston Lacey. The knobbly faced dwarf, his bulbous and wrinkled visage a miracle of startling actuality, pulls aside a red silk curtain to reveal his lady. Her face is a vision of frosty radiance, her neck encircled by a ruff of such extent that it seems designed as a kind of physical obstacle to keep the world at bay, like the quills of a porcupine. Rubens plays on the contrast between the dwarf's rugged physicality and the formidable froideur of his mistress. His taste for such contrasts is an index of his appetite for the stuff of life. He likes to juxtapose opposites – the young and the old, the beautiful and the ugly – in order to enhance the distinct qualities of each. Here the device has a comic edge, emphasising the gulf between aloof aristocrat and vulgar world to such an extent that it makes a joke of it. No matter how perfect anyone makes their perfect world, the painter implies, life will always find a way to intrude. To underscore the point, the Genoese noblewoman's lapdog frantically mounts her right leg.
The unevenness of Rubens's work is to some extent the hallmark of his responsiveness, and there are some interesting examples of this on display. Two rather lifeless portraits of
A Prominent Man and His Wife
– depicting a wealthy Flemish burgher and his other half – are put to shame by the nearby pair of portraits of Rubens's own wife, Isabella Brant. She is warm, elfinly beautiful, a speaking likeness conjured up in paint that seems itself almost to breathe; the burgher and his wife are little better than stuffed dummies. This is not necessarily a reflection of the difference between Rubens the loving husband and Rubens the official portrait painter. It may well have been that Mr and Mrs Prominent really were like that.
If there is a constant running through Rubens' variety, it is his innate generosity. There are several versions of the
Adoration of the Magi
on show in Lille, from differing periods of the artist's life, but in each he gives a great deal of house room – perhaps that should be stable-room – to the great cavalcade of servants bearing all manner of boxes, trinkets and other offerings. They almost surfeit the space with light and colour and a glory of different textures. It seems telling that Rubens should have been such a sympathetic depictor of the Wise Men and their retinue. Rubens himself, as a painter, was a bringer of gifts. This extends to his style. He uses the whole rainbow of colours (something which has always made the Protestant British a little wary of him, and may help to explain why they have traditionally found it easier to see the deep seriousness of his more monochrome contemporary, Rembrandt); and even Rubens' preference for full and rounded contours seems like an effusion of his own superabundant vitality.
Delacroix observed that Rubens' most distinctive characteristic is "the prodigious 'bulge' he gives his forms … even Titian and Veronese look flat beside him." That "bulge" is most notable in his treatment of the female form, in his magnificently cellulitic Venuses and in his fond preoccupation with the fecund female breast. This, in fact, is probably the single most memorable leitmotif of the whole Lille show, making its first appearance in the early mythology on loan from the Hermitage in St Petersburg,
Cimon and Pero
– in which the buxom Roman heroine offers her breast to her emaciated imprisoned father – and reaching its apotheosis in the invention of Rubens'
Origin of the Milky Way
. Here the lactating breast of Juno is shown as the origin of all things, her milk dispersed in space to form stars like droplets. Each one is a spattered flick of paint, an inspired shorthand for the constellations and a mark of the directness of Rubens' imagination. Not until Van Gogh's paintings of rain, with their brusque diagonal slashes of paint, would an artist dare to throw pigment about with quite this boldness.
Rubens' pictures often push the boundaries of decorum because in reimagining the stories of legend he rediscovers precisely what made so many of those stories so memorable, or shocking, in the first place.
The Martyrdom of St Andrew
is one of a number of late masterpieces to exemplify the projective aspect of his imagination. A Roman proconsul arrives on horseback with a reprieve but the aged saint, strapped to his X-shaped cross, is having none of it. He fixes his eyes on the heavens like some grizzled Laocoon who actually welcomes his torture. Painted for the chapel of a Spanish hospital in about 1636 (and rarely exhibited since) the picture encapsulates the fervent nature of Counter-Reformation piety – the missionary thirst for martyrdom – with disconcerting force.
The Lille exhibition reaches its climax in a room that juxtaposes several of Rubens's
Depositions
and
Lamentations
. The
Deposition
borrowed from Valenciennes, created under the influence of the Jesuits, is stark and grim, almost Caravaggesque in its focus on the physical indignity of the event – Christ's body, slumped awkwardly in death, hangs, horribly, by a single nail from the cross. Lille's own
Deposition
seems instead to displace the tragedy to an extraordinary, almost abstract sweep of drapery and textures, Christ's body in
rigor mortis
seeming somehow less pathetic than the unfurled, bloodied winding sheet in which it is lowered to the ground. The pathos of the scene is encapsulated in another of Rubens' extreme contrasts, the face and sweeping blonde hair of Mary Magdalene set against the limp and bluing hand of Christ, along which blood flows and mingles with her tears. The fertility of the artist's imagination, his capacity for sympathy, seem almost endless. This exhibition reminds me of a remark made by the Spanish painter and author, Francisco Pacheco, after seeing Rubens at work in 1628. His invention and productivity were such, Pacheco said, that he was "positively dumbfounded".