ITP 233: A Young Archer by Govaert Flinck
Date: 17-10-2004
Owning Institution: Wallace Collection
Publication: Sunday Telegraph "In The Picture"
Subject: 17th Century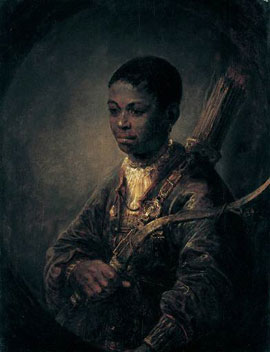 October has been designated "Black History Month", so this week's picture is the Dutch artist Govaert Flinck's beautifully solemn, reflective portrait of a black African dressed up as
A Young Archer
. This small, oval painting was created in about 1640, a few years after Flinck gave up working as an assistant in the studio of Rembrandt and set up as an independent painter in Amsterdam. It came to this country in 1848, when it was purchased by the Fourth Marquess of Hertford as an autograph Rembrandt, and was for many years regarded as one his subtlest studies in expression. In an article in
The Times
, published in 1889, the work was described as Rembrandt's "celebrated Negro Archer". But in 1913, when the painting was cleaned, Rembrandt's apparent signature turned out to be a bogus later addition, covering up the remains of an earlier signature beginning with the letter "f". By 1928, it had been reattributed to the Govaert Flinck, who created numerous paintings in the style of his master in the 1630s and 1640s, a time when there was considerable demand in Amsterdam for pictures in the fashionable Rembrandt manner.
Flinck was born in 1615, the son of a merchant in Cleves in the Lower Rhine Province. After being apprenticed to a minor Friesian artist he went to Amsterdam, to study in Rembrandt's studio, in about 1633. He set up on his own three years later and quickly prospered, earning a reputation as a learned connoisseur as well as a talented painter. His first biographer, Arnold Houbraken, was especially impressed by his large studio, filled with the painter's props and the fruits of his collector's zeal: a valuable collection of oriental works of art, numerous paintings and drawings, suits of armour, chests stuffed with articles of costume, and a collection of casts of Greek and Roman sculptures.
Flinck must have dug out some of his more precious fancy dress for the black model who posed for
A Young Archer
. The young man is shown against a blank background that contrasts with the richness of his costume, a lace undershirt and a finely worked jerkin. In his right hand he holds a bow, while a quiver full of arrows is slung over his left shoulder. The metal fastenings of the quiver strap have been picked out with particular care by the artist, creating a characteristically Rembrandtesque effect of dimly glimmering magnificence. The sitter gazes into space with the look that you might expect to see in the eyes of David about to fight Goliath, full of gravity and resolve. The painting is what was known in seventeenth-century Holland as a
tronie
, or "expression", a genre in which isolated models, dressed in character, were depicted as though caught up in some story. Pictures of this kind were often painted as set exercises by artists at the outset of their career. There was a lively market in
tronies
in Holland, the best of which were seen not merely as apprentice work, but as vivid demonstrations of a painter's virtuosity.
It is impossible to identify Flinck's sitter by name, but he was certainly a slave, and among the first to arrive in Holland. The Dutch had only become active in the slave trade in the 1630s, when they began to compete with Spanish and Portuguese slavers already active on the west coast of Africa. Dutch traders won control of a number of important slave-trading posts in Africa, the most significant of which was Elmina, in Ghana, and it is quite possible that the young man painted by Flinck arrived in Holland from there, after a gruelling and hazardous journey.
It has been suggested that Flinck meant to depict him as a huntsman, a suitably lowly occupation for someone in his social position, but the splendour of his clothing is not easy to square with such a hypothesis. Given the traditional narrative and literary associations of
tronies
, especially those associated with Rembrandt and his followers, and given Flinck's reputation for erudition, it may make more sense to look for an explanation of the painting in history and myth.
There are no contemporary literary descriptions of the painting, but a print of a black archer by the Dutch seventeenth-century artist Jan Visscher carries the following suggestive inscription: "
Dus heft den Moor met pijl en Boogh
/
Den vyandt of het wilt in 'oogh
"; "Thus the Moor with the bow and arrow shoots the enemy in the eye." This would seem to be an allusion to the famous Nubian bowmen of ancient times, natives of what is now Sudan, who were feared by both the Egyptians and the ancient Romans for the fearsome accuracy of their arrows, and their habit of blinding their opponents by shooting at their eyes. Respect for the archers of Nubia persisted into the early Middle Ages, when the Arab conquerors of Egypt nicknamed them "
rumat-al-hadaq
", or "pupil-smiters".



Whether the young man painted by Flinck was actually from the Sudan, or not, it seems likely that the painter intended to show him as a living embodiment of the proud, martial spirit of the Nubian race – a poignant contrast to his actual situation, as a first-generation African slave. It is possible that he was actually a member of the painter's household. The solemn, thoughtful humanity of Flinck's portrayal makes it unusual, among early Western European depictions of black Africans, suggesting at the very least a bond of sympathy between the artist and his sitter.