Weegee
Date: 30-11-1999
Owning Institution:
Publication: Vogue Features 1989 – 2006
Subject: 20th Century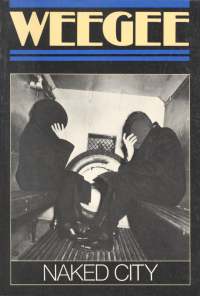 "I have no inhibitions, and neither has my camera. I have lived a full life and have tried everything. What may be abnormal to you is normal to me. If I had to live my life over again, I would do it all the same way – only more so." Arthur Fellig, aka Weegee, admitted to his own, ghoulishly voyeuristic nature, but he was never one to apologise for it. At least he only watched. Others perpetrated. Weegee's work was the proof, set out in black and white. The titles he gave to his unflinching photographs are often laconic, like labels tagged to evidence: Dead Gangster; Shot and Killed on East Street; Henry Maxwell Shot in Car.
By his own estimation, New York's most celebrated crime photographer took some 5,000 pictures of murder victims during the course of his career. His heyday, he recalled in his autobiography, Weegee by Weegee, was the 1930s and 1940s, when gangland killings were at their height and his work was in constant demand from newspaper picture editors. "Crime was my oyster," he wrote.
The police nicknamed him Weegee after the Ouija board, because he seemed to have a sixth sense tuned to murder, arson and most other forms of nocturnal urban affray. As often as not, he beat the cops themselves to the scene, despite having to haul around an unwieldy flashgun and large-format Speed Graphic camera. Most of the dead bodies he snapped with this aptly named instrument were still warm, Weegee noted with quiet professional satisfaction.
But his most unusual quality was his remorseless ability to stare horror in the face. Whatever it might be, he would unflinchingly capture the story of the night: "A truck crash with the driver trapped inside, his face a crisscross of blood… a tenement-house fire, with the screaming people being carried down the aerial ladder clutching their babies, dogs, cats, canaries, parrots, monkeys… a just-shot gangster, lying in the gutter, well dressed in his dark suit and pearl hat, hot off the griddle, with a priest, who seemed to appear from nowhere, giving him the last rites …"
Many of Weegee's most disquietingly memorable pictures are included in "Weegee's Story", an exhibition which opens at the Museum of Modern Art, in Oxford, on 2 April. The idea that what he was doing might, one day, be regarded as a form of Modern Art would probably have surprised the young Weegee. He sold his pictures to newspapers for "$5 a bullet" - $5, that is, for each bullet-holed human body – and thought of them, perhaps a little disingenuously, as doing service to the community at large: "It was during the Depression, and people could forget their own troubles by looking at others."
Yet Weegee himself was at least partly responsible for altering perceptions of his work - the engineer of his own elevation to a master of something more than plain reportage. He first achieved a fame beyond that of the tabloid news photographer when he gathered a group of his pictures together and published them under the memorable title, The Naked City. He subsequently sold that title to Hollywood, and it was used first for a film, starring Barry Fitzgerald and Dorothy Hart, and later for a television series, now generally remembered (if at all) for the mantra of its opening line: "There are eight million stories in the naked city: this is one of them…" The Naked City was no ordinary book of photographs and its influence spread with almost disconcerting rapidity. It helped to foster a wider fascination with the secret, seamy side of twentieth-century urban life, while Weegee's harsh flashlit style – which actually involved the sacrifice of style, in the usual sense, for the quickest and most graphic way of getting at human pain – was adopted by a generation of cinematographers to frame their own fables. Weegee helped to make the city at night - haunt of thugs, hookers, mafiosi, gumshoes and a multitude of other misfits - one of the great subjects of twentieth century cinema.
Weegee's belief that photography can reveal another, darker (and perhaps, in some obscure sense, truer) world has been as influential as his style and his choice of subject matter. Diane Arbus's photographs, finding a dysfunctional community in the psychically damaged or the terminally helpless jetsam of American life - or, more, recently, Nan Goldin's poignant photographic record of her own, druggy subculture - were certainly influenced by Weegee. The fascination with inexplicable psychosis, with staring into the eyes (and trying to fathom the minds) of serial killers and other dangerous criminals, so visible and so blatant in his photographs, has not gone away. If anything, the opposite is the case. Films of recent years like The Silence of the Lambs or Seven also owe a debt, however dilute, to his example.
But although The Naked City was the prophetic book of film noir, Weegee's most compelling photographs still have a harshness that sets them apart from the more stylised and artful traditions of film and photography that their creator helped to found. Hanging Weegees in art museums cannot disguise their true, documentary rawness. They are moments of crisis, stolen from people's lives (or the ends of those lives) and perpetuated forever. They are freeze frames from a chaotic, teeming world. There is nearly always something wild or uncontrollable about the city as seen through Weegee's lens. This is even true of his rare essays in apparently benevolent observation, such as his famous picture of myriad sunbathers On Coney Island Beach – a vision of an urban multitude jammed together on the sands, a picture of the people taking refuge from Manhattan's bewildering, jostling world only to find its chaos repeated in holiday disguise. But it is even truer of his scene-of-the-crime pictures. We see a woman weeping in anguish or upset, at the centre of a picture the photographer simply called Their First Murder - but all around her, crowding for a better view, their faces alight with an excited morbidity, are children. One or two are out of focus, others caught at the edge of frame in the flashbulb's harshest glare, which makes their eyes shine with a disconcerting light. They look like feral cats. Often his people look like animals. The Cop-Killer in police detention cells, his face bruised, his collar gripped by an arresting officer – with peculiar tenderness, almost as if the violence done by one to another is a bond of intimacy – is like a caged beast. The dreadful void face of the Fourteen-Year-Old Boy Arrested for Strangling a Five-Year-Old Girl is seen through meshed wire. There is no easy moral to be drawn from pictures such as this.
Weegee was also fascinated by the puzzled look he saw on the faces of the corpses he came across, lying flat on their backs in pools of their own blood, staring into the inky blackness of the city's 4 am sky - as if wondering to themselves, blank-eyed, how on earth they came to be here, so terribly damaged, so utterly dead. He was fascinated enough to get right into their faces, to ignite his flashbulb, and photograph them as if for their portraits.
Perhaps Weegee was haunted by the terminal bafflement frozen on the faces of dead hoodlums because it seemed to express what he, too, the disillusioned chronicler of their wasted lives, felt about the world in which he found himself. There is a kind of retributive brutality about his photographs of the criminal dead – shot once, he is shooting them again, as if to fix both their guilt and its tawdry end – but there may also have been an element of sympathy on Weegee's part. Born Usher Fellig, in 1899, in a part of what is now the Ukraine, he arrived in New York in 1910, and was brought up in conditions of extreme poverty on the Lower East Side. Photographing the plight of poor people, vagrants, criminals, he was picturing a world he himself had managed to escape – yet to which he continued to be powerfully drawn, perhaps for that very reason.
Nocturnal New York was the troubled id to the daytime city's rational, Wall Street, nine-to-five ego. It even had its own schedule, he observed, a kind of anarchic parody of the working city's routine:
"From to one o' clock, I listened to calls to the station-houses about peeping toms on the rooftops and fire escapes of nurses' dormitories… From one to , stick-ups of the still-open delicatessens… From two to three, auto accidents and fires … At , things became livelier. At that hour the bars closed, and the boys were mellowed by drinks. The bartender would holler 'Closing up!' but the customers would refuse to leave… why go home to their nagging wives?… Then, from four to five, came the calls on burglaries and the smashing of store windows. After five came the most tragic hours of all. People would have been up all night worrying about health, money, and love problems. They would be at their lowest physical and mental state and, finally, take a dive out of the window."
Weegee's parents were devoutly Jewish, but although he observed Yom Kippur his own faith seems to have been less certain. If there is a God behind the goings-on in his night-time New York, He is a malignant deity with a dark sense of humour. The photographer took a grim pleasure in those moments when it seemed as though he, too, had been let in on the joke. Shooting a burning building, the heat from its blaze vapourising the jets of water from the firmen's hoses into great light-diffusing clouds of steam, Weegee's camera catches an ironic fragment of advertising: "Simply Add Boiling Water." His photograph of the corpse of a dead policeman lying outside a funeral parlour drew one of his longer titles: Fate's Little Jokes: A cop off-duty and going home was shot and killed in front of a funeral chapel. A casket waits in the doorway.
After The Naked City made him famous, Weegee tried to make it in Hollywood, with limited success. He played a few hard-boiled minor roles in some appropriately noir movies inspired by his own work and later got a job working for Stanley Kubrick, taking the stills on the set of Dr Strangelove. Before his death, from a brain tumour, in 1969, he experimented with "creative" photography, taking artfully distorted pictures of celebrities including Marilyn Monroe and national landmarks including the Statue of Liberty. But he had done his best work long before - before fame arrived and before his stark, singular and immensely influential way of seeing was clouded by the unproductive notion that he might be an artist.