Tomoko Takahashi
Date: 30-11-1999
Owning Institution:
Publication: Vogue Features 1989 – 2006
Subject: 20th Century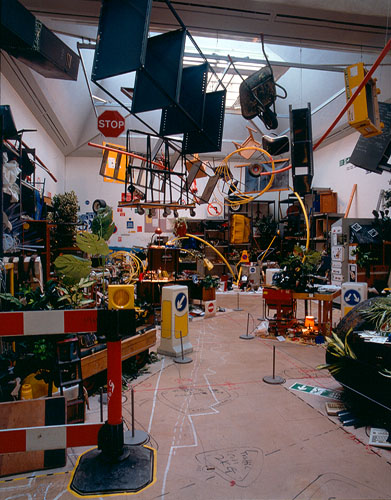 Tomoko Takahashi's playful agglomerations of detritus gleaned from skip or tip must seem like a godsend to tabloid editors determined, themselves, to do a little bit of recycling. Every Takahashi exhibition is an irresistible incitement to run the old, tried-and-trusted story about modern art being a pile of rubbish. After all, even the artist's most fervent supporters have to admit that her work is (literally, at least) junk. Should Takahashi happen to win this year's Turner Prize – and she is one of the favourites to do so – it can safely be assumed that The Sun, together with the rest of the usual suspects, will have something choice to say about it.

Takahashi first came to prominence in 1997 when she won the £5,000 first prize in the annual EAST international show, for a cunningly arranged installation in Norwich School of Art consisting of one room filled with stuff thrown away by the institution's students and teachers and a second filled with rubbish generated by the artist herself. "Artist Cleans Up with Pile of Junk," trumpeted the Daily Mirror's headline-writer with exemplary mock-fury, while those of a more thoughtful disposition suspected her of making some kind of veiled commentary on the throwaway values of an increasingly disposable world. Takahashi has tended to play down any suggestion of polemical intent, describing herself as a creator of "designer disorder" and comparing her intricate arrangements of obsolete tat to "abstract paintings or broken sentences." Her work is also, she has said, "very much like a landscape: a friend of mine says I'm like a gardener."

1997 also saw the creation of Company Deal, a work in which Takahashi was allowed to flood a London marketing consultancy's office with six weeks' worth of its own, accumulated waste, mouldy pizza boxes and all – difficult not to see that as some kind of statement about market-led, consumer-capitalist society – as well as an installation of manically whirring discarded electrical appliances assembled in the Beaconsfield Gallery in London. The following year yielded Clockwork, a room scattered with hundreds of defunct clocks, watches and other timepieces (an installation which looked among other things like a poignantly low-rent, purposely abject riposte to the slick and high-tech meditations on time proposed by the artist's Japanese near-contemporary Tatsuo Miyajima). But 1999 was Takahashi's true annus mirabilis. As well as creating separate installations in Antwerp, Edinburgh, Lisbon and Los Angeles, she stole the show "New Neurotic Realism" at the Saatchi Gallery.
Her contribution to that much talked-about exhibition, her largest work to date, took the form of a massive, sprawling labyrinth of dysfunctional and semi-functional objects: several car-boot sales'-worth of television and computer monitors, filing cabinets, record turntables, anglepoise lamps and a million other types of what-have-you. Arranged in curious little clusters or colonies, as if to suggest some mysterious pseudo-logic at work behind it all, Takahashi's installation was like a shanty town in object form. She lived in the gallery while she was making the piece, sleeping on a camp bed set up like an island in her sea of waste, overstock and broken bargain-basement consumer durables. "I didn't like the atmosphere there," she said later. "It's so abstract, clean and proper – a white cube that's so well done it's surreal. I was working counter to the space, trying to humanise it." Blatantly at odds with the architecture, Max Clifford's spare and dauntingly huge suite of interconnecting galleries, her work seemed to have invaded rather than simply occupied the space. It looked like the assertion of a messy truth. The world according to Takahashi is not neatness, order and purity but chaos, spillage, overflow.

A reticent, chain-smoking, self-confessed workaholic, Takahashi was born in Tokyo in 1966 and took a BA in painting at the Tama Art University in Japan before coming to London in the early Nineties to take her BA in Fine Art at (where else?) Goldsmiths' College. She says that "I didn't choose to be Japanese and I'm not keen on becoming English" and her work, too, seems somewhat uneasily suspended between the oriental and the occidental. It is probably no coincidence that an artist so fascinated by surplus-to-requirement goods should have been born and brought up in a country world-famous for their mass-manufacture. Takahashi has attributed her mania for arranging things to her grandmother, who taught her how to perform the ancient Japanese ritual of the tea ceremony, which, in her words, "involves creating an environment with minimal decorative elements – a painting, flowers, the tea set – and being sensitive to the season and the time of day." But she is equally likely to have been influenced by the work of the Hanoverian Dadaist, Kurt Schwitters, who in his "Merz" paintings, collages and constructions, first pioneered an art formed from the waste and refuse of everyday life. Schwitters too was a somewhat reluctant émigré to these shores, having fled here to escape the unwelcome attentions of the Nazis, spending his last years of self-imposed exile in the Lake District at work on his so-called Merzbarn, a den of curios and trouvailles to which Takahashi's cluttered grottoes of contemporary stuff certainly hark back.

Takahashi, for her part, seems to see herself as a sort of sorcerer's apprentice, giving new and unpredictable life to the inanimate objects that surround us. "Everything has its own life," she says. "I want to make things more themselves, to liberate them from imposed rules. It's difficult to make a mess; the order that you start from is so strong. Teetering on the edge between order and chaos, that's the exciting point – living is like that."