Profile of Nick Serota
Date: 30-11-1999
Owning Institution:
Publication: Vogue Features 1989 – 2006
Subject: 20th Century 19th Century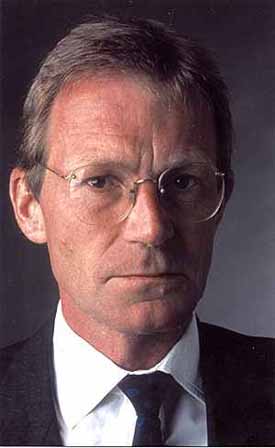 "Whenever the people who work with me get downhearted," says Nick Serota, "I remind them of how incredibly fortunate they are. They've had the chance to help create London's first museum of modern art – and how often do opportunities like that come along? Once in several lifetimes. They've been able to play their part in creating a new civic building in the centre of London, and to change the experience of living in one of the great metropolises of the Western world. I honestly believe that in ten years from now we will be the envy of the next generation." The capo di tutti capi of the contemporary art world – officially Serota is Director of the Tate, but his unofficial and possibly rather more accurate title is the Head of Modern British Art, Inc. – spreads his hands and smiles.
He is speaking in his large and airy office at the Tate Gallery on Millbank, a tall room with views of the river, furnished and decorated in conspicuously Spartan style. There is a desk and chair, a little round table set for tea, and lots of empty space between them. All this calls to mind the words of John McEwen, art critic of the Sunday Telegraph, who, noting Serota's tendency to display the Tate's pictures much more sparely and sparsely than his predecessors, coined the term "Serotasis": "a condition of which the chief symptom is a morbid love of the space between objects." Serota's dislike of clutter is of a piece with his sober dress sense. Ascetically slim and almost invariably dark-suited, he emanates self-restraint and was once memorably described by art dealer Leslie Waddington as looking like "a Jansenist dressed by Comme des Garcons". Today he is wearing a slightly less severe suit than usual (he declines to name its designer) and he has taken off his jacket. Even in his shirtsleeves he comes across as too highly strung, too charged with nervous energy, ever to be described as relaxed – let alone complacent. But he also gives the strong impression of being a man who knows that that he is on the brink of a triumph. "Of course there have been trials along the way, of course there has been criticism. But working at the Tate, overall, has been hugely rewarding." Sticks and stones might hurt his bones but words will never hurt him.
Which is just as well, since harsh words - about the way he runs the Turner Prize, about the kind of art the Tate has bought under his directorship, about his controversial decision to rotate the collections so that some of the museum's most enduringly popular pictures have ended up in the storeroom – have often come his way. During twelve years at the helm of the Tate Gallery Nick Serota has come in for rather more than his fair share of criticism. His opponents say that he has given too much support to fashionable but meretricious contemporary art, and argue that he has done so, notably in his role as Chairman of the annual Turner Prize jury, at the expense of more worthwhile and enduring traditions of painting and sculpture. They fear that the huge new museum of modern art that he has long campaigned for will prove to be no more than a Postmodern white elephant. They complain above all about the sheer extent of his power, arguing that he has misused his position, as head of Britain's most significant modern art collection, to impose his own, narrowly Minimalist and Conceptualist taste on the nation at large. The late Peter Fuller, founder of Modern Painters, dubbed Serota "the head of the academy of the avant-garde", while the London Evening Standard's Brian Sewell, never one to sit on the fence, shrilly denounces him not merely as "a panjandrum" (Sewell's customary term of abuse) but as a veritable "Trotsky of the arts".
Serota seems most seriously annoyed by the idea that he is a man of narrow tastes, given that he has mounted exhibitions of work by artists as diverse as Fernand Leger and Rebecca Horn. He points out that for a supposed enemy of figurative art he has been responsible for acquiring an awful lot of it for the nation: during his reign the Tate has bought a multitude of figurative works by (among others) Frank Auerbach, Maggi Hambling and Philip Guston. "It's very odd, this perception that I only like or support one kind of art – and it really is a mis-perception."
But there is an element of truth behind at least some of the other accusations that have been levelled against him. Serota himself has made no secret of his support for younger generations of British artists. He is self-confessedly fastidious when it comes to matters of aesthetics. And he probably is both the most powerful and the most politically effective figure in the British contemporary art world (in his own sphere, he seems to be rather better than Trotsky was at getting his own way). But those are not necessarily reasons to damn him. Serota himself takes praise and criticism alike with a pinch of salt. "Would people really prefer a Tate that wasn't energetic, and effective, and wasn't doing at least some things that irritate or annoy? I think the answer is no, they would rather that it was a positive force."
Bare figures suggest that he is right. During Serota's reign, attendances at the Tate Gallery on Millbank have soared, rising from 1.1 million in the year that he joined, to 1.8 million last year. But the real nature of his achievement lies elsewhere, far from the realm of lies, damned lies and statistics, in what must be counted the most significant reorientation of Britain's national art collections to have taken place since the Second World War.
Almost from the moment when he was first appointed Director of the Tate Serota realised that he was faced with an overriding problem. He found himself in charge of a national museum which was really two museums compressed within a single building. First, there was the collection of Historic and Modern British Art; secondly, there was the collection of International Modern Art. To make an already complicated situation worse, there was not enough room within the existing Tate to show more than a fraction of either collection at any one time. On top of that, Serota also wanted the museum to show a much stronger commitment to the work of living artists than it had done in its immediate past. His response was to conceive a bold and admirably straightforward solution: split the collections, give over the existing Tate to Historic and Modern British Art, and build a new museum, worthy of London's stature, to house the collections of International Modern Art and to show exhibitions of contemporary art. When the Serota masterplan was first publicly mooted, few – except, perhaps, those who knew his extraordinary ability to turn pipedreams into hard reality – truly believed that he could do it. But he did (with a little help from his friends). This month, Serota will preside over the opening of Tate Modern, a new, £130-million museum of modern art in the heart of London.
Tate Modern is nothing if not impressive. Bankside Power Station, Sir Giles Gilbert Scott's cathedral-like masterpiece of post-war industrial architecture, has been converted by the Swiss architects Herzog and de Meuron into a grand but also surprisingly intimate museum, dedicated to the display of twentieth and twenty-first century art. On the South bank of the Thames, directly opposite St Paul's Cathedral, the dimensions of which it almost exactly mirrors, Tate Modern is destined not only to transform the capital but to shift its whole cultural centre of gravity eastwards. Southwark, traditionally one of London's less glamorous areas, is set to become positively chic. But the significance of the new museum is more than merely local. All the signs are that Tate Modern will amount to one of the most significant and life-enhancing additions made to London's civic landscape in recent times. After the general disappointment aroused by the Millennium Dome, the new museum seems almost bound to be rapturously received. When asked if he feels that he may benefit from the bunglings of others he responds with exemplary, poker-faced tact: "I think people are looking for a millennium project to celebrate, put it that way."
Serota remembers the night when the notion of appropriating a building as audaciously vast as the Bankside Power Station for Tate Modern first occurred to him. The way he tells the story, it comes across as a rather romantic – perhaps even epiphanic – moment in the life of a museum director. On the day in question, one of his colleagues had gone to watch Gavin Stamp presenting an item about the Power Station for the BBC's magazine programme One Foot in the Past. He mentioned it to Serota at work later that day, adding that of course the building was "much too big" to be considered as a possible site for the new Tate. "So that night I went down for a walk by the river, in front of the building, and I paced it out to see how big it was, and I reckoned it was about 500 feet long, and about 150 feet deep. Which is pretty big. But then I thought that well, actually, that made it about the same size as the existing Tate, with its various extensions. The existing Tate wasn't unmanageable, so perhaps that building could be manageable." From that moment on, Serota found himself in possession of a dream.
That dream only seems to have come under serious threat once, when a considerably smaller site became available next to the Festival Hall, on the South Bank. Instead of involving the conversion of an existing building, this would have meant the creation of an entirely new one, allowing more freedom for architectural innovation. But Serota himself was not convinced. Having become accustomed to thinking big – Bankside big – the thought of having to scale down his ideas seemed like an inappropriate compromise. "I realised that a building on that site could be a perfectly fine building. But it would be about the size of the Staatische Kunsthalle in Stuttgart, the museum designed by James Stirling. So if we went ahead with that alternative we would have ended up with a building that was an appropriate size for a middle-ranking German city with aspirations. And London isn't a middle-ranking German city with aspirations." He says this in clipped tones, with withering certainty.
When one visits Tate Modern, with its calming, daylit galleries, its panoramic views along the river, across to St Paul's and out in all directions across the glittering, misty sprawl of the city, it is clear that this is not only a venue for exhibitions but a building designed to make an exhibition of London itself. For all the novelty of Herzog and de Meuron's design – most notable, perhaps, for the vast lightbox-like roof extension which traverses the width of the building –Tate Modern as a whole seems democratic in a very old-fashioned way. It will be free of charge (a principle which Serota says he will stick to, come what may) and even the catering arrangements have a populist flavour. The rooftop restaurant, which will be run by Jeremy King, best known for re-establishing the reputation of The Ivy and Le Caprice, will serve "a good but definitely cheap menu", and a large part of it will be set aside for those who turn up on the spur of the moment. Even before the crowds have come to throng its spaces, Tate Modern has the feel of a people's forum. It is a utopian project, and one which embodies a spirit of enormous civic generosity. It is the sort of building you might expect to find in Jean de Brunhoff's gleaming Celesteville, rather than dirty old London, and perhaps that too says something about Nick Serota. He might be a clever strategist, a canny politician and a master of PR, but at heart he is an old-style social idealist - more Babar than New Labour.
The artist and teacher Michael Craig-Martin, an ex-Trustee of the Tate who has known Serota for many years, says that "while Tate Modern is one of the grandest museums in the world, Nick himself is totally un-grand. He lives in a terraced house of no great distinction near the Archway, in an area full of council houses. He drives a nothing car. He's not interested in possessions or money at all, that I've ever seen. There are some works of art in the house, but no ostentation whatsoever. He's an essentially quite shy person who is sometimes seen as rather stand-offish. I also think he's learned to use his shyness, to make it a part of his authority. But although he comes across as very self-controlled, he's a man of strong feelings and with a real quality of idealism. I think of him as an old-fashioned British gentleman – someone who was given a good education and also brought up to believe that it was right and proper for those privileged in that way to use their abilities for the common good. And that's what he's done with his life."
Some ten years have passed between the conception of Tate Modern and its realisation and Serota clearly regards it as the culminating achievement of his career to date. Everything about this sober, practical, efficient, carefully finished, yet simultaneously idealistic building seems thoroughly Serota-ish – which is hardly surprising, given that he met at least twice monthly with the architects during the course of the design process, and visited more or less every modern art museum in the world in order to refine his own ideas about what Tate Modern should be. Michael Craig-Martin, who was a trustee of the Tate during much of the time when Serota was nurturing the project, says that "It is unquestionably a building which reflects Nick's values in almost every aspect. It's old-fashioned but also radical; the materials of which it is made, like the plain untreated oak that's been used for the floors, are absolutely modest and unassuming. Tate Modern's got Nick written all over it." Notwithstanding the enormous ingenuity and dedication of Herzog and de Meuron, the Swiss architects whom Serota recommended for the job, it will certainly stand as his monument. It is not just The House That Nick Built, but perhaps the house that only he could have built.
There is, after all, something hugely improbable about the fact that Serota has managed to get Tate Modern completed at all, in a country famous for its distrust of grands projets and noted for its traditional inability (viz the Dome) to carry them off. The frequently maligned and much compromised British Library took decades to complete, while, as Serota remarks, "it took no less than 40 years to create the National Theatre." The ten years which Tate Modern has taken to complete seems lightning quick by comparison, although as Serota is fast to point out the process has been nothing if not tortuous:
"The fact is that you don't create something like this without having a lot of meetings, in England. There's a fundamental difference between what we've done and what might have happened in France, or Germany on the one hand, and America, on the other. In America, five very rich people would have come together and they would have said, 'We're going to do this, it's going to cost $300 million, here's the first $150 million, now raise the rest'. In France, the government would have said 'We're going to create a new museum and we're going to use taxpayers' money to do it'. Here, no one asked us to do it. It was hardly a very novel idea to create a new museum for London, but there wasn't another group of people who were able to do it, so we've had to carve it out of the existing Tate. That's meant that we've had to persuade government to come along with us, we've had to persuade the Lottery, we've had to persuade individuals – anybody and everybody who could help. That's a lot of persuasion, and we haven't completed the task yet. There is still just under £10 million to raise on the capital and there are plenty of people walking around London who consider themselves to be part of the art world, who could help us to fill that gap, who aren't yet doing so. By the time this article appears, they will have done so." Serota says this with such steely self-confidence that it is impossible not to believe that he will, indeed, persuade even the most reluctant potential donor to cough up.
"Nick has an extraordinary ability to get things done," says Alex Graham, acting Head of the Arts and Classical Music Department of the BBC, who has had several opportunities to observe Serota at close quarters while making programmes about him at different points during his career. "He's a brilliant politician and he's got natural authority. I remember going to his exhibitions, whether at the Whitechapel Gallery, when he was director there in the Eighties, or more recently at the Tate, and Nick would always be there somewhere near the entrance, greeting people as they arrived. He's always struck me as having a rather regal presence – somehow you know, or at least have the feeling, that he's the most important person there. I think you even feel it when he's at other people's exhibitions. It's as if he's got this extraordinary knack for finding the absolute centre of the room, the focal point, so that events just naturally seem to revolve around him. It seems to come so naturally that I don't even think he knows he's doing it."
The idea that Serota has "natural authority" will surprise no one who knew him at school. Born in 1946, he went to Haberdashers' Askes, in the countryside just North of London, where he was both head boy and captain of games. His mother was a prominent Labour figure within the GLC who went on to become a life peer, while his father was a civil engineer who specialised in foundations. This background would appear to have left its mark. Serota's success has been achieved thanks to his ability to create a strong base and politically outmanoeuvre his opponents. There are those who argue that he missed his vocation, and that he should have actually been a politician, but that is patently not so. "Nick is sometimes misunderstood as someone who is out for power," says Michael Craig-Martin, "but he isn't, at all, in the sense that that implies. Power only matters to him in that it enables him to achieve his vision. I don't know anybody more passionately wedded to the ideal of public service, and he's really quite disconcerted when he meets people who aren't."
Serota will use (and has used) his political nous to realise his dreams: Tate Modern is a monument to that. But the world of politics itself holds little appeal for him, and at times one has the impression, even, that it faintly disgusts him. This emerges when he is asked whether he believes that the British attitude to art in general, and modern art in particular, has become more enlightened during his lifetime:
"I used to be naïve enough to think that a certain kind of British philistinism with regard to the visual arts would go away with a certain generation. But now I meet plenty of people my age and younger, particularly in the political world, who are clearly not especially interested in culture – and visual art in particular. So I am very aware that there isn't going to be some magic date after which everyone does understand that art is important, that it matters…" Serota was particularly disappointed, he says, by Education Minister David Blunkett's "failure to place nearly enough emphasis on visual literacy in the national curriculum. I think everyone today needs to be able to work with images, just as much as they need to be able to work with words, or with arithmetic, because we all live in such a profoundly visual society. To cut that kind of teaching out of the curriculum, because it happens to be called 'art', is in my view very shortsighted."
He made a habit of taking his own children round art galleries "constantly" when they were younger, and although he recalls that they sometimes got a bit rebellious, "in the end they came round to it again, and found not only that they loved art but knew a phenomenal amount about it." (Serota, now married to Teresa Gleadowe, former Public Relations Officer at the Tate, has two daughters from his first marriage, to ballet dancer Angela Beveridge.) Education has always been a high priority within the various museums that Serota has run and his belief in the importance of "bringing children into art galleries, allowing them the confidence to look at contemporary art with their own eyes and express themselves about it" is clearly reflected in the architecture of Tate Modern, where an extremely generous space has been allocated to the Education Department for lecture theatres and studio teaching spaces.
When he was a student himself, Serota read Art History at Christ's College, Cambridge, having switched from his initial choice of Economics (a subject in which he would seem to be more than adequately qualified, if his record as a fundraiser is anything to go by). He then went on to the Courtauld Institute. It was at around this time, during the early to mid-1960s, that a series of exhibitions of current European and American art inspired him to try to make a life for himself working in the field of contemporary painting and sculpture. Characteristically, however, he decided to write his thesis about the great English nineteenth-century painter Turner, on the basis that "you can't understand the twentieth century and its art unless you understand the nineteenth century and its art".
This kind of strategic thinking has characterised Serota throughout his career, but particularly during his time as Director of the Tate (where he arrived in 1988, after having run Oxford's Museum of Modern Art, followed by the Whitechapel Gallery in East London). His first and probably his most controversial decision there was to rotate the permanent collection, so that every year the entire museum would be reorganised, with different works emerging from the storerooms and others going back in. Initially, this enraged those visitors who expected (perhaps not unreasonably) to be able to come to the Tate on any given day in the year and find favourite works such as David Hockney's Mr and Mrs Jones with Percy or Rodin's The Thinker where they had always found them. But it also had the undeniable effect of bringing home to people just how much of the Tate's collections (more than 80 per cent) were generally not on display – thereby making the case for a new museum all the more compelling. Sandy Nairne, the Arts Council's Visual Arts Officer, says that "At the time, a lot of people thought that Nick might be shooting himself in the foot with his method of rotating the displays, but with hindsight it looks like a brilliant strategy."
But Serota's hanging policy was not simply a means to an end, a clever way of advertising the plight of the Tate. It stemmed from his firmly held belief that the days of the static, unchanging museum display are numbered. Once museums were secular churches; then they became texbooks; but now, he believes, they have become more fluid and indeterminate places, reflecting the prevalent belief that no single organising principle, no set, immutable order of things, can possibly do justice to the complexities of art and its history.
"We live in a time when people are much more prepared than they were in the past to accept the existence of many perspectives. I think that you can trace this more fluid habit of thought quite a long way back, even into the early part of the twentieth century. I think it's very strongly related to the principle of collage, in the broadest meaning of that word - the principle of putting disparate elements together, and of enjoying seeing what happens when you move them around in relation to each other. Now this is something which I think is clearly characteristic of the 60s – not just its art, but the period as a whole. And I think it's probably no coincidence that I, and a lot of other people who are running institutions now, and experimenting with how we hang things, shaking it up a little bit – we are people who grew up in the 60s or 70s. The generation who preceded us were very different, they had a different sense of history, and it was reflected in their museums as in all sorts of other things. People who matured after the war, I suspect, were subconsciously looking for a much deeper sense of order than we are prepared to live with now." He also feels that there may be a connection between the type of deliberately destabilising hang with which curators are currently experimenting and the continuing expansion of information technology. "When I talk to my own children, who are now in their early twenties, it's clear to me that people of their age are very comfortable with information being presented in many, many different layers." One of them, Tasha Serota, has herself presided over an experiment in bringing art and information technology closer to each other: employed by the publisher MacMillan, she has been in charge of taking the Macmillan Dictionary of Art on-line.
Serota declines to go into specific detail about how he and Lars Nittve, director of Tate Modern, plan to hang the modern collections for the opening of the new museum. However, he does say that the hang will not be strictly chronological, but rather thematic, focussing on "subjects which have interested artists consistently during the past century, such as the figure, the landscape, questions of identity and society and so on." One of the advantages of such a hang, he believes, is that "it will place contemporary art throughout the museum, not just on the end of a time-line – and I hope that will make it easier for people to see the art of now as part of a continuum, rather than something which is merely shocking or baffling." He implies that contemporary art is too often thought of in sensationalist, shock-horror terms, when many of the best contemporary artists are best understood when seen within the traditions of art history. "I hope the new hang will come as a pleasant surprise to those people who do think I only like one kind of art."
Serota's experimental approach to museum display has been hugely influential during the recent past. Museums throughout Europe have followed the Tate's lead in disturbing and disrupting long-stable arrangements of their collections. Even MOMA in New York, the first and still, in many people's eyes, the canonical museum of modern art, has begun to tinker with its dauntingly doctrinaire presentation of the story of modern art as A Tale of Two Cities, Paris and New York, and not much else besides. The trustees of MOMA are rumoured to have tried to headhunt Serota to run their museum, which is another measure of the regard in which he is held outside Britain. Serota does not deny it, although he adds the proviso that "MOMA has a way of showing interest that doesn't always mean they are simply going to offer you the job". But in any case, he adds, "They approached me at exactly the wrong moment. After all, what could be more interesting or exciting than what I've been trying to do here? I intend to see it through, and then stick around for a while too."