Writing to Vermeer
Date: 30-11-1999
Owning Institution:
Publication: Talk
Subject: 20th Century Renaissance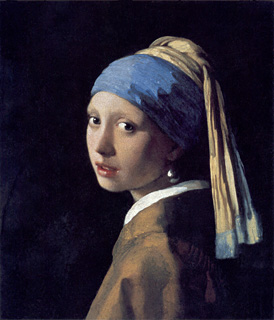 The British film-maker, painter and wandering intellectual Peter Greenaway has been writing love letters to a Dutchman who died more than three hundred years ago. Greenaway is best known as the creator of such teasingly opaque and sporadically violent films as The Cook, The Thief, His Wife and Her Lover. But he has also shown a surprisingly intense interest – surprising, that is, given his apparently contradictory preoccupation with such themes as cannibalism and polymorphously perverse sex with nuns and animals – in the great seventeenth-century artist Johannes Vermeer. His 1982 film A Zed and Two Noughts included several tableaux-vivants based on paintings by the master of the becalmed domestic idyll. Now Greenaway has written the libretto for Writing to Vermeer, an unusual and ingenious epistolary opera about the artist and his family. Created in collaboration with the composer Louis Andriessen, it has its USA premiere at the State Theater on July 8 as part of the Lincoln Center Festival.
Writing to Vermeer is the latest addition to what has by now grown into a veritable (if variable) canon of works inspired by the work of the most celebrated painter ever to have been born in the small Dutch town of Delft. This mini-tradition was initiated by Marcel Proust when, in Volume 9 of Remembrance of Things Past, he had Bergotte expire in the principal museum of The Hague, the Mauritshuis, while contemplating Vermeer's View of Delft. In 1952 Lawrence Gowing made his own contribution to the genre by publishing a passionate and deeply personal study, Vermeer, which remains one of the few monographs on the work of a painter to qualify as a work of art in its own right; while in 1991 the distinguished Polish poet and author Zbigniew Herbert published a book of essays and literary curios, Still Life with a Bridle, which included an apocryphal letter from Vermeer to a close friend concerning the spiritual perils of scientific discovery. Recently, the signs are that output of such Vermeeriana may be accelerating. Last year Tracy Chevalier published her novel Girl with a Pearl Earring, a fictionalised account of the creation of the celebrated portrait of an anonymous girl in the Mauritshuis, often dubbed "the Mona Lisa of Dutch art" (Chevalier imagines the painting as a kind of romantic folly painted by Vermeer to sublimate his inappropriate love for a serving girl); and earlier this year Susan Vreeland published Girl in Hyacinth Blue, a novel structured like a picture's provenance, which traces the story of an imaginary Vermeer and its various owners from the twentieth century back to the seventeenth, into the painter's studio.
It might seem strange that one of history's most reticent and most scrupulously undramatic artists should have spawned such a plethora of attempts to reimagine and reinvent him and his milieu. But perhaps Vermeer's almost intimidatingly silent and eventless world – a world of restrained sideways glances and hushed perpetual expectancy – acts as a natural incitement to the imagination. Lawrence Gowing wrote well about the painter's evasiveness and about how difficult it was to pin him down, so careful had he been to exclude himself from his own, seamless illusions. For Gowing, as for others, that has clearly been a kind of provocation. The fact that so little is known about Vermeer's life and character also tends to enhance his enigma.
Greenaway, who has lived and worked in Amsterdam for the last two years, is happy to discuss Vermeer's mystery as well as his own robust but ultimately rather poignant vision of the artist; and he would like the conversation to take place in the company of the master's own paintings. So it is that we find ourselves half-walking, half-running through "The Glory of the Golden Age", the Rijksmuseum's bicentennial blockbuster of an exhibition, trying to beat the gathering swarm of tourists with their buzzing headsets to be first to the Vermeers. The museum opened just a couple of minutes ago but already the soberly black-clad Greenaway, who is almost alarmingly fit and energetic for a man with hair as grey as his, has outstripped the crowds. Gallery 17 is still empty when we get there. For a few minutes at least we get to contemplate the stilled eternities of Delft seventeenth-century existence, as perpetuated in the incomparable art of Vermeer, in solitude – solitude, but not silence, because once Greenaway finds himself in front of pictures he loves as much as the Rijksmuseum's The Milkmaid, The Glass of Wine and The Little Street he is almost unstoppably voluble.
"Vermeer's the opposite of his contemporary Rembrandt," says Greenaway. "We know so much about Rembrandt but with Vermeer there's a bit of a blank, so you can fill things in. He is the mystery man, the mystery painter." But his principal theme today turns out, with an unpredictability typical of Greenaway, to be the many lessons which Vermeer has to teach the modern film-maker. "I think it was Godard who said that Vermeer was the first cinematographer and you can see exactly what he meant when you look at a picture like The Milkmaid. Godard also said that cinema was truth, 24 frames per second, and I don't know whether Vermeer is giving us exactly one-24th of a second but if you think of the act of pouring milk, it doesn't happen three seconds before and it doesn't happen three seconds afterwards. Vermeer's caught the split second, so you get this tremendous sense of arrested time, and mystery, as well as this sense of a world that is entirely predicated on light. There's also this incredible freshness and immediacy about it. I think it's fantastic that he could have been painting in the 1650s and 1660s, when it wasn't until 1895 that Lumiere invented the movie camera. But of course we know that Vermeer was one of the first artists to paint using lenses and primitive cameras, in particular the so-called camera obscura, which was a large piece of furniture, like a heavy wardrobe, into which a lens would project the image of whatever it was pointed at – a kind of very large pinhole camera. It would have taken up a lot of space and probably irritated his wife enormously."
Greenaway, who says he would far rather visit an art gallery than go to the cinema, is perhaps understandably not very popular with many other film-makers. He says he regards virtually all modern cinema as moribund, arguing that the great failing of modern directors is their compulsion to tell stories (their most common complaint against him being that he is an incurable obscurantist). In the course of the conversation he throws out numerous such iconoclastic provocations. Martin Scorsese, for instance, is dismissed as a "banal and repetitive" director. The video artist Bill Viola "is worth twenty Scorseses". Looking at Vermeer's pictures sets Greenaway off on this train of thought, he says, because Vermeer shows us how powerful the non-storytelling image can be.
The film medium, he says, "is far too important to be left to storytellers. It irritates me that we've had 105 years of illustrated text as our cinema – story, story, story – and that's why Vermeer is so central to my personal canon. He shows us what an image can be, how it can enchant and beguile us, and it's got nothing to do with telling a story. In fact he refuses to tell us a story, to explain what is going on. That is why we are drawn to him. To me the very best painting is non-narrative, and I continually try to imagine that we might be able to invent a non-narrative cinema. But of course there are huge problems, and also an enormous critical and aesthetic resistance, because so many people persist in the mistaken belief that cinema is a good narrative medium."
Until he does manage to invent a non-narrative form of cinema (and there are those among both his critics and his admirers who feel that he has come fairly close to it ) Greenaway will have to content himself with having contributed to the development of the storyless opera. He is proud of the fact that, as he puts it, "nothing really happens" in Writing to Vermeer. The piece is, he says, "fundamentally static, and harmonic", with little in the way of plot development (the most dramatic event takes place when the artist's five-year-old daughter drinks some varnish in his studio). It is set during one of the painter's rare trips away from home, from Delft to The Hague – a trip which actually took place, when Vermeer was summoned to assess some suspect Italianate paintings bought by the Grand Elector of Brandenburg. The libretto is formed from the text of eleven imagined letters written to the painter during his absence by Vermeer's wife, his mother-in-law, his children and one of his models, sung fragments from which are interwoven to build a composite image of the harmony, happiness and tranquillity of what Greenaway imagines to have been the painter's domestic life.
Vermeer himself never actually appears but certain aspects of him are bodied forth in no uncertain manner. "I miss your cock-eyed, slippery, rednosed, jumping, long purple-headed prick of a paintbrush," sings the character of Catherina, Vermeer's doting wife, at one particularly vivid moment near the end of the piece. "I think love was one of the great themes of Vermeer's life but I didn't want to sentimentalise it," says Greenaway in defence of his occasionally full-blooded treatment of the theme. "We may know very little about him, bare documentary facts, for the most part, but you can see from his art how much the idea and ideal of home meant to him. He almost produced as many children, 11, as he did paintings. My idea of him is very much as a man loved, and loving…"
Andriessen's score combines elements from both Baroque and modern music traditions, borrowing snatches from Bach and Saint-Saens while weaving them into a mathematical-cum-musical structure influenced by the work of John Cage. The intricately patterned and deliberately repetitive qualities of the music complement and enhance Greenaway's conception of the piece not as a story but as a kind of portrait – a painting, in music and words, of a small world ruled by love. "I was interested in the idea of making an opera about harmony, about unheroic harmony. Most operas, being dramatic, rely on conflict, and therefore evil figures in a big way. I wanted to use the domestic innocence, the sheer balance and goodwill which Vermeer's paintings represent, as a subject for an opera."
A far cry from his most recent film, Eight and a Half Women, notable for a brothel containing among others a bilateral amputee (the "half" of the title), Writing to Vermeer may be Greenaway's gentlest and most elegiac work to date. Among the last words in his libretto are "We all love you. Yours, for ever and ever. And always for ever and always and for ever and always and always." But musically and visually the opera itself ends with a kind of watery Gotterdammerung, which alludes to the fragility of the very world which it celebrates. In 1989 the assiduous historian John Michael Montias, author of Vermeer and His Milieu, discovered new documents in the Delft archive showing that the painter's life had ended in indigence and tragedy. Ruined by the collapse of the Dutch economy in the 1660s, Vermeer appears to have gone into an extremely sudden decline, followed soon after by the heart attack which killed him. This much is fact. Greenaway says that Montias's book powerfully affected his view of the painter: "Imagine, he had eleven mouths to feed, he's already in debt, supposedly he goes into a domestic panic and within three days he's dead. His wife has this huge debt to pay off, which she never does, the children are farmed out and it's poverty, poverty and disaster at the end. It is just very sad."
Greenaway has the reputation of being a rather cold and overly intellectual man. One of the things he responds to in Vermeer is, clearly enough, the painter's own formidable intellectual detachment – his unprecedented determination to paint the world as revealed to him through the lens of the camera obscura, which led him so far from the painting conventions of his time. Greenaway talks admiringly of Vermeer's formal austerity and of his "unsettling fidelity to the truths of the photographic eye: he is one of the first artists to paint compositions that seem cut off in the slightly awkward way you find in photographs, to paint certain things in slightly soft focus, to embrace almost in a John Cage-like way the accidents that reality presents."
But in other ways, Greenaway's love of Vermeer seems almost painfully uncerebral and emotional. Above all, he says, what Vermeer represents to him is the beauty and frailty of "the domestic idyll". "All of us, whatever our backgrounds, whatever our sexual delights, whatever our desires, we all crave the domestic idyll. I am fascinated by how the private and the public life relate to one another and perhaps conflict with one another. But it doesn't seem to have worried Vermeer. He found a way. He created this idyll, he lived it, he painted it." Greenaway says this with what appears to be a great sense of sadness, or at least wistfulness. Perhaps it is not pure coincidence that he should have been working on Writing to Vermeer at a time when his own domestic life should have been so unsettled. Two years ago he separated from his wife Carol, the mother of his two grown-up daughters. The family home in Wales was sold and Greenaway emigrated to Holland, where he now lives and works.
Looking through the increasingly extensive back-catalogue of Vermeer-inspired works of art and literature, others too seem to have been drawn to the painter through the veil of their own lives and preoccupations. Proust's Vermeer was an exquisite translator of memories into art, an artist who could paint "a little patch of yellow wall" with such feeling and delicacy that he elevated it to the condition of what Proust himself immortalised as a madeleine. Lawrence Gowing's Vermeer was a painter, as Gowing himself was, driven by "the fantasy that on a flat surface the world in essence could become his." Zbigniew Herbert's Vermeer is a playful intellectual, as Herbert is, troubled by a world in which faith is threatened by the advance of science. Tracy Chevalier's romantically inclined Vermeer doubtless reflects her own sensibility, while Susan Vreeland has freely admitted that writing about Vermeer has been, in part, a way of attempting to reconnect with her own distant Dutch origins. How often, when people set out to speak about the greatest artists, they end up speaking about themselves.