Vermeer and the School of Delft
Date: 30-11-1999
Owning Institution:
Publication: Sunday Telegraph Features
Subject: 19th Century Renaissance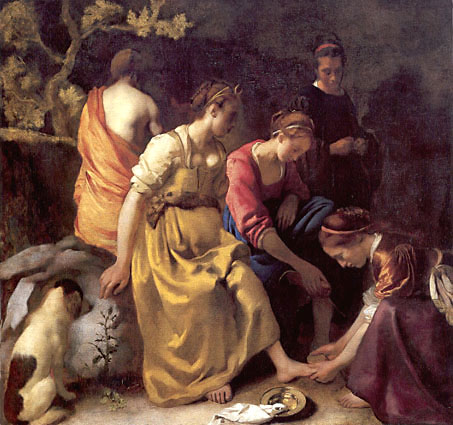 Johannes Vermeer, whose career spanned twenty years and whose known oeuvre comprises (at the latest count) just thirty-four pictures, was the least prolific of the great artists. He was also one of the least effusive. Carefully composed and long deliberated, his paintings are exquisite and tantalising in equal measure. Momentary events – the arrival of a guest, the reading of a letter, a music lesson – are made to seem intriguingly momentous. The atmosphere is charged. There is a sense of breath being held and, usually, the implication that something is about to happen. But what, exactly? The painter rarely provides more than the merest hint. Having woven his spell of light, colour and atmosphere, he is loath to break it with anything so deflating as an explanation. Whereas most Dutch artists of the seventeenth century seem only too happy to clarify the meanings of their painted scenes – usually with the heavy underscoring of an instructive moral – Vermeer remains stubbornly reticent, eternally enigmatic. As Lawrence Gowing once observed of him, "There is in his thought… a deep character of evasiveness, a perpetual withdrawal."
"Vermeer and the Delft School", the National Gallery's principal exhibition of the year, previously seen at the Metropolitan Museum of Art in New York, constitutes the latest attempt to pin this most elusive of artists down. The aim of the show is to set Vermeer's work in the context of seventeenth-century Delft, where he lived and worked, and to place him squarely within the framework of a local tradition. It is a fascinating but necessarily doomed project, comparable in certain respects to the other large exhibition of seventeenth-century art seen in London this year, "The Genius of Rome" at the Royal Academy – which set out to "contextualise" the extraordinary achievements of Caravaggio, but which only ended up by demonstrating once more how exceptional he was.
"Vermeer and the DelftSchool" tells a similar story. Not only did Vermeer outshine every other artist from his native city, he painted with what appears to have been a lofty indifference to the prevailing conventions of art in Delft, or indeed more or less anywhere else, in seventeenth-century Europe. True, he painted traditional subjects, in his case those established by the masters of Dutch genre, but he did so with such tremendous technical and temperamental originality that he cannot really be said to have belonged to any particular tradition. There is little sign of his having been influenced by the work of any other Delft master, with the possible exception of the brilliant but ill-fated Carel Fabritius, the most naturally talented of Rembrandt's pupils, who had the misfortune to die young in the catastrophic accidental explosion of the town's gunpowder stores – the so-called Thunderclap – which all but destroyed the centre of Delft on 12 October 1654. Likewise, there is little evidence of Vermeer having had much impact on the subsequent history of painting in his home town, despite the manifest delicacy and originality of his art. He was a painter who arrived without trace and left without fanfare. Containing almost half of his known output, "Vermeer and the DelftSchool" confirms the singular and unrepeatable nature of his achievement: the creation of a hushed, beautiful, but hermetically sealed world.
The earliest Vermeer in the exhibition, a mythological picture called Diana and Her Companions, handles what must have seemed an unpromising theme for a painter with Vermeer's priorities. This particular episode from Ovid, in which Diana and her attendants are spied naked while bathing by the hunter Actaeon, had traditionally been treated by painters as a pretext for the depiction of some tempting female nudity. But Vermeer was uninterested in such titillation and turned the subject to his own ends. The picture inaugurated what was to be a lifelong preoccupation with the theme of women observed in private moments. Actaeon, the voyeur, is nowhere to be seen in his version. For her part Diana is not naked, but clothed in a beautiful golden robe. Her face is half-shrouded in shadow, like that of the sober and modestly dressed nymph who attends her – not bathing her mistress's whole body, as was customary in most renderings of the subject, but simply washing her feet. A mythological scene has been domesticated; but by the same token a simple domestic act, that of one woman helping another to wash, has been given the solemn and sacramental character of a rite. The parable of Christ washing his disciple's feet is brought to mind.
Nothing is known about Vermeer's character, but the Delft archives have over the years yielded much information about the circumstances of his life. Brought up as a Reformed Dutch Protestant, he was married to the daughter of a formidable and fairly prosperous Catholic lady from Gouda and settled down with his wife and mother-in-law in a house in Delft's so-called "Papists' corner". His many children – eleven in all survived childhood – were brought up as Catholics. So it can be assumed that even if Vermeer did not himself convert to Catholicism, he wholeheartedly supported his wife in her adherence to the old faith.
Vermeer's subjects were for the most part those that he might have seen daily, in his own house, where he was surrounded by women – wife, mother-in-law, maidservants and brood of mostly female children. Vermeer painted expectant women, attentive women, women absorbed in domestic tasks, women reading letters and writing letters, women pouring drinks, women sleeping. The secular bias of his art was determined to a degree by the sensibilities of the Protestant majority, who disapproved of religious images on doctrinal grounds. The principal challenge facing any Dutch painter of the time was succinctly formulated by the nineteenth-century French artist and author Eugene Fromentin: "given a bourgeois people, practical, not inclined to dreams, very busy withal, by no means mystic, of anti-Latin tendency, with broken traditions, a worship without images, parsimonious habits – to find an art to please such a people, an art whose fitness should be apparent to them and which should represent them."
In creating such an art Vermeer discovered – or invented – a new kind of mysticism, painting the domestic idyll as a kind of paradise. Perhaps one reason why his pictures seem so charged with secret or mysterious import is to be found in a form of displaced religious feeling. Painting The Milkmaid – a work which probably portrays the maid who served in his own house, Tanneke Everpoel – Vermeer sees a strong-boned young woman pouring milk from an earth-coloured pottery jug into an earth-coloured pottery bowl. She herself is a kind of earthy goddess, a no-nonsense figure, yet one who has still been sanctified, presented as a bringer of life-giving plenty. The kitchen vessels around her recall the burnished receptacles of the Mass, while the bread on the table beside her is reminiscent of the Eucharist. Golden light pours through the leaded panes of the scullery window like a benediction.
The secular, in Vermeer's art, often seems touched with an aura of sacredness. It is hard to think of a Dutch painter to whom Ruskin's catch-all criticism – namely, that all the artists of Holland were slaves to base materialism – seems less fairly applied. The women who write and receive letters in his work seem as blessed by pictorial association as his milkmaid. In their sweetness of aspect, they bring to mind traditional images of the Virgin Mary, an association reinforced in many cases by the fact that they are clothed in robes of a Madonna-like blue. Such pictures have been well described as domestic Annunciations. In the hands of other artists, a mood of erotic gallantry – and, as often as not, of moral disapproval – tends to prevail in scenes of this type. Clues are planted that the contents of the letters in question might not be entirely innocent. A broken pitcher or overturned glass might be included, for example, as a way of suggesting that adultery is afoot. Such hints of wrongdoing can occasionally be found in Vermeer, but they are not characteristic of him. X-ray analysis of several of his pictures shows that he quite often put in symbolic details of this kind, which might have been familiar as moral pointers, to his audience, from the emblem books of the day – only subsequently to paint them out. Vermeer knew the power of ambiguity and understood that, in the words of his contemporary, Jacob Cats, "many things gain by not being completely seen, but veiled and concealed". But he may also have wanted to preserve the innocence of the silent and perfected domestic world to which so much of his art was consecrated.
It might seem anachronistic to talk about a seventeenth-century artist's work as if it embodied a personal vision, as if it were produced in response to deepseated needs or compulsions. Yet in the case of Vermeer there is reasonable cause to do so. Research done in the Delft archives has revealed that the money he earned by painting made up only a fraction of the income necessary to keep up a large household and support a numerous brood of children. Vermeer's principal source of income seems likely to have been his art dealing business. After his premature death, at the age of 43, from a "frenzy" brought on by money worries, Vermeer's widow told a bankruptcy court that the failure of the art trade had been the principal cause of the family's sudden poverty. All of which suggests very strongly that during most of his career, when times were good, Vermeer painted not because he had to but because he wanted to.
The extreme fastidiousness of his work, the stunning richness and wholeness of almost every single one of his paintings (which makes the rest of the "Delft school" seem so thin and unsatisfying by contrast), can perhaps be explained as a reflection of his activities as a buyer and seller of art. He painted like a connoisseur of painting, with a profound awareness of the formal and sensual qualities that can make a work enduringly fascinating, and desirable. His perfectionism, it sometimes seems, knew no bounds, and certainly seems to have been unconstrained by the urgent deadlines under which nearly every other artist of his time had to work. There is internal evidence for this in the pictures themselves. Almost every one of Vermeer's scenes is illuminated by strong sunshine. The fact that he painted from life, in a northern European country where regular sunshine is by no means to be counted on, is a measure of the patience he could afford. During winter, he may hardly ever have picked up his brush.
Vermeer's reputation was not great in his own lifetime, largely for the very reason that he painted so little. His fame was also circumscribed by the fact that the few paintings he did produce were concentrated in the hands of a very small circle of collectors. He was only properly discovered, and elevated to the pantheon of the truly great artists, in the nineteenth century. But this too may say something about the special and radically unconventional nature of his art. The timing of his resurrection looks like anything but a fluke. It seems to have taken the advent of photography, and the related development of an Impressionist aesthetic, for the world at large finally to wake up to what Vermeer had seen and done all of two centuries before.
It seems certain that he used an early form of pinhole camera – a so-called "camera obscura" – in creating his work. In a fascinating recent book, Vermeer's Camera, the LondonUniversity academic Philip Steadman makes a convincing case for the theory that Vermeer actually painted from inside a sort of camera obscura cabinet, using a lens to project the image of his subjects, posed in the room before him, on to the surface of his canvas. This would explain the intriguing total absence of underdrawing from Vermeer's work (and indeed the fact that not a single drawing by his hand survives). It would explain his unique and original method of depicting reality, which he paints purely in terms of light and infinitely subtle variations of tone – just as images register in a camera obscura, or indeed on photosensistive paper – almost as if line did not exist as a medium for describing form. It also accounts for the curious, lens-like slippages of focus that we can see in his works. A wonderful example of this – it is one of the most breathtaking pictures in the show, as well as being the smallest – is his incomparable portrait of A Girl with a Red Hat, possibly Vermeer's daughter. Her face is in focus (just), but the lion's-head decorations of the chair in which she sits, being closer to us, are a blur, while the tapestry background is similarly occluded. Vermeer found pathos, as well as a fascinating technique for creating illusions, when he looked at life through a lens. The girl turns to face us, coming suddenly into focus. Her lips seem on the point of speech and she wears an air of mild surprise. Vermeer seems transfixed too, painting the moment with a passion enhanced by his sense of its very transience.
His paintings often radiate an intense aura of privacy, so that looking at them can feel like a kind of trespass. This is partly because his figures seem so self-absorbed, so utterly unaware that they might have an audience. There is also something unsettling about the sheer intensity of painterly attention which Vermeer brings to the depiction of the sweet domestic nothings that are his principal subject matter. The skill with which he paints a woman's skin and the moistness in her eyes, the ermine or silk that she wears, the gleam of pearl necklace or earring; the concentration and accuracy with which he depicts the modulations of colour in a blank plaster wall, or the pointille gleams of light refracted off each separate crumb in the golden crust of a loaf of bread – all this has to be seen to be believed. The riddle remains of just why such apparently slight phenomena of perception meant so much to the man who painted them, three and a half centuries ago, in a quiet room somewhere in Delft.
There are often maps on the walls of the rooms in Vermeer's paintings, their creased vellum charting the divided and violent world that lay beyond the domestic idyll. War, death and destruction were ever-present realities in the life of the artist. The centre of Delft was shattered by a vast explosion in his youth. Several of his children died in childbirth. He was to be all but ruined in the financial crash that followed the French invasion of Holland in 1672. None of these bare facts can explain Vermeer's art or weaken its spell. But his sense of beauty does seem always, somehow, tinged with sadness. He records the moment, knowing that it will pass, knowing that the tranquillity that he treasures will inevitably be disturbed and destroyed. Vermeer's paintings are dreams of the impossible, stopping time and preserving perfection forever.