Seurat's Bathers by Howard Hodgkin
Date: 30-11-1999
Owning Institution: The National Gallery
Publication: Sunday Telegraph Features
Subject: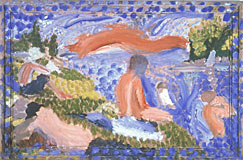 Three years ago the Director of the National Gallery, Neil MacGregor, asked Howard Hodgkin if he would like to be involved in an exhibition called "Close Encounters". The idea, MacGregor explained, was to put together a show of works by living artists inspired by particular paintings in the museum. Was there a National Gallery picture on which Hodgkin might like to base a new work of his own?
The artist accepted the invitation with enthusiasm. "I'd always wanted to paint my own version of Seurat's Bathers at Asnieres," he recalls. "I'd wanted to do it for thirty years. To me it was always the great classical painting, an extraordinary example of a man taking a part of his life and turning it into a kind of monument, a totally self-contained image." The ambition to do the same has animated much of Hodgkin's own work. He likens the process of creating his own version of Seurat's masterpiece to "having a conversation". Two weeks from now, when "Close Encounters" opens, eavesdropping will be possible. Hodgkin's painting will be hung next to Seurat's in Gallery 44 of the National Gallery for the duration of the exhibition (14 June – 17 September).

Hodgkin's picture will no doubt shock some of his admirers, both on account of its vehemence and its extreme and surprising legibility. The majority of the artist's works have been inspired by private experiences and many are painted in an oblique and enigmatic style. But here all is explicit because, for once, we can compare the painter's starting point – Seurat's picture, right there on the wall of the National Gallery – with what he has made of it. Hodgkin remarks that "A friend of mine, when he saw the painting for the first time, said 'How incredibly generous of you to let people see your working methods'. He wasn't being entirely serious, but there's an element of truth in it."
Seurat's Bathers was painted on top of a carefully drawn transcription of Seurat's picture of men swimming and relaxing by the Seine, executed by Hodgkin's studio assistant. It is almost identical in size to Seurat's original, which makes it one of the largest paintings Hodgkin has ever done. Seeing the two paintings together it is not entirely easy to decide whether the more recent of them is an act of homage or a subtle declaration of independence. Perhaps a bit of both.
Seurat's Bathers at Asnieres seems to aspire to the timeless monumentality of a fresco by Piero della Francesca, whereas Hodgkin's reworking of it pushes it in other directions. What was still becomes mobile; what was fixed becomes glanced; what was reserved becomes sensual, and vehement. A world where everyone and everything seems to exist, melancholically, in a perpetual state of apartness, has become a world where all touch and blend, where man and land and river and city have all become part of a continuum. A reflective modern pastoral has become a kind of bacchanal, where even if the figures themselves remain still and in their pre-ordained places the paint itself is dancing. Certain elements in Seurat's painting, such as the dog, have been eliminated altogether, while others have been given an altogether greater prominence. The smoke from the distant factories, no more than a background hint in Seurat's picture, has become a great swipe of flesh-coloured pigment – this is the Industrial Revolution made palpable and turned into a great exhalation of human energies – while the still surface of the Seine has been churned into waves. Seurat's picture is designed to hold the viewer at arm's length, but Hodgkin's picture invites the viewer to strip off and dive in.
What originally began as a dialogue between Hodgkin and Seurat seems to have become a conversation in which other painters' voices were heard too. In creating his free variation on Seurat's work, in possessing it and making it his own, the painter has clearly borne in mind the work of nearly all the other great French painters of the early modern period. Degas, Van Gogh and Renoir; Vuillard and Bonnard and Matisse – it is almost as if each in turn has been allowed to try his hand too at reworking the Bathers at Asnieres. The result is a riotous, exuberant work, a carnival celebration of art and life and the alchemical transformations wrought on the one by the other.

"When I finished the picture, the curator Richard Morphet asked me if I thought it might be the beginning of something. I said I thought it wasn't really, but perhaps more of a summing up." Although it is very unusual, taken in the context of the artist's oeuvre as a whole, Seurat's Bathers may also be seen as a kind of resume of his development. In transforming Seurat's masterpiece, Hodgkin has also created a kind of model or microcosm of the changes which he has wrought upon his own work during the later part of his career. He has moved increasingly from drawing to gesture, from line to colour, from statement to suggestion - from a vision which depends on the perceived separation of man and that which he experiences to one which draws its very life and energy from a deep sense of their interconnectedness. The buzzing, pulsating world of Seurat's Bathers seems to express a sensibility fascinated to the point of enchantment by the mysterious nature of everyday existence. In this, it is not at all the freak or sport which some might take it to be, but a kind of epitome. It is a picture in which Hodgkin seems himself to be meditating on the nature of his own vision of things, acknowledging some of those who have helped him to arrive at it, while also measuring the distance which he has travelled.