ITP 273: The Family of Jan Bruegel the Elder by Peter Paul Rubens
Date: 24-07-2005
Owning Institution: The Courtauld Galleries
Publication: Sunday Telegraph "In The Picture"
Subject: Renaissance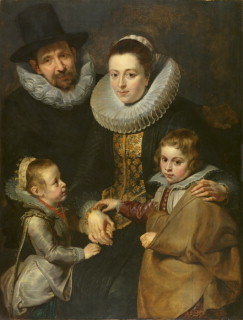 Today is Parents' Day, so this week's picture is a portrait of two proud parents with their children: The Family of Jan Bruegel the Elder, by Peter Paul Rubens. Like Rubens, Bruegel was a painter. The two men knew each other well, so the picture reproduced on this page was almost certainly done as a personal favour.

The work remained in the collection of the Brueghel family until the 1650s, when it passed into the ownership of another well known Flemish painter, David Teniers the Younger – a testament to the close relationships that existed between the leading artists of seventeenth-century Antwerp. In the twentieth century the painting was bought by Count Antoine Seilern, an English-born Middle European aristocrat, of Austrian descent, who built up one of the most remarkable collections of Old Master painting in Britain during the course of his long and eventful life. Big-game hunter, qualified pilot, racehorse breeder and lifelong philanthropist, Seilern bequeathed his collection, on his death in 1978, to the Courtauld Institute. So it is that The Family of Jan Brueghel the Elder can be seen, together with many other masterpieces acquired by Seilern, at the Courtauld Institute Galleries in Somerset House, London.
Rubens was the most celebrated Northern European artist of his day. Painter to the courts of Europe, he was famous as the creator of vast and magnificent cycles of allegorical canvases designed to glorify his princely patrons. But as this modest, heartfelt picture demonstrates, he could also be an artist of great warmth and humanity. He was a particularly good friend to Jan Brueghel the Elder, who like Rubens himself had been employed on several trips to Italy as an ambassador for the rulers of the southern Netherlands. But whereas Rubens was a fluent linguist, who wrote and spoke Italian effortlessly, Brueghel struggled. He asked his chum for assistance, and evidently got it. The Ambrosiana Library in Milan preserves the diplomatic correspondence of "Giovanni Brueghel", much of which is actually written in Rubens' hand.
As well as helping his friend with his homework, Rubens created the portrait that has fixed Brueghel's image for posterity. He shows the painter with his second wife, Catherina van Marienberghe, as well as the two eldest of the eight children she was to bear during the course of their marriage – Peter, who had been born in 1608, and Elisabeth, born the following year. The picture has been given the approximate date of 1614-15 on the basis that they seem to be about five and six years old respectively.
Rubens did not paint Brueghel in his working clothes, but as a wealthy and repsectable Antwerp burgher. Dressed soberly in black with a tall black hat, he hovers behind his wife and daughters, enfolding his whole family with his outstretched left hand. Rubens may have meant to allude to the idea, sometimes stated in Northern European treatises on art of the time, that conjugal love and close familial ties strengthen the creative capacities of the painter. Catherina, who has been placed at the centre of the composition, is benevolent muse as well as loving wife and mother. She also has something of a secular Madonna about her.

The closeness of the family is emphasised not only by the way they huddle so intimately together, but also by the play of their arms and hands. Jan Bruegel hugs his wife and by implication his children as well. Catherina holds the small hand of Elisabetta in her right hand while with her left she draws Peter close to her. Peter points, with his right hand, to one of Catherina's two matching bracelets, a traditional betrothal gift. The same bracelets appear in a number of Brueghel's still life paintings.

Emphasising the power of familial love to unite very different individuals, Rubens has given each of his four sitters a spectacularly different collar or ruff. Jan Brueghel wears a goffered collar, his wife a splendid cartwheel ruff. Elisabeth wears a flat upturned lace collar, which matches the cuffs of her silk dress. Peter, in a scarlet costume and brown cape, wears a flat white collar with lace trim that resembles pointed Gothic windows. Peter's clothes are particularly fashionable, and his slightly languid, gesturing pose was one commonly adopted by courtiers of the day – it appears again and again, for example, in the portraits painted by Rubens's pupil, Anthony Van Dyck, of members of the court of Charles I of England. Perhaps this was just a little joke, painting a boy as if he were a nobleman. Perhaps it expressed the parents' aspirations for their son.

Those aspirations, sadly, went unrealised. So did the hopes symbolised by little Elisabeth's expensive pink coral necklace, of a kind which was believed to protect children against evil. In January of 1625, Antwerp was swept by a cholera epidemic, which claimed the life of Jan Brueghel and both children shown in this picture (as well as that of another daughter, Maria, not yet born when it was painted). On 3 and 23 June 1627, Jan Brueghel's estate was divided among his widow, Catherina, and all the surviving children of his two marriages. His will was signed by his four executors: Pauwel van Halmale, Hendrick van Balen, Cornelis Schut and Peter Paul Rubens.