ITP 267: The Singing Sculpture by Gilbert and George
Date: 12-06-2005
Owning Institution:
Publication: Sunday Telegraph "In The Picture"
Subject: 20th Century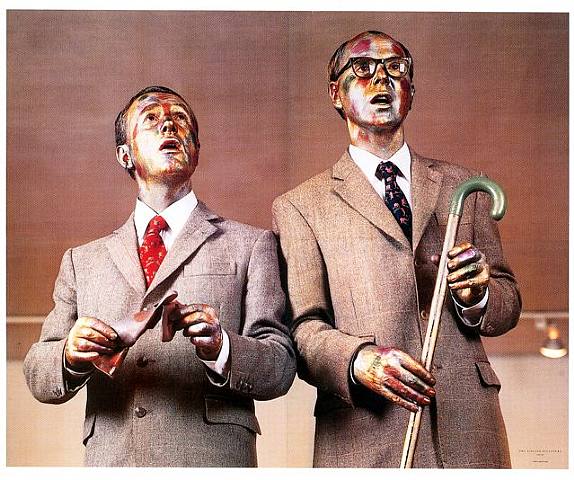 The world's longest-running festival of international contemporary art, the Venice Biennale, opens to the public today. This year, the grandees of the British Council have decreed that the nation be represented by that well known artistic double-act, Gilbert and George. So today's picture is a photograph recording a performance of one of the works with which they first made a name for themselves – The Singing Sculpture.
Born Gilbert Proesch (b.1943) and George Passmore (b.1942), the pair submerged their individual personalities into the Siamese-twin-like persona of Gilbert and George shortly after meeting at St Martin's School of Art in London in 1967. "On leaving college and being without a penny," George later recalled, "we were just there. Just two physical presences, Gilbert and George." So it was, Gilbert added, that "We put on metallic make-up and became sculptures. Two bronze sculptures."
The Singing Sculpture marked their debut as a self-styled living work of art. It was presented for the first time in London, in 1969, at a venue in Cable Street, and took the form of a long and deliberately repetitive performance. Hands and faces bronzed, and wearing the tight-fitting flannel suits that would be their uniform for the next three decades and more, they stood atop a cheap table enacting what resembled a song-and-dance routine carried out by robots. Balanced on a wooden box in front of them, a cheap tape recorder played back the sound of a tinny 78 rpm recording of Flanagan and Allen's music-hall staple, "Underneath the Arches": "The Ritz we never sigh for, / The Savoy they can keep, / There's only one place that we know, / And that is where we sleep, / Underneath the arches, / We dream our dreams away." To the strains of the song, the living statues numbly played the part of wistful vagrants. Each time the tape reached its conclusion, the pair would take it in turns to step down from their makeshift pedestal, rewind it to the beginning, and start it playing once more.
The Singing Sculpture has been much imitated by street-performers, who now routinely dress themselves up as gilded Egyptian mummies, or what-have-you, and tediuously mime the part of stock-still statues. The piece's roots, however, do not really lie in performance, but in the world of contemporary art. The self-conscious and more than slightly camp romanticism of The Singing Sculpture, indeed the very gesture of designating themselves as "living sculptures", amounted to an act of rebellion against much painting and sculpture of the time. This tragicomic piece of ramshackle, abject theatre was Gilbert and George's playful way of rejecting the stern and distinctly masculine tradition of abstract welded steel sculpture introduced to England by Anthony Caro, who taught at St Martin's School of Art. It was also a reaction against the earnest neo-Dadaist obscurities of the Fluxus movement, and against the aggressively purged, reductivist aesthetic of Minimalism, which was in its heyday in the late 1960s.
Looking back on The Singing Sculpture from the perspective of the mid-eighties, by which time they had settled into producing the gridded photo-collages which have become their principal medium of expression, Gilbert and George gave a characteristically teasing interview to the writer Lynn MacRitchie:
LM: Why did you pick that song?
Gilbert: Because we wanted to be like tramps.
George: The connection with the song – two people with nothing at all.
LM: Having nothing is a bit different from being a tramp, isn't it?
George: But artists are like tramps, you are not a normal person, you are an outcast.
LM: It then became a tremendous success?
George: Yes, it was an enormous success in New York, for example.
LM: Why do you think it was so successful?
George: It was just so new, happening in the middle of so-called Minimal art. It was also in the middle of the Fluxus movement. We disliked that.
LM: Why did you dislike it?
George: We disliked the form, rolling around the floor, dirty… We wanted to make a sculpture for everybody that everybody could understand, not where they thought 'what the devil's happening?'
LM: Did the fact that you used a music-hall song help to make people understand it?
Gilbert: The song made it possible for us, without getting exhausted, to go on for the whole day. It could have been almost any other song.
LM: The song has a sort of British quality which is one of the things about your work I hoped we might discuss.
Gilbert: We don't see it like that at all. They didn't even know what the song was all about in Germany… We feel very much that we are in the world, not in Britain. We don't have a message for Britain.
For all their protestations, I suspect that Lynn MacRitchie was on to something when she remarked on the "sort of British quality" of Gilbert and George's art. Their Singing Sculpture is reminiscent of the work of their contemporaries in the field of British comedy, the team behind Monty Python's Flying Circus, who also developed a good line in outlandish caricatures of the petit-bourgeoisie. As gilded city gents, Gilbert and George were playing the part of Little Englanders – and doing so seemingly to subvert, or at least comically expose, the social conventions and mental habits of those whom they parodically impersonated. Was there even an element of satire behind The Singing Sculpture, as there was behind many a Python sketch –the ambition, perhaps, to comment, however lightly, on the general indifference of polite society to the plight of the homeless? Gilbert and George say they dislike such interpretations of their work, so there is no way to prove the hypothesis. But I persist in seeing something undeniably Pythonesque about their adopted persona, so Cleese-like in its suggestion of all sorts of repressed strangeness lurking within the stifling carapace of traditional English tailoring. Looking back at them now, as they were at the start of their career, stepping for the first time on to the stage of British art, they even remind me of the line that became the Python mantra: "And now for something completely different."