ITP 231: William Nicholson by Augustus John
Date: 26-09-2004
Owning Institution: The Fitzwilliam Museum
Publication: Sunday Telegraph "In The Picture"
Subject: 20th Century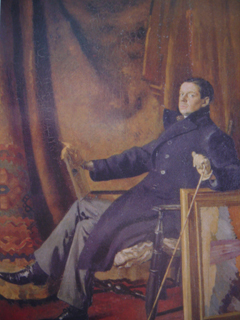 On the eve of a new exhibition at Tate Britain devoted to the art of Augustus John and his sister Gwen, this week's picture is one of the most assured portraits of Augustus John's early career: a swaggeringly theatrical depiction of his slightly older friend and fellow painter, William Nicholson. John painted it in 1909, when he was in his early thirties. The work is owned by the Fitzwilliam Museum in Cambridge, to which, after the exhibition at Tate Britain is over, it will return.
Augustus John always nurtured the ambition to paint on a grand scale, the scale of the great Renaissance masters of the past, or of ambitious nineteenth and twentiueth-century painters such as Pierre Puvis de Chavannes, Matisse and Picasso. "When one thinks of painting on great expanses of wall," he said in 1939, "painting of other kinds hardly seems worth doing." But despite his precocious abilities as a draughtsman John suffered from a fatal lack of imagination and was in any case virtually incapable of working on a large scale, because the challenge of organising many figures into coherent and convincing compositions proved beyond him. So almost all his best work, like the picture reproduced here, falls into the category of "other kinds of painting". The portrait's effect derives in large measure from the witty simplicity of its composition, designed on a diagonal running from bottom left to top right corner of the canvas. Above an imaginary line drawn across the picture between those coordinates there is only an expanse of curtain, a slice of jauntily crossed and nattily betrousered leg and an elegantly gloved hand. The principal energies of the portrait are concentrated below, focussed in the haughty, quizzical and intriguing expression which John has caught – or contrived to place – on his sitter's face. Despite the success of the composition, John had his doubts about it, writing to his friend Lady Ottoline Morell that he thought he should perhaps enliven it by the addition of a "huge nude girl". It is hard to know where he would have fitted her in, other than sitting on his friend's knee. Perhaps, on reflection, John was only joking.
William (later Sir William) Newzam Prior Nicholson had let John know that he would like to be painted by him, and the portrait was in effect a gift. A small fee was agreed, but it was never paid nor sought. Both artists were at crossroads in their lives, a situation to which the picture may allude. John had been living the life of a self-conscious bohemian, in a menage a trois with his first wife, a young student he had met at the Slade School of Art called Ida Nettleship, and his lover Dorelia McNeill. Together they had travelled the country, together with Ida and Augustus's numerous brood of children, in a gypsy caravan, ostensibly so that he could immerse himself in the romantic world of the down-at-heel traveller. Ida died in 1907, giving birth to their fifth child, and by 1909 John's life as a painter was also in some turmoil, as he experimented with a variety of styles – Fauve, Symbolist, Impressionistic – but found he could settle on none. For his part, Nicholson had been working together with another painter, James Pryde, under the comical company name "J. and W. Beggarstaff", poster-designers; and he had also made a name for himself as a designer of graphic work and décor for the theatre. But at the time John's portrait was painted Nicholson had begun to concentrate on the still-lifes and portraits for which he became known (and knighted): lusciously painted, low-toned, backward-looking pictures, redolent with his admiration for the art of Velazquez. This may help to explain why John has painted this particular portrait as a homage to, or wry pastiche of, Velazquez's royal portraits. The picture's palette is muted, dominated by the warm earth colours and darks associated with the Spanish painter's work. The dandified sitter, darkly austere in his many-buttoned overcoat with upturned collar, has an air of almost regal hauteur.
In truth, Augustus John was always most at home as a pasticheur or mimic of the Old Masters. When he was a student at the Slade, such were his gifts as an academic draughtsman that Sir Henry Tonks acclaimed him as another Michelangelo, a judgement with which Sir John Singer Sargent concurred. But the belief that those gifts necessarily heralded a brilliant future proved to be sadly misguided. Although John tried to play the part of an avant-gardist, at least for a few years before and during the First World War, his heart was not really in it; and he declined with alarming rapidity into a distinctly second-rate artist.
John has included a couple of his own self-conscious essays in "modern art", bright and half-abstracted, in the portrait of Nicholson. The sitter rests his left arm on one and holds the other on his knee. He glances up from it and out of the painting – to meet the gaze, implicitly, of John himself, painting the portrait. The look in his eyes suggests a mixture of shock and contempt; it is a look that says "Really, dear boy, what do you think you are doing, painting like that?".