The blackboard jungle
Date: 29-09-1987
Owning Institution: Whitechapel
Publication: The Independent 1987 - 1999
Subject: 20th Century Now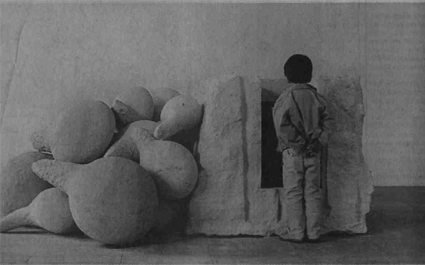 Andrew Graham-Dixon reviews Cy Twombly's graffiti art at the Whitechapel, and Vessel at the Serpentine

CY TWOMBLY arrives at the Whitechapel with glowing references. For gallery direc¬tor Nicholas Serota, Twombly's art represents "a conversa-tion with the highest achievements of the Renaissance in both arts and literature", worthy of comparison with the late, glowing canvases of Turner. Ten years ago Roland Barthes paid tribute to Twombly in a different vein, deciding that his pictures "recover the spirit of purest Zen".
At first sight, the assembled paint-ings have some difficulty living up to such eulogy. The earliest works in this retrospective, from the mid-1950s, are daubed in paint the colour and texture of mouldering cream cheese, on which the artist has incised his characteristic scrawls and squigglcs of pencil. Wading through this thick pictorial under¬growth, the thought occurs that you might merely be witnessing the last gasps of Surrealism.
Raising dyslexia to the level of fine art, Twombly's paintings-cum-drawings seem to pay inflated homage to the type of "automatic drawing" once touted by the Surrealists as a shortcut to the subconscious. Twombly's mys¬terious cursive brambles seem, too, /nore than coincidentally similar to the great gestural paintings of Jackson Pol¬lock — which posed an inevitable chal¬lenge to American artists of Twombly's generation, embarking on their careers in the 1950s aftermath of the New York School's heroic era.
But Twombly is a lot more than the sum of his influences. His spidery doodles meander diffidently across large areas of space, a far cry from the macho declarations of Abstract Ex-pressionism. Panorama, his early mas-terpiece, reads like a tonguc-in-chcck tribute to Pollock. On a black ground, a fine web of white scrawls expands directionlessly, crackling with sup-pressed electricity. Twombly takes Pollock's familiar high-energy web of gestures and puts it under the micro-scope — he is as interested, it seems, in the spaces between forms as he is in forms themselves.
Twombly is a master of what you could call anti-composition, the decentred image. The elements in his paintings — vague, biomorphic scribblings, the odd identifiable quota-tion or dedication ("To Lola"), numerical sequences that peter out incon-sequentially, blobs or blotches of hurled or smeared paint — seem, con¬tinually, to edge towards the limits of the canvases that frame them, threat¬ening evacuation. Panorama, like many of his black-and-white paintings (more of these at Anthony D'Offay) looks, appropriately, like a graffitied black¬board, an image waiting to be erased when the schoolmaster arrives.
Twombly's art invokes a bewildering range of references. Sometimes he seems autobiographical — phallic symbolism is rife in paintings of the 1960s, suggesting a decade of unremitting randiness. Elsewhere he focuses on the past. Abstract interpretations of myth abound — his Leda and the Swan is an explosion of dense scribbles, a hecti¬cally emotional abstraction that makes spot-the-swan a pretty fruitless pas¬time. He paints his own versions of famous paintings from the past — Night Watch reinvents Rembrandt's masterpiece as a rudimentary ghost of the original, remembering its compo¬sition as a boxy diagram, while elsewhere he produces stuttering images of sequential motion that read as phan¬tom Futurism.
Even at his most confessional, Twombly creates a sense of distance in his art, as if the sensations he records are already in the process of dissolution. He frequently veils motifs behind translucent washes of paint — paint¬ing as palimpsest, the image of a fading memory. The comparison with Turner is not as far-fetched as it might seem: Twombly, like Turner, is obsessed with the notion of flux, with entropy. Turner abolished the world in a sunburst, leaving only the ghostly traces of sea, sky or architecture floating in an etherized void. Twombly's paintings express a similar vision: envisaging history as a process of constant erasure, a yawning space in which personal and cultural memories mingle and dissipate. His paintings are visions of diaspora, of dispersal and effacement, which imply that old artistic moral sic transit gloria mundi — but in Twombly's ragged, patched art the world never seems glorious in the first place.
In 1957 Twombly moved from New York to Rome, where he has lived for the last 30 years. Twombly's paintings are redolent of Rome, its flaking civic architecture, its untidy juxtaposition of old and new. Moving from a city that lives in a perpetual present tense to one that embodies the fragmentary survival of the past, he staked out the ter¬ritory of his art.
Vessel, at the Serpentine Gallery, is an entertaining and eccentric show that aims (in the words of organizer and se¬lector Anthony Stokes) to abolish "the spurious distinctions between the fine arts and the crañs". The result is a kind of pot-pourri, a capacious and demo¬cratic exhibition that finds room for crafty art and arty craft alike: Janice Tchalenko bowls, molten with colour, rub shoulders with designer extrava¬gances by Bruce McLean, whose con¬tributions number a loopy fireplace for posers and a yellow metal jug six feet high; a huddle of Lucy Rie pots, as fragile as bone fossils, accompany Da¬vid Mach's china tigers nesting in piles of magazines.
The linking theme, here, is contain¬ment, the receptacle as carrier of meaning. It doesn't quite work. Putting pots and plates on plinths gives them an aura of the aesthetic, implying sov¬ereign uselessness, but they remain pots and plates none the less; although, in this era of "commodity sculpture", you hesitate over David Tremlett's glass case of tasteful grey ceramics — is this installation or salesmanship, art or stuff to eat your breakfast off?
The artists in this show remain, stub¬bornly, themselves. Ian Hamilton Fin-lay, continuing his personal obsession with the French Revolution, has branched out from guillotines and diversified into tricolored teapots. Not that guillotines are entirely absent: the lid of each pot boasts one in miniature, while an inscription reads "There are two aspects of the French Revolution, the epic and the domestic, the guillo¬tine and the teapot." Just the thing for a nice cup of afternoon hemlock. Anish Kapoor has constructed what looks like a megalithic shrine propping up a stack of enigmatic stone detritus, its interior powdered with pure, radiant purple — pigment in a poke.