The shock of the old
Date: 09-10-1987
Owning Institution: Manchester City Art Gallery
Publication: The Independent 1987 - 1999
Subject: 16th Century 17th Century 18th Century 19th Century 20th Century Now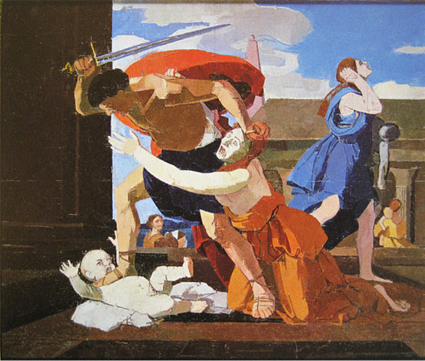 Andrew Graham-Dixon on artists copying other artists

"GENIUS," wrote Sir Joshua Reynolds, "is the child of imitation." You only need to look at his portraits to sec what he meant: Reynolds would happily kit out an English milord in the borrowed grandeur of a Titian monarch, or dress up some well-to-do couple like a Juno and Jupiter courtesy of the School of Bologna. His contemporaries admired him for it — he was, in their eyes, continuing a noble tradition. Since then, a host of "isms" has intervened. Imitation and tradition have become dirty words; geniuses are supposed to be, above all, original.
The spirit of Reynolds hovers, unfashionably, over much of the "•work in a new exhibition at Manchester City Art Galleries. Copying from the old masters was, for centuries, regarded as an essential part of any artist's training: "Past and Present", a quietly polemical show which assembles a mass of copies by 15 practising British artists (working mostly from masterpieces in the National Gallery), aims to prove that it still is. Frank Auerbach, in a catalogue note to his own old master studies, comments tersely that "Painting is a cultured activity — it's not like spitting, one can't kid oneself."
Cabbies do "the knowledge"; artists — at least the older, figuratively inclined British generation represented here — make copies. This is very much a nuts-and-bolts show, offering a series of artists' insights into How Masterpieces Work: the ways and means of composition (formal checks and balances, the well-managed horizontal or vertical), the handling of tone, the expressive tilt of a head or disposition of a figure. Francis Hoyland picks up a compositional hint or two from Frans Hals' great Family Group in a Landscape: Hals's busy group, thronging with anecdotal detail, is reduced to bare, linear essentials, its figures rendered in a series of hard, zigzagging rhythms.
This is more than just a dry technical exercise: the result — like many of the most interesting studies on show — works both as a sketch and as a kind of visual commentary on the original, suggesting as much about Hals as it does about Hoyland. Hoyland's skeletal version, virtually a diagram of the thrusts and counter-thrusts of movement in Hals's composition, reminds you how unstable this family grouping really is. The children in Hals's portrait, particularly those to the extreme left of his serene father, mother and grandmother, seem almost to fall away from the rest of the group — a compositional device that becomes particularly clear in Hoyland's motion study, and which suggests the frail bond of kinship, the transience of familial harmony.
Deciding what to copy, artists reveal much about their own concerns: Hoyland's work as a landscape painter seems similarly engaged with transience, the inevitable flux of nature, expressed in the declining angle of a tree-trunk or the flickering rhythms of light and shade. Timothy Hyman, whose paintings cultivate moody unease, takes lessons in human awkwardness from a Balthus child and Watteau's Gilles, vulnerable youth and tragic clown. Leon Kossoff copies the same Hals as Hoyland, but seems more interested in the group's emergence from the shadowy landscape that frames it. Hals's figures, in Kossoff s sketch, struggle through a jungle of dark scribblings — a graphic equivalent to Kossoffs heavy, clotted cityscapes where the image, similarly, has to fight towards rec-ognizability.
This veers away from the copy, and towards appropriation: Kossoff replaces Hals's pictorial language with his own, and it is probably no coincidence that the strongest artists in this show ring the most striking changes on their originals. Frank Auerbach renders Titian's stately Vendramin Family in draughtsman's shorthand — Titian's painting becomes pure structure, like the forked lightning that plays across Auerbach's own paintings of Primrose Hill. Euan Uglow takes the Euston Road approach to Poussin 's The Massacre of the Innocents; flattening the frieze-like original still further, his dry, patchy handling makes the biblical story feel like some grubby urban incident in NW1.
"Past and Present" is a distinctly untrendy show. Few of the masterpieces the artists have chosen to work from are in the show — this is, after all, a lowish-budget Arts Council touring exhibition — so you have to make do with reproductions and memory. The installation, with its packed walls and display cases, can be confusing, but the general air of DIY seems appropriate: artists at work. This is a show with a sense of history, not as a dustbin of dead traditions, but as something alive, worth rediscovering: the shock of the old.
Copying, or "simulation" (to use the current jargon), is a controversial issue these days. The latest wave of New York artists, discussed in this column a few weeks ago, also copy from the past, but they do so in an altogether different spirit: Philip Taaffe's literal copies of Bridget Riley Op Art paintings are knowingly hollow replications which I suggest that the past's salient characteristic is its deadness. In one of the cleverer escape clauses of recent art theory, Taaffe justified his facsimiles as "portraits of the passage of time ..."
Not even such a thin, spurious justification exists to excuse the paintings of pop anthropologist and "personality" Desmond Morris, unveiled as "The Secret Surrealist" in an exhibition at the Mayor Gallery. In an accompanying book, Morris explains the origins of his art somewhat disingenuously: "While studying animal forms," he writes, "I was inevitably influenced by biological shapes and structures, colours and patterns... I started to evolve a world of private creatures of my own." Morris's world is anything but his own: his canvases throng with melting, fleshy nodules, copulating biomorphs and kiddy-cute diagrams that could easily be mistaken, without their labels, for the works of Tanguy, Dali and Klee. This is copycat art. It might be acceptable as a private hobby, but hung on the walls of a Cork Street gallery (these paintings are not cheap) you suspect Morris feels he is on to a nice little earner — a naked aping of the Surrealists.