The all-star cast
Date: 29-03-1988
Owning Institution: Museo Thyssen-Bornemisza
Publication: The Independent 1987 - 1999
Subject: 16th Century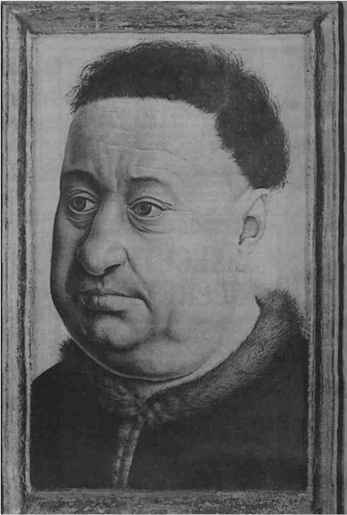 Andrew Graham-Dixon on an exhibition of works from the Thyssen-Bornemisza Collection
BARON THYSSEN-BORNEMISZA, painted by Lucian Freud, looks a worried man. Maybe the insurance premiums on his art collection have finally got to him; maybe it's the influence of the artist, who generally makes his sitters look anxious, uneasy. Behind the Baron, Freud includes a detail from Wattcau's Pierrot Content, one of 53 pictures currently on show in "Old Master Paintings from the Thyssen-Bornemisza Collection".
Strategically placed in the anteroom to the exhibition, Freud's painting asks a pertinent question. Why are you here? To see a bunch of fine Old Master paintings, normally kept under wraps in the Villa Favorita? Or to focus on their possessor, to draw conclusions about the heart and mind of the owner from the objects that he owns?
It's hard to work out much about Thyssen from his Old Masters. For a start, this is not the collection of one man but two, the present Baron and his father. The father tended to specialise in painting of the Northern Renaissance, but even within this relatively specialised area there is little evidence of what you could describe as a genuinely personal taste.
You get Durer's magnificent, harsh Christ Among the Doctors, in which a plumpish infant Christ, counting on his fingers the reasons why he is right and they are wrong, puts a gaggle of gnarled, caricatured sophists to shame. The focus is all on the hands: Christ's are elegant, the embodiment of His divine reason; placed at the dead centre of the compo-sition, they are in stark contrast to the doctors' knotted, misshapen mitts. It's a great painting, and best left as that, rather than as part of a collector's vision. There is little point in searching for a logic to connect it with Hans Baldung Grien's Portrait of a Lady, also bought by Thyssenpre a pallid harpy in furs and jewels, she is the perfect femme fatale, 1530s-style. Her pose, apparently, was adapted from a Cranach Salome; she looks as though nothing would please her more than a head on a platter.
Such wildly divergent images could be read, simply, as laudable evidence of the collector's eclecticism. But this exhibition's degree of incoherence suggests a more probable explanation of its contents. You get the feeling that many of the pictures are there simply because they were the best things on sale in a particular year, or because they happened to plug a gap in the holdings. The pair of El Grecos, both bought by Thyssen fils, are sadly sub-standard; Baroque rockets that misfire. The suspicion lingers that they are there simply because they are, after all, El Grecos acquisitions made in a namedropping spirit. Nearby,Bramantino's masterly Risen Christ shows them up a ghoulishly accusatory figure, drained of blood, He enjoins you never to forget His sacrifice.
From Renaissance portraiture to devotional imagery, and on to the Baroque (with a thigh-flashing Boucher temptress and a pair of Watteaus thrown in to provide a little Rococo light relief), there's a distinct sense of the got-to-have-a-bit-of-everything syndrome. But collecting, which is rarely dictated by purely logical concerns, is an innately surreal activity. This show is full of weird incongruities the chance encounter, for example (in the first room) of Holbein's Henry VIII and, a few pictures along, Jan Poiack's portrait of a Benedictine Monk.
The Holbein is a small painting, rendered with a miniaturist's attention to detail, which somehow manages to bulk large. Henry's intricate doublet, all delicate scroll motifs and jewelled excrescences, and his fur-trimmed raiment shot with gold, threaten to turn him into a secular icon, a stuffed dummy overwhelmed by his own finery. But nothing can prevent that plump-jowled mountain of a face, its eyes lost, pig-like, in a spreading expanse of flesh, from stealing the show. Henry had just had Ann Boleyn beheaded, and was obviously feeling pretty good about it; Holbein accentuates the monarch's self-confidence, his assurance in his own sheer physical bulk, by cropping his shoulders at the frame's edges, as if no picture could quite hope to contain such a presence.
Gazing into the distance, Poiack's monk bears the attributes of his vocation with impressive dexterity, holding open a book, presumably the Rule of St Benedict, and balancing on his forearm a glass beaker from which pops up a diminutive serpent (this apparently refers to an episode from the life of St Benedict when the dastardly monks of Vicovaro attempted to poison him). He clearly has heaven on his mind. Kingly confidence on the one hand; dour, saintly abstractedness on the other. There is something comical about their cohabitation.
The feeling recurs throughout the sense that, while many of the works on display are fine specimens, that, in the end, is all they are. Stripped of the context, and the logic that brought them into being like the Duccio panel which once formed part of the back predella of the master's great Maest altarpiecc for the cathedral of Siena they seem curiously stranded, mere baubles on display. The Thyssen collection is like a football team put together entirely through the multi-million dollar transfer market: plenty of individual flair (another of the Thyssen all-stars worth looking out for is the Master of Flmalle's sad-faced Portrait of a Man, captured with arresting high fidelity, down to the last fleck of stubble), but short on teamwork.
The collection is remarkable for having been built up in this century; as great private collections go, this makes it some-thing of a parvenu. Whereas many of the old, blue-blooded collections would have a necessary, familial logic to them comprising, for example, portraits of relatives, paintings of noble properties owned by the family the Thyssen's sole binding agent is common ownership. The Academy plays this up, including photographs of the Villa Favorita that invite you to gawp at long, marbled vistas. But at the same time, the installation of the show occasionally dresses it up in the style of a much older collection. The first room of the show imitates the grand baronial halls of the past, in which you might expect to find the massed family portraits except that in this case, since all the portraits are of people entirely unrelated to the Baron who owns them, it comes across as something of a fake.
None of this detracts from the quality of the paintings. But what will spoil this show for many people is the Royal Academy's lamentable failure to control the number of visitors at any given time," which results in grotesque overcrowding. There are queues, frequently ten deep, to see each work; it's like looking at pictures in a crowded tube train.