ITP 125: The Little Schoolmistress by Jean-Simeon Chardin
Date: 08-09-2002
Owning Institution: The National Gallery
Publication: Sunday Telegraph "In The Picture"
Subject: 18th Century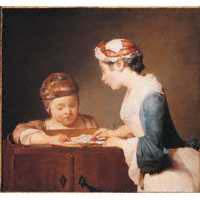 To mark the end of the summer holidays and the start of the new school year, this week's choice of picture is The Little Schoolmistress, by Jean-Simeon Chardin. The work was painted in around 1735-6 and can be found at the National Gallery. It is one of the most beautiful examples of Chardin's gentle and profoundly humane art.
The subject is in fact a private lesson, being given by a young lady to her much younger sister. With a long metal pointer, the "little schoolmistress" of Chardin's title indicates one of the letters of the alphabet printed in the pages of the book that lies open before her. The oblique angle at which the painter has placed her head creates the effect almost of a profil perdu (or "lost profile") and accentuates the pursing of her lips. This could just be a sign of concentration, but I suspect that the painter meant us to understand that she is teaching her lesson phonetically, enunciating the sound signified by the letter to which she points – which might, perhaps, be an "e". The smaller child attempts to follow, reaching forward to point with her own chubby finger and perhaps beginning to shape her own lips to make the same sound as her sister. The piece of furniture on which they are both leaning seems to be part folding table, part cabinet. Light gleams on the dark metal of the key in its lock, which projects towards the viewer from the shallow space inhabited by the characters in the scene as if gently to point a meaning. A store of learning is being opened to the little girl.
Chardin's paintings were almost unique in the France of his time in that they cut across class, pleasing both the rich, who bought them, as well as "le gros public", who enjoyed them principally through the medium of engraving. In this painting, as in many of the artist's other genre scenes, the social milieu depicted would seem to be that of a fairly well-to-do but not particularly wealthy family. This may partly help to explain Chardin's breadth of appeal. The young girl dutifully instructing her little sister embodies a world of unimpeachable moral values – the need for strict guidance for children, the importance of family unity, of cleanliness and of modesty – to which poorer people than this might aspire and to which richer people might turn as if to a kind of ethical primer, to remind themselves of the truest and most basic principles on which a healthy society should be founded. Chardin's contemporaries understood very well that a deep optimism, even a form of social idealism, underlay his much vaunted realism and "truth to nature". The philosophe and art critic Denis Diderot spoke for many of his countrymen when he wrote that in a crowded exhibition of many painters' works "You halt at a Chardin instinctively, just as the weary traveller will sit down, almost without noticing it, in a spot that offers him greenery, silence, shade and water."
Chardin is a moral artist but one who never irritates by moralising. There is no trace of exaggeration in his work, no sentimental tugging at the heartstrings. He never makes his people seem grotesque in order to force a point, as earlier Dutch painters of genre scenes had done. Neither does he involve them in lachrymose wide-eyed appeals to the audience, as his contemporary Jean-Baptiste Greuze did. Chardin's innovative and idiosyncratic use of paint was noted by his contemporaries and it too is part of what makes his work seem so persuasive. He does not merely illustrate a particular human situation; he finds a way of insinuating what he has to say about it into the very texture of his work. "There is no way of explaining this magic," Diderot believed: "thick layers of colour are applied one upon another, and their effect seeps through from the first layer to the last… Go closer, and the picture blurs, flattens out, and disappears. Step back, and it is created anew, takes shape again."
Chardin's "magic" is peculiarly visible in The Little Schoolmistress, where the painter seems consciously to have employed different degrees of finish in different parts of the picture. Not only is the younger girl dressed more childishly than her sister, but she is also painted a little more blurrily. In this way Chardin conveys the softer, less well defined contours of a child who has not yet quite lost her puppy fat. But perhaps he also intends the device to carry a light, metaphorical charge, to give pictorial reinforcement to the sense that the younger girl is less fully formed than her sister. (It is a little bit like looking at a chrysalis next to a butterfly.) By contrast the elder girl seem all the more pronounced and forceful a presence. Her white cheeks are flushed. A lock of hair has come down from her bonnet in a curly wisp. She has an extraordinarily red and surprisingly prominent left ear, which is beautifully painted and makes her seem almost startlingly human, the very embodiment of awkward early adolescence. Her gaze too is intriguing, seemingly fixed in the middle distance rather than on the page at which she points. This lends her a slightly melancholic air, suggesting that she might rather be somewhere else. Perhaps this was Chardin's way of reassuring us that no one, even in his calm and settled world, is entirely perfect.