Double exposure
Date: 11-07-1987
Owning Institution: Hayward Gallery
Publication: The Independent 1987 - 1999
Subject: 20th Century Now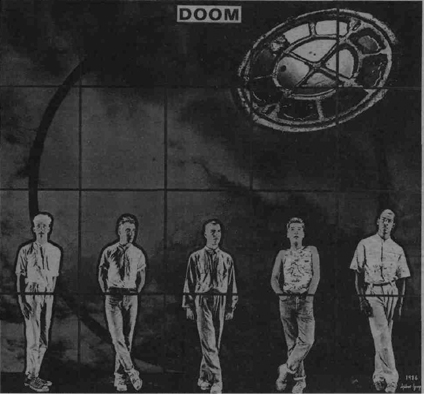 Andrew Graham-Dixon sees Gilbert and George make an exhibition of themselves at the Hayward Gallery
GILBERT sticks his tongue out in dis-gust, George licks his lips with relish. Gilbert's face is blue and his suit is green, George's face is green and his suit is blue. Behind them gigantic or¬ange turds float in space. Shitted (1983) is archetypal Gilbert and George: eye-catching, psychedelic, large scale, de-lightedly obscene and thoroughly mysti-fying.
Robert Crumb, the funniest Ameri¬can cartoonist of the psychedelic Sixties, invented a character called Mr Natural. "Mr Natural, wh- wh- what does it all mean?" hippies would ask Crumb's grcybcarded parody of a guru — "Don't mean shee-it" was the invariable reply, which is more or less what Gilbert and George's critics have been saying about their work for years.
Not that everybody sees it that way. Last year Gilbert and George won the Turner Prize, awarded annually by the Trustees of the Tate "for services to British art". On Wednesday a massive retrospective of their art in the Eighties opened at the Hayward Gallery. The work, hung wall-to-wall over what seems like acres, has undeniable impact. All those massive, gridded photo-pieces, glowing with garish colour like so much stained glass, turn the usually claustro-phobic Hayward into a profane, light-filled cathedral.
Drunk with God is a forty-footer that runs along one wall of the opening room in the show, a characteristic mess of mo-tifs that invite symbolic interpretation but which also, characteristically, resist logical resolution. Gangs of diconsolate adolescents stand in queues or go on the march clutching wooden staves; three fingers of a massive hand reach down into the painting at one corner; long dribbles of blood drip into it at another; all this is mixed with a host of miscella-neous objects that include a slice of lemon, a smouldering cigarette, a pound note, some keys and (naturally) another turd. Conceived on a truly heroic scale, which suggests a corresponding weighti-ness of allegorical intention, the work begs the usual, insistent questions. What is this art trying to say? What does it all mean?
Gilbert and George are taken ex-tremely seriously in some quarters. To coincide with the Hayward show, d'Offay's are showing new work by the pair, and the gallery handout places their art in "the great Christian free-thinking tradition that in Europe, through a handful of individuals, goes back to the Renaissance and beyond". The same text casts them as prophets of a new millenium, visionaries who an¬nounce a brave new world replacing the old. It gets worse: "They do not shirk the vast and difficult subjects of Life and Death, Hope and Fear, and they face the problems of divinity in God and man, the wonder and the beauty of the world in all its aspects and man's one¬ness with it".
The work has trouble living up to this kind of rhetoric. Hope, Death, Life, Fear read the titles of four large works down¬stairs at the Hayward. What you get is lots of flowers, boys in sports shirts and myriad wistful Gilberts and Georges — harmless, superficial stuff. Elsewhere, even if they are keen on the odd bit of glamourised violence, and even if they do include the odd clenched fist salute, shaken up in the kaleidoscope of their art these, too, seem harmless enough — inane rather than worrying, evidence of personal sexual preference rather than sinister political belief.
Formally, their art hovers uneasily be-tween the traditional and the modern — a hybrid of nineteenth century Gothic (stained glass revivalism, grand narra¬tive and the hard, photographic realism favoured by the Pre-Raphaelites) and Pop Art's glossy, colourful focus on low culture. But for all the visual clarity of their chosen medium, and for all their insistence that their art is "anti-obscure", you get the feeling that the artists themselves are hiding; ironically distant, they thrive on ambiguity.

Certain things are clear about Gilbert and George. Their likes: the male bum (in both senses, as social outcast and anatomical feature); young men, usually but not always of an Aryan cast; tongues and penises; flowers, fruit and vegeta-bles, usually chosen (like the bananas that spring from the head of each artist in Seed) for their phallic or anal sugges-tiveness. Dislikes: none apparent, but they are entirely indifferent to the fe¬male half of the species (women are completely absent from their work).
The most controversial aspect of Gil-bert and George's art is their attitude to all those waif-like young vagrants that pose so apathetically, with such lacka-daisical indifference, for the camera of this strangely besuited pair. Are these young kids, so bored, so limp and unmusclcd, really (as the artists' more vocal critics would have it) intended as beacons for the New Right, a rallying call to the massed ranks of skinheads, mods and soul boys?
The old controversy is likely to be refuelled by the new works Gilbert and George have created for the Hayward show: Gateway, Class War and Militant. Boys armed with wooden sticks pose flaccidly before jumbled collages of city architecture; rivers of red flow across these set-pieces. But this is a weak, jokey parody of radical art, Right 01 Left: a game of charades, in which — like whores dressed in jackboots and SS uniforms — these limp-wristed, bare-chested revolutionaries merely generate the frisson of a knowing, self-conscious sexual allure. They are far too coy, these stage insurrectionists, to mean business; Gilbert and George themselves, presid¬ing massively over proceedings like baleful sentinels of the revolution, look too much like Morccambc and Wise to be really threatening.
The artists refer obsessively to Chris-tian iconography — tongues stuck out in unison form a crucifix in Tongue Royal, a group of kids stand shiftily underneath two red crosses in Yellow Crusade. But il there is a religious content to Gilbcrl and George's art, it is a wishy-washy secularisation (and sexualisation) ol Christianity: their art often seems to be saying little more than, yes, it's OK tc like looking at young men's bodies.
For all the bright colours, there is something terribly depressing about their work. Gilbert and George's young men look perennially bored and morbid, not fresh and vital. There is an undeni-able air oí fin-de-siècle ennui about this art and its memorials to a jaded fascina-tion with undeveloped beefcake. In its way, their new work at D'Offays man-ages to achieve a certain power, because it is so frankly depressive. In the laconi-cally titled Doom, a line of languorous drop-outs pose like rent-boys, under the planetary aspect of a moon-like manhole cover. This almost suggests politi-cal statement: Gilbert and George's youthful idols seem oppressed by urban decay, trapped in the modern world of inner city decline.
But they arc also trapped, like the art-ists themselves, in the morbid fantasies of Gilbert and George — endlessly re-peating itself in different ways this art expresses, not hope, but confinement ¡n an empty, airless sensuality. Even the flowers in their work arc rank and deca-dent blooms, stinking of mortality.
There is one curiously moving work in their show at D'Offays: called, simply. Here, it has Gilbert and, George stand-ing, their hands spread in a gesture that implies both resignation and helpless-ness, against an urban landscape that contains only litter. In the end, the world of Gilbert and George seems a sad and lonely place, itself littered with the debris of a tired and endlessly recy-cled fantasy.