A light in Life
Date: 24-08-2006
Owning Institution: louise blouin foundation
Publication: Catalogue Essays
Subject: 20th Century Now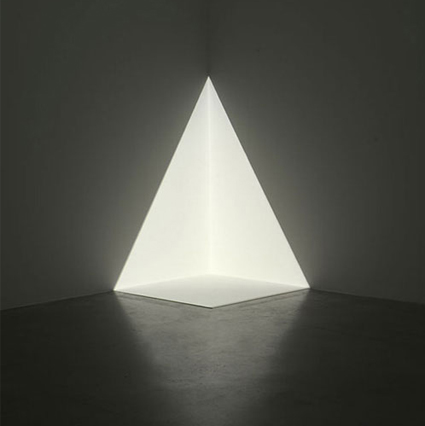 James Turrell. By Andrew Graham-Dixon.

"It's not the job description of any artist in any way to substantiate someone else's taste. It's the last thing on our minds. What I want to do is unfold my mapping of a new continent. I hope that people enjoy it but that really doesn't have anything to do with what I'm up to in my work."1
James Turrell is an American artist who has spent much of his career working with the medium of light. He does not paint its effects, as many artists before him sought to do, but seeks instead to create or capture specific experiences of light itself. Sometimes he uses artificial lighting, halogen bulbs or projectors, to conjure the effects that he desires. But he also works with ambient natural light, creating spaces and structures that receive, trap or direct the rays of the sun, moon and stars in all kinds of optically intoxicating ways. He uses coloured light from the sky as a painter uses pigment.
He places his audience in unusual situations and confronts them with optical phenomena that are often, initially, bewildering. His work is also calculated to make those who observe its effects peculiarly aware of the very act of observation – and, therefore, of the extent to which the limits of human perception frame all experience. His art takes place before the eyes while also seeking to expose the mechanisms of what goes on behind them.
Turrell has been bracketed with a generation of artists from the West Coast of America, who first came to prominence in the 1960s and who are known, collectively, as the "California Light and Space Movement". But his work is entirely idiosyncratic and unique. His art is dematerialised and ungraspable. When working in museums or other architectural spaces – by no means his preferred environments, although he has made much art for such settings over the course of his career - he is an arranger of carefully stage-managed experiences. His devices are those not of the conventional painter or sculptor, but of the theatrical metteur-en-scene and lighting designer.
Many of the artist's works occupy purpose-built, blacked-out spaces, and some are so subtle in their effects that they might seem, on first encounter, not to be there at all. They offer up experiences, rather than objects – experiences which, remembered later, may seem as vivid and strange as perfectly recollected dreams.
* * * * * * * * * * * *
For example, the viewer might enter an apparently pitch-black room. After a while, as the human eye adjusts to the circumambient darkness, two faint pools of light become apparent, glimmering like candles in a church at night. Then, gradually, an image – or what appears to be an image – becomes apparent on the far wall of the room. The apparition resembles an abstract painting, a rectangle of dark blue such as those created by Yves Klein (an artist whose preoccupation with the colours and textures of the sky prefigured Turrell's own, parallel obsessions). As time passes, and the viewer waits, the rectangle of colour seems to become brighter, although this is in fact an effect caused by the eye's adjustment to the low lighting conditions – a typical instance of the way in which the artist achieves his often stated desire to force the viewer of his work to "see themselves seeing – actually and directly perceive the processes of their own perception"2.
Once it has loomed into clear view, the shape appears to shimmer and vibrate. On walking up to the rectangle of colour, it turns out that it is not, after all, an object, but the absence of one. Rather than being a painting hung on the wall, it is a kind of window cut into it. Beyond it lies another space, like the stage of a theatre, filled with a low, pulsing blue light, the source of which is invisible. The mind knows that the area of this second space cannot be very large, because the dimensions of the architecture preclude such a thing. But the eyes are fooled none the less. The light is so low and the walls, floor and ceiling of the room have been so artfully elided – "the surfaces of the spaces that contain the work have to be so perfect as to be invisible"3 – that it appears limitless. Looking at it feels like looking into infinite space, or a piece of sky that has been miraculously brought to earth.
Turrell has in fact made works simply by creating rooms open to the sky – "skyspaces", as he calls them, shrine-like chambers designed to make those who occupy them pause and really look at the earth's atmosphere, to understand with renewed immediacy that all of human life takes place at the bottom of an ocean of ever-changing light.
He also specialises in making works that recreate an optical effect known as a "Ganzfeld". The term was coined to describe a disorientating experience first noted by Arctic explorers, namely a form of snow blindness which renders a person incapable of distinguishing the snow below from the sky above. Pilots flying in certain types of cloud formation experience a similar form of confusion. Turrell's interest in such phenomena is such that he even gave the explicit title Ganzfeld to one of his installations.
The work in question – there are several others which create a similar effect – consists of a vestibule suffused with yellow light, leading to a larger space where the light is a vibrant ultraviolet colour. Visitors are obliged to take their shoes off and don white paper slippers before entering the second of these rooms, a requirement which enhances the sense, common in the artist's work, of participating in some form of unexplained ritual. The floor of the second room, which slopes upwards like a ramp, is white, the same colour as its walls. But all are equally blued by the ambient light, the source of which is a space lying beyond a rectangular incision cut into the far wall. The light here is bright, so bright that it seems to fill the space with a palpable, granular substance, like a mist of coloured particles seething in the air. The closer one gets to the long window of blue at the end of the room – which also resembles a blank cinema screen – the more one has the impression of being absorbed by it. Gazing into the space that it frames, standing on its brink, the visitor is confronted by another of Turrell's illusions of infinity. The blueness looks as though it goes on forever. It has no edges, no visible dimensions and because there are no points of orientation, the experience of looking at it is giddying. Up and down become confused. In this way does the work justify its title.
The act of turning to leave Ganzfeld, however, reveals another perspective on the work – and, perhaps, on Turrell's art as a whole. The exit at the bottom of the ramp turns out to be framed by an arch of exposed blue neon. The vestibule, from which one originally entered, is seen against it as a square of dazzling acid yellow. The disjunction between this visual experience and the one that has immediately preceded it is both startling, and jarring. It is like turning from the blue mists of the infinite to find oneself in the lobby of a hotel designed by an architect with a penchant for minimalist styling features. It breaks the spell; but that might be the point. The artist snaps his fingers at those whom he has just hypnotised, waking them up to reveal that the sense they have just had of gazing into some sublime vastness was nothing more than an illusion. His figments of light are revealed as beautiful ghosts, projected in a cavernous space as bewildering as the Cave of Shadows famously dreamed up by the Greek philosopher Plato.
* * * * * * * * * * * *
James Turrell, impresario of luminous intangibilities, was born in Los Angeles in 1943. According to family legend, he was conceived during the height of what was feared to be an enemy air-raid on the city, as volleys of anti-aircraft fire boomed upwards into the night sky – a Shandyesque4 omen, at the moment of his begetting, of the trajectory subsequently traced by his imagination. His father, who died when the artist was ten years old, was an aeronautical engineer who taught at Pasadena Junior College. Turrell, whose own work involves much precise engineering and design, as well as a stubborn refusal to give in to apparently insuperable practical difficulties, inherited his father's problem-solving prowess.
Early in life he developed an intense curiosity about the sky, and what it might reveal about the larger realities of the universe. Evidence of man's struggle for astronomical knowledge, and for a greater understanding of deep space, was all around him in Pasadena – the Hale Observatory on Mount Wilson was close to his home, and the enormous 200-inch telescope of the Palomar Observatory was created at Cal Tech in Pasadena while he was growing up.
His childhood bedroom had been fitted with blackout curtains and his parents left them up after the war. They gave him the idea for his first experiment with light:
"My room had these dark green curtains with tar in the middle that were completely opaque. You could pull them down and make the room quite dark in the day, although some light would come in around the edges. When I was six years old, in order to assert my own presence in the room, I took a pin or needle to these curtains and pierced them to make star patterns and the constellations. I would simply make bigger holes for stars of greater magnitude. Pulling down the curtains and darkening the room, you could see stars in the middle of the day.
These weren't just holes in the curtains, they were holes in reality. By changing the reality of the conscious-awake state of day, one could see further into imagined space to the stars, which were actually there but obscured by the light of the sun … The curtains did not last long and began to tear because they were riddled with so many holes. Several curtains were greatly weakened by the Milky Way."5
Turrell was also interested in flight and flying from an early age, and acquired his student's pilot license at the age of sixteen. In 1960, he volunteered for the draft as a conscientious objector and was assigned to fly non-military missions for an air-transport agency under the direction of the CIA.6 The following year, he enrolled at Pomona College, Claremont, California. He registered to study Mathematics, but subsequently switched to a degree in Perceptual Psychology. He also took classes in Chemistry, Astronomy, Geology and Art History. After he graduated, in 1965, he registered at the University of California at Irvine, to take a series of courses in the visual arts. His principal interest was the study of painting, but he soon became more interested in creating his own work.
In slide lectures he had admired reproductions of Mark Rothko's glimmering abstract paintings, for the sense of inner light that they seemed to contain. But when he looked at them in the flesh, he found them a disappointment7. The realisation helped crystallise his conviction that he wanted to work with light itself – rather than using other materials, such as oil paint on canvas, to convey its properties.
The most immediate precedent for such an approach was to be found in the work of the slightly older American artist Dan Flavin. Flavin had begun dreaming of an art made entirely from the materials of modern electrical lighting sometime in the late 1950s and early 1960s, expressing the fantasy in a short poem inscribed in a delicate scrawl on a scrap of paper preserved, like a saint's relic, among his notes and sketches: "fluorescent poles / shimmer / shiver / flick / out / dim / monuments / of / on / and / off / art." Flavin created his earliest works using fluorescent light tubes in the early 1960s, He thought of them as a form of non-painting, or a way of painting by other means. Turrell, similarly, thought of his own earliest experiments as a way of attempting to paint with light.
It was during the brief period that he spent at Irvine that he embarked, properly speaking, on his career as an artist – although his first steps towards the creation of an art formed purely from light, shaped and controlled in three dimensions, were less than entirely successful:
"My first attempts to use light as space were in 1965 and 1966, using gas to create flat flames. I used hydrazene and different mildly explosive gases in a large-diameter burner with a very small honeycomb interior. The flow of gas that was achieved was quite laminar, and the speeds were the same in the center as out toward the edges. The friction was similar across the entire flow of gas, so I was able to achieve very flat flames. These were the first pieces that I made with light, and actually they were quite beautiful. But I had trouble controlling them. There was much too great attention on the hardware, although the flames were tremendously beautiful and exciting. I had a number of explosions when first showing these pieces, and they were soon abandoned."8
At around the same time as he was engaged in these experiments, Turrell happened to read an article by the art historian Michael Fried. In this text Fried complained that the cool, pared-down sculptures of the New York Minimalists – Donald Judd's modular arrangements of coloured steel, Carl Andre's mute stacks of bricks – seemed, to him, as spectral and lightweight as images projected by slides. A thought suddenly occurred to Turrell. Why not, indeed, use a slide projector to create works of art?
With the encouragement of his teacher at Irvine, John Coplans, he tried placing a blank slide in a projector and using it to create rectangular "images" of pure light on the walls of the art gallery at Irvine. He noticed that when he projected a beam of light into the corners of the space, it created an unusual effect. Seen from a distance, it looked as though a cube of solid white light, like a perfectly abstract hologram, was actually floating between the two walls of the room. The artist found that as long as he maintained a certain distance from the projection, this optical illusion was preserved. When he approached it, it disappeared before his eyes, resolving itself into two clear, flat surfaces of projected light bisected by the corner of the room. When he moved away again, the illusory cube would reappear. He had created a work that seemed to embody light, to give it a palpable presence, while also opening a window on to the vagaries of perception. He called it Afrum Proto. It would become the source for many other works.
* * * * * * * * * * * *
Turrell was forced to leave Irvine after just one term, when he was arrested and then briefly imprisoned for offering some of his fellow students advice on how to avoid being drafted into the Vietnam War. In the autumn of 1966, determined to develop his work as a fledgling artist of light, he moved to Los Angeles. He had a modest pot of savings, which he used to take a lease on the former Mendota Hotel in Ocean Park, Venice, a down-at-heel suburb of the city. Over the next two years he transformed the building, which was also his home, into a kind of laboratory for making art from light.
He transformed its interiors into a sequence of cubes and rectangular boxes. He blocked up the windows and painted the walls, floors and ceilings pure white. Between 1966 and 1969, he created numerous variations on the first light-projection piece that he had made in the gallery at Irvine. Using a Leitz slide projector focussed to different degrees of sharpness, he shone shapes of light on a wall. By making adjustments to the basic template of the blank slide within the projector, he created numerous different monochromatic images, each consisting of a simple geometric configuration – squares, rectangles, woozily floating trapezoids. Some of these forms have small, regular bites of shape taken out of them, so what the viewer sees might be a square with a smaller square removed from one of its corners, or a rectangle with a cut taken out of it. At first he worked purely with white light, but gradually introduced colour, particularly favouring vivid reds and cerulean blues – the intensest colours of sky and sunset.
Seen as paintings (and he did in fact produce several editioned prints based on them) Turrell's projected light images recall the forms of twentieth-century abstract art. They bring to mind the stark geometries of Mondrian, and are even more directly reminiscent of those floating lozenges of disembodied form set adrift on his canvases by the Russian Suprematist painter Kazimir Malevich. The precise relationship of Turrell's works to history – and art history – remains, however, fluid.
His light projection works are instinct with a spirit of monastic renunciation. These are images that plainly propose a rejection of the things of this world, in favour of a trance-like contemplation of pure light. Their resemblance to Malevich's works might, in this sense, be symbolic as well as merely formal. Malevich's Suprematism had its roots in the Russian anarchist tradition of the 1860s. Malevich would have agreed with the anarchist Bakunin's remark that "the spirit of destruction is the same as the spirit of creation". He also admired the German philosopher Hegel, who saw history as an evolution of "world spirit", in the process of which man gradually separates himself from material nature, ultimately achieving complete freedom through inward, spiritual illumination. Malevich's iconoclasm, his destruction of the conventional forms and images of representational art, was charged with millennial intent. He imagined, in the brief and brightly optimistic dawn of his career, that he could use painting both to announce and to inaugurate a new world order.
Turrell's art was never animated by anything quite like Malevich's almost hysterical, messianic fervour. But the iconoclastic spirit underlying the light projection pieces is, none the less, unmistakeable. This is a form of art that sets its face against all the old descriptive, mimetic, storytelling functions of traditional art – and deals in the disembodied, numinous nothingness of light.
There is a certain aptness about the fact that Turrell devised his early projection works just around the corner from Hollywood, of all places. The beam of light that shapes each work, travelling through the air and illuminating tiny motes of dust, resembles the beam controlled by the movie projectionist. The works could be seen as movies of indefinite duration, iconoclastically emptied of figures, actions and stories – a form of mystically purified cinema.
In fact, the artist remembers that one of the early criticisms levelled at his work was that it was too theatrical – and, specifically, that it did indeed evoke the vulgar spectacle of the cinema. "I was attacked for being theatrical, and I thought to myself, hey, you know, I come form California – from Hollywood! So my thought was, why is that a criticism? What do you expect"9 There has always been an element of spectacle to the artist's work. This is particularly true of his later, more spectacular gallery installations, such as the series inspired by the idea of the Ganzfeld. In this sense, he is an artist very much in the tradition of those nineteenth-century travelling showmen-cum-artists who created dioramas and panoramas – men such as Henry Aston Barker, or Jacques-Louis Daguerre, who was a painter of panoramas before he ever became involved in photography.10 He has said that he feels a sense of kinship with them.

* * * * * * * * * * * *
Turrell created his early works in an apparent vacuum, the self-imposed retreat of the Mendota Hotel. But he was also very much in tune with the dominant American art movement of his time, namely Minimalism (Michael Fried's intended critique of which he had, in a tellingly contrarian gesture, taken as the very catalyst for his first fully achieved work). Minimalism was itself an art born from a spirit of rejection, an art that rejected not only the mimetic, representational image, but also the spirit of frequently anguished self-expression that had animated the work of the most notable previous generation of American artists, the Abstract Expressionists. Where the Abstract Expressionists had dealt in heroic action, had made art that was manifestly touched in its every detail by the shaping hand of the artist, the Minimalists renounced the very idea of personal gesture. Their work was mute, impersonal, formed from things either machine-made (Judd's constructions, Flavin's fluorescent tubing) or pre-fabricated (Andre's stacked firebricks).
Turrell embraced a similar aesthetic of impersonality. Like that of the Minimalists, his early work is so utterly purged of image or reference that it reconnects with much older traditions of iconoclasm – religious traditions that go back, in America, to the time of the Pilgrim Fathers, and which have their biblical origin in the mosaic law of the Hebrews.
"Thou shalt not make unto thee any graven image or any likeness of any thing that is in heaven above or that is in the earth beneath, or that is in the water under the earth." The Minimalists obeyed the Second Commandment as obediently as any sixteenth-century Puritan. Their works revived the stark simplicity of the early Reformed church – a white space, purged of the paintings and sculptures of the Catholic Church by zealous iconoclasts armed with their hammers and chisels of destruction – within the pure white cube of the modern art gallery. The notion that such a link might exist is not mere conjecture. Carl Andre explicitly acknowledged the connection between his own work and the religious Reformation of the sixteenth and seventeenth centuries. His rows of bricks, which replace conventional figurative sculpture with objects that resemble plinths, more than the carvings that once traditionally sat on them, were – he once said – originally inspired by the empty plinths that he had seen in English churches on trips to Europe.11
Turrell's motives for creating his own early works with light do not appear to have been religious, at least in any conscious or conventionally doctrinal sense. But there are undeiniably strong parallels between the structure of his thinking and the imperatives of Reformation theology. The zealous iconoclasts of the Reformation destroyed works of religious art because, they believed, they obstructed man's view of God. Better to study His works, they believed – better to contemplate the majesty of His creation – than to contemplate mere images of Jesus, Mary and the saints. That was why they toppled statues and burned paintings. It was why they smashed centuries-old panels of stained glass and replaced them with panels of clear glass – to let the light of God shine, unimpeded, upon the congregation. Turrell too abandoned imagery for the experience of light itself. His attitude to making art has always been shot through with a deep suspicion of art, per se, as an object of contemplation. He has constantly tended to describe his work, not as an end in itself, but as a means of allowing people to experience natural phenomena that already exist in the world – with a renewed sense of wonder, and perhaps even awe.
"Light is a powerful substance. We have a primal connection to it. But, for something so powerful, situations for its felt presence are fragile. I form it as much as the material allows. I like to work with it so that you feel it physically, so you feel the presence of light inhabiting a space … It's always a little bit suspect to look at something really beautiful like an experience in nature and want to make it into art. My desire is to set up a situation to which I take you and let you see. It becomes your experience."12
Turrell's grandmother and mother were both practising Quakers. "Look within yourself, and welcome the light" – the old Quaker adage – was often repeated to him by his grandmother when he was growing up. He has kept links with the faith of his childhood, even designing a Quaker meetinghouse in Houston. A variation on the structure of his numerous "skyspaces", with a sliding roof enabling the congregation to commune with nature in clement weather, the building was completed in 2001. His more elaborate installations have the distinct feel of secular chapels, and all are conjured from a material long associated with revelation. Many of his creations are literal enactments of John, I, v : "And the light shineth in darkness."

* * * * * * * * * * * *

Turrell showed his work infrequently in the late 1960s. He had a one-man exhibition at the Pasadena Art Museum in 1967, but otherwise remained a somewhat shadowy and mysterious figure, who was occasionally prepared to show people the work he had created, but stayed resolutely out of the mainstream of the art world.
During the last two or three years of the decade, Turrell also began working with ambient light at the Mendota Hotel. He let light from the outside world back into his studio, destroying several partition walls and opening up the windows. By controlling the light that entered from outside during the day, he could use direct sunshine itself to paint moving shapes on the walls of the building. At night, he experimented with effects caused by the neon signage in the street outside, by flashing traffic lights and by the headlights of passing cars.
From such beginnings he eventually conceived a hybrid creation, somewhere between a series of light-projection pieces and a work of performance art, which he entitled The Mendota Stoppages. This was in fact a guided tour of the spaces in his studio, during the course of which the artist raised and closed his shades and awnings, opened and shut his windows, to create specific experiences of light. The tour lasted for a fixed period of time – either two or four hours – and could be staged during the day or the night. In a sense, the artist had begun to move in the direction of John Cage's aleatory music, creating work that was actually formed from the ceaseless flux of the circumambient world. Cage had done this most notoriously with his entirely silent composition 4' 22, the point of which was to create a space of time during which his silent audience might simply attend to whatever noises might be within their field of attention at the time (distant traffic, the cough of a neighbour, whatever). But in the case of Turrell's work, the outside world was filtered and transformed by his own interventions – abstracted into a series of experiences of pure light.
This work was inevitably transient, surviving only in the memories of those who experienced it. The Italian collector, the late Count Giuseppe Panza di Biumo, one of Turrell's most steadfast patrons, visited the artist at the Mendota Hotel in 1972. He experienced the Mendota Stoppages at first hand and left what remains the most memorable account of its effects. This is part of his description of the night-time tour:
"…he asked us to wait and be silent, to adjust our eyes to the darkness. Turrell began by opening a small hole in the upper part of of the end wall of the room. A soft, red light filled the opposite wall, strong in the middle, less so on the sides. The change in intensity was very gradual, almost impossible to do with paint; indeed the colour looked clearly not painted, so pure was its quality, so even the tone. Soon it became yellow and after a short time it became green, and then Turrell closed the hole and the room became dark. After awhile he opened another hole in a lower position. The incoming light was white and bright, running through the space like lightning. Staring at it, colour would rain upward making opaque the vision past it. There were no lamps behind the wall; the light was clearly coming from the outside. For awhile the light was steady, sending a strong beam reflected by the wall, and then it disappeared. Another opening was used, and a quiet, bluish light came in, in a permanent way…
…After about one hour, we moved outside and were able to see where the different lights came from – lights from the street and the cars passing through the intersection. Turrell was able to change in his art what is every night in front of us, but which we don't recognise because habit makes it difficult. If the goal of art is to make us aware that everyday life is beautiful, this goal was fully realised."13
During this period of his life, Turrell sold little if any of his work. He continued to modify the spaces of the Mendota Hotel, making a number of prototypical light-works that would become the basis for much of his art practice in the the later 1970s, the 1980s, 1990s, and beyond. He developed his first "Ganzfeld" pieces. He worked on creating illusory walls and wedges of coloured light that seemed solid until the viewer approached them. He created his first "skyspace", by making a structural cut in the roof of the building (his landlord found out and forced him to repair the damage). During these years of intense experiment, he sold nothing and made his living as a pilot. In 1969 he bought his first plane. He worked as an aerial cartographer and a crop-duster and delivered mail to towns and villages in the San Joaquin Valley. Being a handy mechanic, he also developed a sideline in restoring and then selling vintage planes and cars. He would continue to fly his own planes, long after he needed to do so to supplement his income.
* * * * * * * * * * * *
Turrell recently estimated that he had logged more than six and a half years of flying time – roughly a tenth of his entire life.14 The experience of flying has been crucial to him and might be counted the single most important formative influence on his work. When he was a teenager, he was entranced by the descriptions of the sky in the works of Antoine de Saint-Exupery. He has singled out Wind, Sand and Stars and Night Flight as books that meant a great deal to him when he was young. Each is filled with extraordinary descriptions of nature seen from the sky, and of the ravishing (sometimes very dangerous) atmospheric effects experienced by the much-travelled aviator.
One of Turrell's favourite passages in Night Flight is Saint-Exupery's description of the moment when two doomed fliers – Fabien and his wireless operator – soar above the dark clouds of a great storm into the upper atmosphere:
"Below him still the storm was fashioning another world, thridded with squalls and cloudbursts and lightnings, but turning to the stars a face of crystal snow.
Now all grew luminous, his hands, his clothes, the wings, and Fabien thought that he was in a limbo of strange magic; for the light did not come down from the stars but welled up from below, from all that snowy whiteness.
The clouds beneath threw up the flakes the moon was pouring on them; on every hand they loomed like towers of snow. A milky stream of light flowed everywhere, laving the plane and crew…
'Too beautiful,' he thought. Amid the far-flung treasure of the stars he roved, in a world where no life was, no faintest breath of life, save his and his companions. Like plunderers of fabled cities they seemed, immured in treasure-vaults whence there is no escape. Amongst these frozen jewels were wandering, rich beyond all dreams, but doomed."15
Much of Turrell's work can be seen as an attempt to create experiences of light unlike but nonetheless akin to these. The influence of Saint-Exupery's descriptive prose on the artist has frequently been noted but the French author's moral influence should not be underestimated. His description of a pilot as one who finds "new meanings in old appearances"16 concisely states one of Turrell's principal credos as an artist. Saint-Exupery's belief that flying offers a kind of antidote to the alienated existence of most modern city-dwellers, a way of recovering a sense of awe in the face of nature, is also reflected in Turrell's life and art.
* * * * * * * * * * * *
"A man cannot live a decent life in cities, and I need to feel myself live … The airplane is a means, not an end … a means of getting away from towns and their book-keeping and coming to grips with reality."17
By 1974 Turrell himself had grown weary of city life, and had come to feel that he wanted to work more directly with the light and the experience of nature. In that year, a group of property investors bought the Mendota Hotel and he was forced to leave that most unusual of studios for good. He got a grant from the Guggenheim Foundation and began looking for a place that would enable him to work with sunlight, moonlight and starlight. He had the extraordinary notion of finding a crater the right shape and size for his purposes, somewhere in the Arizona Desert. His audacious plan was to buy it and then to use it as he had used the Mendota Hotel – as a kind of vast, naturally shaped studio, where he could catch and model light, could shape particular experiences of the sky and the earth's atmosphere.
He was looking for a very specific structure: a truncated volcanic cone with a broad and evenly shaped crater, that would rise about six hundred feet above a flat and uninhabited plain. The evenness of the crater's shape would be important, because the artist had the idea of making it perfectly even, by moving tons of earth if necessary. This would make it into the ultimate version of a "skyspace", a place where as much of the vault of heaven that the human eye can take in would be visible. The plain which the crater occupied would have to be uninhabited, because in order to create the vast open-air celestial observatory he had in mind, the artist need a place far enough from city lights, to ensure perfect night-sky viewing conditions.
He spent seven months flying his small plane across the desert, from the Rockies to the Pacific, from the border of Canada into Mexico. Eventually he found what he was looking for, a site known as Roden Crater, which is one of more than four hundred craters forming the San Francisco volcanic field, north of the town of Flagstaff, Arizona. After three years of trying, he finally persuaded the owner of the land to sell it to him, and since that time the Roden Crater Project has been the dricing obsession of Turrell's life. One of the principal motivations behind the creation of his other work – the installations and light sculptures for museums, and the numerous "skyspaces" that he has created around the world – has been to fund his activity at Roden Crater. During the past thirty years, he has moved tons of rock and earth to alter the shape of the crater, he has carved out tunnels and "light-sensing" spaces, and he has created, beneath the crater's surface, a honeycomb of chambers designed to isolate and direct the light of the sun, moon and stars. Throughout, he has remained animated by a deep belief in the role of the artist not necessarily as a maker of objects, but a communicator of experience – someone whose art, if it succeeds, will open up new avenues of perception, will encourage people to see the world afresh, and in doing so will make them feel more alive.
* * * * * * * * * * * *
Just as the great British painter Turner taught people to appreciate the beauties of a sunset as never before, so does James Turrell encourage all of us to pay more attention to the effects of light and air and atmosphere constantly at play in the world around us. His work can be intensely beautiful, intensely mysterious, but the work is only the beginning. How that work is absorbed by the consciousness, how it shapes and changes habits of seeing – that is what is all-important.
"The more you have extraordinary experience in flight, the more you realize the difficulty of passing on the experience to others. It seems useless to try to transmit the experience. It would be easier to send others on the flight itself. The idea of the Boddhisattva, one who comes back and entices others on the journey, is to some degree the task of the artist. It is a different role form that of one who is there when you get there. The Boddhisattva entices you to enter that passage, to take the journey."18
1 James Turrell, in conversation with the author, June 2006
2 Ibid
3 Ibid
4 See Laurence Sterne, The Life and Opinions of Tristram Shandy, for a similar if less happy case of portentous conception
5 James Turrell, Air Mass, The South Bank Centre, London, 1993, pp 11-12
6 "Flying into the Light", by Calvin Tomkins, in the New Yorker, January 13, 2003, p.66
7 "Framing the Space of Absence", by David Anfam, in James Turrell: Projection Works 1966-9, Albion 2004, p.12
8 "Interview with James Turrell", by Julia Brown, in Occluded Front, Lapis Press, 1985, p. 42
9 James Turrell, in conversation with the author, as cited
10 By a neat symmetry, it was from the tradition of the panorama and diorama that the early cinema directly evolved.
11 See A History of British Art, by Andrew Graham-Dixon, BBC Publications, 1996, p.45
12 "Interview with James Turrell", by Julia Brown, in Occluded Front, Lapis Press, 1985, p. 22
13 "Artist of the Sky", by Count Giuseppe Panza di Biumo, in Occluded Front, op. cit, p. 65
14 "Flying into the Light", by Calvin Tomkins, op. cit, p.65
15 Antoine de Saint-Exupery, Night Flight, in Airman's Odyssey, (trans. Lewis Galantiere), Reynal & Hitchcock, New York, 1942, pp 266-7
16 Antoine de Saint-Exupery, Wind, Sun and Stars, in Airman's Odyssey, (trans. Lewis Galantiere), Reynal & Hitchcock, New York, 1942, p. 19
17 Ibid, p.150
18 James Turrell, Air Mass, op.cit, pp 11-12